@@@@@@@@@@@@@@@@
Fellow Local Musicians:
The Fisher Peak Performing Artists Society (FPPAS) has agreed to support the Downtown Businessmen's Association (DBA) Shop Til You Drop event again this year on Saturday May 5th, 2018.  We are asking as many musicians as possible to busk in downtown Cranbrook with proceeds going to your favorite charity.  Peak busking times will be between 11:00am and 3:00pm.
I am currently coordinating busking locations with the DBA, and will assign locations once you confirm you can attend.
Doug Mitchell has agreed to organize a jam again this year at The Heidout on the evening of May 5th.
If there is anyone else who you think might be interested in busking downtown on May 5th, please forward this e-mail to them.
Please let me know as soon as possible if you are interested in supporting this event by replying to this e-mail so I can finalize the busking plan, and don't forget to let me know what charity you wish to support.
Hoping for a good turnout and good weather!!!
So there you have it – if you are interesting in performing contact Bill Cleland at the email address below
@@@@@@@@@@@@@@@@
Key City Theatre and Western Financial are proud to present:
A NIGHT AT THE MOVIES

with Gordon Sheridan
Volume 1 – The Secret Underground History of Film

Thursday April 26, 2018 at 7:00 pm
Join us for a fun and engaging evening as we jump back in time and look at the rich history of film. The evening will consist of a screening a classic movie and a lecture with Cranbrook's own Gordon Sheridan. Our first movie of the series will be the 1993 comedy Matinee starring John Goodman": "A showman introduces a small coastal town to a unique movie experience and capitalizes on the Cuban Missile crisis hysteria with a kitschy horror extravaganza combining film effects, stage props and actors in rubber suits in this salute to the B-movie."   Book ending our classic movie showing, cine-phile Gordon Sheridan will be giving a talk about the rich history of B-films featuring rare film clips that made going to the movies in years past a unique experience.  Event with talk runs 7 – 9:15 pm / Film run time: 99 minutes.

Do you remember "Let's all go the movies?"
Tickets are $8
Tickets are available at the Key City Theatre Box Office 250-426-7006
and Online at www.keycitytheatre.com
@@@@@@@@@@@@@@@@
 May 3rd , 2018, 7pm: THE LJO AT THE HEID OUT
Come and help burn the place down with the hot music of The Little Jazz Orchestra. Normally their regular engagement is on the First Thursday of every Month.
HOME GROWN MUSIC SOCIETY COFFEE HOUSES – WINTER SEASON
CENTRE 64, KIMBERLEY
SATURDAY April 21, 2018, 8pm
@@@@@@@@@@@@@@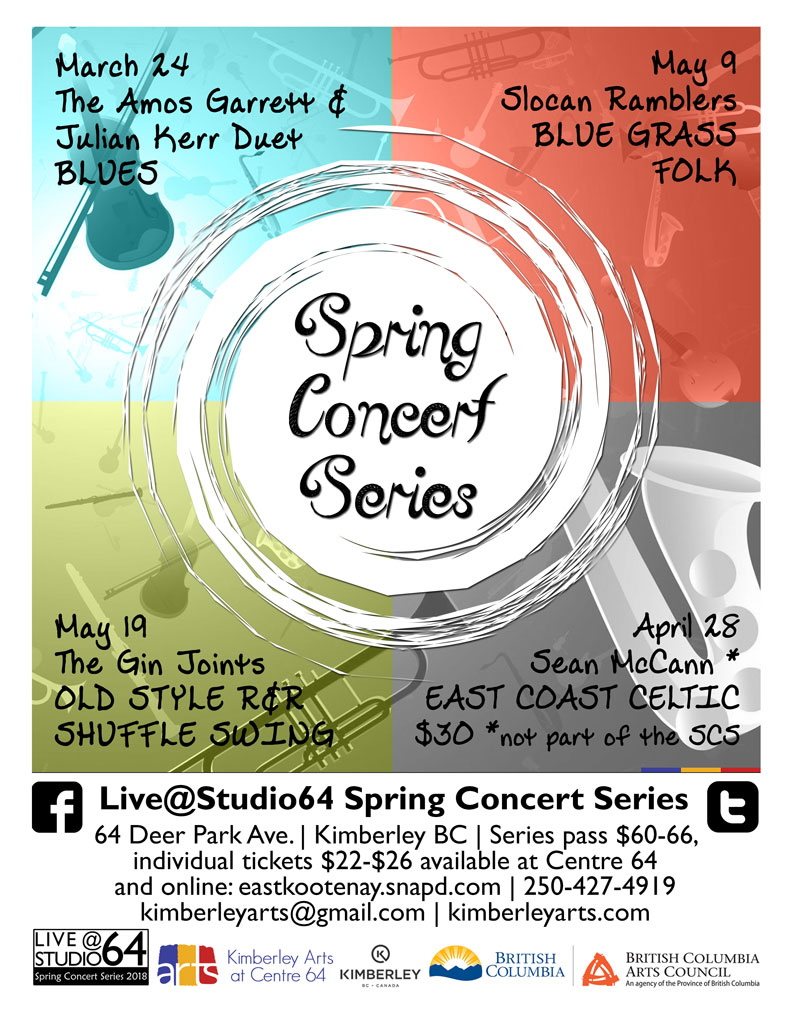 @@@@@@@@@@@@@@
From Duane Funk at the GREEN DOOR in Kimberley – He is inviting musicians to play on the Green Door stage. Contact Duane at duanefunkmusic@gmail.com.  He is especially looking to provide early evening stage opportunity, 6:30 to 7:30pm for local musicians and music students who can perform an hour set to open the evening for headliners at 8pm. He is open to ideas.
@@@@@@@@@@@@@@@@
Live music venues in Cranbrook

: THE HEID OUT, THE LEGENDARY BYNG ROAD HOUSE, THE KEY CITY THEATRE & THE STUDIO STAGE DOOR. For more information on coming events contact the venues

Live music venues in Kimberley

: BJs CREEKSIDE PUB, THE GREEN DOOR,THE STEMWINDER BAR AND GRILL (Kimberley Ski Hill) & CENTRE 64. For more information on coming events contact the venues
@@@@@@@@@@@@@@@@
IF YOU HAVE A PERFORMANCE EVENT THAT YOU WANT TO HAVE INCLUDED IN THE "ABOVE A WHISPER NEWSLETTER" OR IN THIS BLOG  THEN SEND ME APPROPRIATE INFORMATION.
I have two email accounts that are both current
Rod Wilson (rodneywilson1941@gmail.com)
parahaki@xplornet.com
This blog is www.rodneywilson.ca
I HAVE DELETED MY FACEBOOK ACCOUNT
PLEASE NOTE THAT FACEBOOK DOES NOT WORK FOR ME. OFTEN FACE BOOK ENTRIES ARE HEARSAY AND INCOMPLETE. IT IS BETTER TO JUST LET ME KNOW BY EMAILING ME A JPEG OF THE EVENT POSTER. IF THERE IS NO POSTER SEND ME ALL THE RELEVANT INFO (name of the event, the performer(s), date, time, location, cost of tickets and availability, website addresses etc. If it is a benefit event let us know who it is for).
@@@@@@@@@@@@@
 @@@@@@@@@@@@@@@@@@@@