MEDIUM:  STONE – MOSTLY TYNDALL AND SOAPSTONE
ARTIST STATEMENT:   " I WANT TO MAKE BEAUTIFUL ART"
"I have been working with stone since 1980.  I start with raw material and work with it until I see what appears. It may change as I go along and it usually does until I finally see the piece that inspires me.
Accidents occur as the piece evolves and I always know, with stone, that what falls away by my hammer strokes soon brings me to an idea that just comes. I do this with the intention of seeking from the raw material that which should remain.
I carve with various stone material found, salvaged or mined worldwide. I also work in poetry, pen and ink drawings, sculpture using reclaimed materials and whatever inspires me. After over 30 years I still find wonder in manipulated form."
DAVID CHECK – ONE MAN SHOW
"OUT OF MY MIND"
"When creating art, my only intention is to see what I can form with the raw material I am working with. As the stone falls away, I always know that the final form will present itself eventually."
March 5 to March 30,  2013 at Centre 64 Gallery in Kimberley
IMAGES from "OUT OF MY MIND":
The following are some images of works that will be included in the show.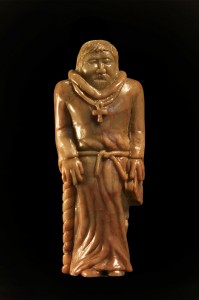 The photographic images are from David Check's private collection.
David Check may be contacted by phone at 250-464-0242 or by email at  davidcheckart@gmail.com
@@@@@@@@@@@@@@@