ACTIONS AND CONSEQUENCES: BALLET KELOWNA at the  Key City Theatre, Cranbrook, Saturday, March 5th, 2011, 7:30 pm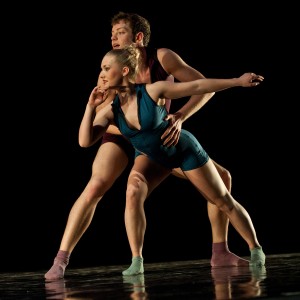 This was not Ballet Kelowna's first performance in Cranbrook but, in this their eighth season, this young company chose to revisit this city on their BC wide tour. For their performance they also chose to present a mixed program of classically inspired as well as contemporary dancing. The Artistic Director is David LaHay and the six young dancers, all well under twenty five, included Christina Cecchini (Kamloops), Brett Trach (Coquitlam), Kamilah Sturton (Richmond), Brenddan McCooey (Richmond), Davin Luce (Lloydminster) and Raelynn Heppell (Duncan).
Whether it was a bow to convention, or just the desire to start the program "in the box" before jumping full throttle into contemporary dance, the program opened with traditional ballet set to Dvorak's Slavonic Dances. The music could be viewed as a warm up to "A Dvorak Celebration" concert to be performed by the Symphony of the Kootenays on April 9th, 2011 at the Key City Theatre. Maybe that was pure coincidence. Or maybe it was just the desire to start out with familiar music, costumes and dance before moving onto more adventurous programming.
The second piece, "Capture", certainly qualified as adventurous. This new piece had its world premier on February 15, 2011. The choreography is by Gioconda Barbuto and the music by Michael Oesterle. The presentation featured minimalist costuming, very effective lighting and dramatic dancing. To quote from the program this is "an energetic and fast paced ballet" set to some very arresting music. This turned out to be the most captivating ballet on the program. One was captured, so to speak by the performance.
With "The Flower Festival in Genzano Pas De Deux (1858)", featuring dancers Raelynn Heppell and Davin Luce, the program returned to more classically inspire music and choreography. This was followed by Simonde Orlando somewhat autographical dance entitled "Stage Within" (2010). In this ballet a dancer faces the emotionally shattering end of her career. It was set to music composed by the Penticton musician Stu Goldberg. Throughout the performance the music wandered in and out of the modern and back into a Baroque like dance suite.
The final ballet stepped even further away from the strictly classical into a throbbing Steve Reich like piece of music written by Glenn Branca. The lighting and dancing was spectacular.
I didn't quite catch the significance of the program's title "Actions and Consequences" but no matter. This geriatric white man with two left feet and hips that don't respond appropriately to dance music still managed to thoroughly enjoy the performance and will look forward to the company's next visit to Cranbrook.
– Rod Wilson
Published in The Townsman, Tuesday March 8th, 2011, page 1