A VERY CIVILIZED WAY TO SPEND AN EVENING
The Jazz Council at Ric's Lounge in Cranbrook, Friday June 1, 2012, 6-9pm
The melancholy sounds of Tim Plait's piano and Janice Nicli's bass weaving their way through the old jazz standard "Willow Weep For Me" was an absolute magnet to any passer by wandering the hallways of Cranbrook's Prestige Inn. I couldn't resist going in, sitting down, ordering a beer and a meal and kicking back and taking in the music. This was the same band (with Janice Nicli substituting for Joel Kroeker's bass) that played "The Music of Miles Davis" concert at Centre 64 last Saturday. For a couple of reasons that was a concert well worth attending. The music of Miles Davis is always worth a listen and in the hands of Laurel Ralston and her band mates it was not only enjoyable it was something that is not usually associated with Jazz concerts. It was very entertaining as well.
The engagement at Ric's was way different. The ambience was way more laid back. The band departed from their usual set lists and spent the evening exploring the Jazz Fake Book by seemingly picking tunes at random. With Janice parachuted into the band and not being intimately familiar with the usual set lists and original compositions it probably was a reasonable thing to do. For the audience it meant the evening became a one-of-a-kind experience. It was unlikely that any of the tunes selected would be played the same next time around. The tunes included some of the bop standards as well a good helping of the more familiar ballads. Included in the evening were "Summertime", "Morning of the Carnival" (otherwise know as "Manha de Carnaval" or "Life in the day of a Fool"), "You Can't Take that Away from Me", "Someday My Prince Will come", "It Might as Well be Spring", and with a nod to Miles Davis "If I had a Bell". Every now and then the band would break loose with some funkier tunes to feature Janice Nicli's bass and Tim Plaint's Keyboard organ sounds. Tim's approach to the Fats Domino's New Orleans classic "Blueberry Hill" gave a whole new twist to an old tune.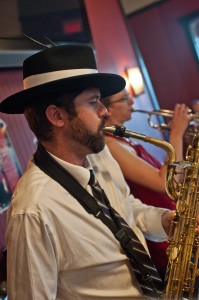 This is the way jazz is meant to be savored. An intimate venue with some friends around, good food and the required refreshments. What more could one ask. It is the type of evening that may be somewhat usual in bigger cities but to have it here in Cranbrook was real treat. And there is more coming – the Jazz Council will be playing again at Ric's in early July and August.
– Rod Wilson