Brian Brons and the Backin' Blues Band at Durangos Bar and Lounge, Friday June 15th, 2012, 8:30pm.
A "family band"? That usually means some sort of mum, pop and the kids music organization that is big on old time tunes and nostalgia. Well in case of "Brian Brons and the Backin' Blues band" you need to think again. Sure, it is a family band, three brothers to be exact, but old time music doesn't figure into the mix. Perhaps it is nostalgia for good solid blues, jump tunes, soul and  pop music with a decided  thump and back beat that may be part of the appeal. At Durangos on Friday night that recipe of nostalgia, if that's what it is, was dished up in droves. "Wait till' the Midnight Hour", "Red House",  "Cadillac Baby", "Suzie Q" and some ZZ Top tunes are just a sampling of the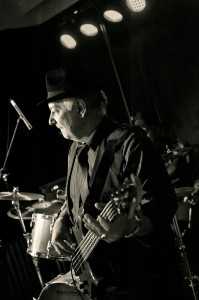 night's bump and stomp provided for the dancers. This is a very solid band and the amount of music issuing forth belies the fact that it is only a trio with Brian Brons shouldering the lead guitar work, Greg Brons anchoring the band with his bass playing and both of them surrounded by  the solid back beat of Dennis Brons on drums.
This is a band we need to hear on a more regular basis.
………………………………………………………
…………………………………………………….