THEN (AROUND 2005)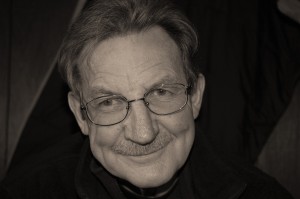 AND NOW (2017)
The thumbnail sketch: I am an Australian born Canadian citizen who arrived in Canadian in 1971 and married a Scots lass in Smithers B.C. After a little moving around we settled in the Cranbrook area in 1976. I am recently retired from a middle management position in Health Care laboratory services. My abiding passions are photography, music and reading.
Photography – Artist's statement: I have been a casual photographer for many years, that is, until about 10 years ago when I began a more serious exploration of the medium. I have no specific training in photography or art, however, the following have figured largely in my artistic development: Japanese prints (traditional & modern), the art of Christopher Pratt, Mary Pratt, Alex Colville, David Blackwood, Walter Phillips and the landscape photography of Ansel Adams and the jazz photography of Francis Wolff. My major photographic interests are aspects of world around me including, specifically, music performance. I am constantly looking for patterns and balance. I try to bring a strong sense of composition and design to my more abstract images.  In the realm of music performance photography I constantly strive to capture the magical moment that is inherent in all performances. It's that fleeting moment of drama, spontaneity and creative spark that keeps me behind the camera.
Music: This is my overriding passion both as a musician and a listener. Like most musicians of my era I came to music through top forty AM radio (Bill Haley's "Rock Around the Clock" was the big hit of my teenage years). By my twenties I had moved onto Jazz and that led me backwards though blues, roots music, "old timey" and eventually to their sources in the music of the British Isles. Along the way classical music, ethnic and world music colored my sonic universe.  Guitar was my first instrument and I fumbled with it for many years. I even gave it up for a 10 year stretch when my son over shadowed me with his high school efforts. A chance encounter in a music store in Ireland in 2000 put an Irish Bouzouki in my hands and in very short order I realized I had been playing the wrong instrument for 30 years. The strong melodic potential of the Bouzouki and the light pulse when played as a rhythm instrument captivated me.  This is my instrument, or at least one of them. Over the years I have picked up and continue to play, Electric Guitar, Mandolin, Citterns, Irish Whistles, Bodhran, Congas, Djembes, Darboukas and just about any percussion instrument that I can lay a hand on. I enjoy playing music but I am not a particularly willing performer. The only exception to that would be percussion – I will play backup percussion with any musician at any time.
Momentous Musical Moments:
Hearing Leadbelly, Pete Seeger, the Clancy Brothers and Doc Watson on record for the first time.
Miles Davis' recording "Kind of Blue" and John Coltrane's "A Love Supreme".
The Fairport Convention's recording "Full House". In the late 60's this British band virtually invented the folk/rock genre.
Recordings by THE BOTHY BAND – This band set the Celtic world on it ear when it blazed across the scene for a few short years in the 1970's. To this day The Bothy Band is the standard by which all Celtic bands are measured.
The original vinyl Nonsuch recording "Village Music of Bulgaria – A Harvest, a Shepherd, a Bride". This recording featured the incredible voice of Valya Balkanska and a performance of a song called  "Iziel je Delyo hajdutin" that still gives me goosebumps 40 years after I first heard it. Obviously Wendy Carlos on her CD "Beauty and the Beast" felt the same way. She re-orchestrated the song with synthesizers to produce the same eerie spine tingling sound.
Attending a live performance of the late great Ali Akbar Khan playing Sarod in concert in Sydney Australia in the mid 1960's. This performance continues to inspire my continuing fascination with Indian music.
Live performances and recordings by Alirio Diaz the great Venezuelan classical guitarist who visited Australian in the 1960s.
Martin Simpson playing several concerts at the Stage Door in Cranbrook in the 1990's. Martin has set the standard for acoustic guitar playing that he continues to push higher and higher. He is no slouch at re-interpreting any number of traditional styles of music.
The Ron Kavana Trio playing at the Stage Door in Cranbrook in the 1990's. It featured Fiddle, Bouzouki and Button Accordion in some of the longest, tightest and  most intense sets of tunes I have ever heard.
A concert of South American music in an old church in Sydney, Australia in 1980. It was a startling concert that featured Andean flutes, percussion and Harp. The loping bass lines played by the harp still haunt me to this day.
A Polynesian mass in Tahiti sung in a "church" with no walls and a Maori children's mass in New Zealand.
My introduction to the Rosyln Tureck  recordings of the keyboard music of J.S. Bach. The recordings by Maria Tipo and Glenn Gould further intensified by appreciation and fascination with Bach.
Musicians noted over the years: This is a list that will continue to grow.

Guitarists: Martin Simpson, Bruce Cockburn, Don Ross,  Bill Coon (Vancouver Jazz), Oliver Gannon (Vancouver Jazz), Ralph Towner, Jim Hall, Pat Metheny, Kenny Burrell, Lee Ritenoir, John McLaughlin (in his Eastern phase), John Scofield, Grant Green, Mundell Lowe, Oscar Moore (with Nat King Cole), Wes Montgomery, Charlie Christian, Django Rheinhardt, Edie Lang, Martin Taylor (a Brit), Kelly Joe Phelps (Blues), Baden Powell (Brazil), Luiz Bonfa (Brazil), Badi Assad (Brazil), Alirio Diaz, Julian Bream, John Williams, Sharon Isbin (for the Bach Lute suites) and Paco Pena (Flamenco).
Celtic Bands: The Bothy Band, Lunasa, The House Band, Dervish, Old Blind Dogs, Altan and Solas.
Fiddle players: Martin Hayes and Liz Carrol.
Jazz Pianists: Teddy Wilson, Ahmad Jamal, McCoy Tyner, Cecil Taylor and D.D. Jackson.
Classical Pianists: Glenn Gould, Rosyln Tureck, Maria Tipo and Ronald Brautigam.
Jazz Combo: Quartet West, The Modern Jazz Quartet, Dave Brubeck Quartet, Oregon, Bela Fleck and the Flecktones.
World Music: Anouar Brahem (Oud), Ali Akbar Khan (Sarod), Shakti (East Meets West).
Favourite DVD videos:
Calle 54 (Latin Jazz)
Crossing the Bridge – The music of Istanbul
The Paul Brady Song Book (in the Cranbrook Public Library)

Overtime – Lee Ritenour

Solas Live
Solas Reunion – a Decade of Solas
Danu – One Night Stand
Sting – Bring on the Night
Remember Shakti – The Way of Beauty
Black Orpheus (the movie that introduced Bossa Nova to the world)

Branford Marsalis – A Love Supreme (Live in Amsterdam)