JUST A GREAT DAY: ARTS ON THE EDGE, Coronation Park, Kimberley,Saturday, August 13th, 2011, 12:30 to 8pm.
From go to woe it was a fabulous day. It was a day of great weather, superb performances and a significantly larger crowd than last year. In this review it is going to be hard to do justice to the quality and variety of the afternoon's performances.
First out of the gate, and a last minute addition to the line up (I believe), was a Winnipeg group under the leadership of Ingrid Gatin. The music had an unusual configuration of instruments and musicians (Ingrid Gatin – keyboards & accordion; Julia Watson on violin and percussion; Natalie Bohrn – upright bowed bass & Mathew Tomlinson – drums). There was not a guitar in sight. The music displayed a definite leaning towards folkloric or world music. Ingrid attributes this to her interest in Balkan gypsy music and Mathew's interest in Angolian Semba music. With support from Manitoba Film and Music the group is in the middle of a "Pizzeria" tour of Western Canada. The tour seems to revolve around either pizza as nutrition or pizza joints as places to perform.
Jon Burden and his daughter Holly Hyatt are no strangers to Kimberley audiences. They have been making pilgrimages to Kimberley since at least 2003. Their first set of the day was mostly original compositions and, as always, their music is fresh and exciting. It does not matter how many times you may have heard them in the past they always manage to dish up something new.
For comic relief the acting troupe Stage Works (Brodie Petersen, Lorne Wright, Dustin Mousseau, Elizabeth Adler & Brigitte Franyo) took to the grass verge to perform a short theatre piece that investigated the advantages and disadvantages of big bustles and big feet.
In separate performances, James Neve & 60 Hertz and Heather Gemmell & The Peaks reprised their recent CD release performances. Always searching for a fresh view of past compositions James and his crew (Rob Young – lead guitar; Dave Birch – bass; Marty Musser – drums) revisited "Deep Water" and, by taking it  taking it down a notch, gave the song a whole new look. As always the great descending line in "Virtuality" continues to grab attention. Heather Gemmell opened her set with an attention grabbing cover of Neil Young's "Heart of Gold". This was before launching into her repertoire of original blues tinged tunes that included "The Heat" and "Bluesville". Heather is looking for a keyboard player to round out the sound of The Peaks (Paul Bouchard – drums & Ray Gareau – bass). Anybody out there interested?
COMPANY JUMP (Jane Gaudet, Andrea Isaak & Nadine Tremblay) revisited the swing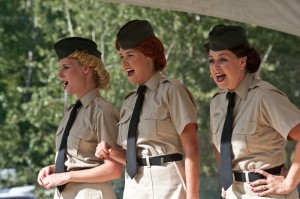 era with their nod to the music of the Andrew Sisters. Tunes included "Don't Sit Under the Apple Tree", "One Meat Ball", "Accentuate the Positive", "Six Jerks in a Jeep" and many more. Complete with great costumes and interaction with the audience this was musical theatre and nostalgia at its best. In the break between their sets the sounds of the Benny Goodman sextet with Charlie Christian's electric guitar weaving those great lines was enough to stir the blood of every guitar player in the audience.
The last performance of the afternoon, and unfortunately, running almost an hour late, was Holly and the Blaze Kings. Featuring Jon Burden – lead guitar; Holly Hiatt – bass; Clint Swanson – sax; Ron Butler – trumpet; Colin Spence on Keyboards and last but not least the master drummer Bill Wilson. This has to be one of the snappiest funk/blues ensembles on the planet.  Although a couple of cover tunes were featured, including Robert Cray's "Consequences", most of the material played were originals written by Clint, Jon and Holly. Holly's great voice and the funky riffs of the horn section even had a couple of grandmas out in the park dancing to Cream's anthem "Sunshine of my Life". By this time the sun was setting and the crowd was drifting away. It was unfortunate that the afternoon ran so far over time because as a musical experience Holly and The Blazes are pretty hard to beat.   –       Rod Wilson
Review Published in The Townsman, Monday August 15th, 2011 Page 1
@@@@@@@@@@@@@@@@@@@@
The following images were not included in the newspaper article but I think they need to be out there to demonstrate what a great little festival this is.
The Ingrid Gatin Group
Heather Gemmell, Paul Bouchard and Ray Gareau of 'THE PEAKS'
COMPANY JUMP
Holly and Jon – the First Set
StageWorks – Big Bustles and Big Feet
60 Hertz (James Neve, Rob Young, Dave Birch and Marty Musser)

Holly and her incredibly funky band `The Blaze Kings`
%%%%%%%%%%%%%%%%%%%%