From Saturday to Saturday (Sept 29 to October 6, 2012) there was wall to wall entertainment in the Key City (Cranbrook). The week kicked off with the La Cafamore String Quartet and Nicola Everton at the Knox Presbyterian Church with a sampling of very modern string music and a thick slice of the past with a Brahms Clarinet Quintet.  On the Sunday at the Key City Theatre the Go Go Grannies hosted a benefit concert for the Stephen Lewis Foundation. The opening act featured the rambunctious music of "
The Good Ol' Goats" 
followed by the classical harp and vocal music of Bronn and Katherine Journey. See the previous posts in this blog for reviews of those events. 
@@@@@@@@@@@@@@@
HEATHER G's JAM
,
Wednesday October 3, 2012, 7pm at Ric's Lounge in the Prestige Hotel in Cranbrook.
Some of us musicians remember the heady days of a little while back when
KAMP (Kootenay Association of Musical Performers)
run regular Friday night sessions
at Ali Barba's Lounge in the Finnegans Wake Pub. Unfortunately the pub closed
down and the sessions came to an end. They were great times with lots of great music. So much so that
Heather Gemmell
and
Brian Noer
decided to try and rekindle the flame by approaching the management of Ric's Lounge for a trial Jam session.  Without any reservations the night was declared a great success. Lots of the former KAMP musicians showed up and there was good audience response. Heather kicked off the evening  with John Prine's
"Angel from Montgomery"
and Rod Wilson chiming in on Irish Whistle. Other performers during the evening where SHEVA (Shelagh and Van Redecopp), JOSHUA BURNING (Garnet Waite and Keith Larsen) with their new bass player John Gerlitz. Their particular set served notice that this new configuration of the roots/country band is destined to make a significant mark on the the local scene.  Also on stage were Tom Bungay, Dave Prinn, Mark Casey, Jim Marshall and lots of percussion and mixing and matching of the various musicians in the room. Keith Larsen on mandolin and guitar really ignited Dave Prinn's performance (not that it needed igniting) with some blazing solos and accompaniments. If there is any justice in the world there will be more sessions at Ric's in the near future. In fact the next session has been scheduled for
Friday November 9, 2012.
There is nothing like real live music in great casual surroundings. Ric's lounge definitely qualifies on all levels and for this we must thank Ric's Operation Manager Rheanne Groumoutis  for the venue and Heather Gemmell and Brian Noer for pulling it all together. Here are some images from a great night of music:    
@@@@@@@@@@@@@@@
 THE JAZZ COUNCIL
Friday October 5, 2012, 7pm at Ric's Lounge in the Prestige Inn in Cranbrook.
Despite the acknowledged fact that Jazz is not the most popular music of this decade The Jazz Council continues to thrive. The original configuration of the band; Laurel Ralston (Trumpet & Fluegelhorn), Sven Heyde (drums), Bernie Primbs (baritone sax), Tim Plait (keyboards) and Joel Kroeker (bass) have probably played over 30 engagements in just
over a year. There are not too many, if any, local bands that can boast that sort of activity. Unfortunately, Tim has relocated to Germany to further his studies and Joel has taken up a teaching position in Sparwood. But as, they say, "it ain't over till' it's over" The Jazz Council will continue to thrive with two new replacement musicians; Geoff Haynes on keyboards and Stu Driedger on bass. Geoff is from Edmonton and he will be taking on  a number of musical tasks vacated by the Tim Plait. Stu Driedger is a local Cranbrook
youth who has been away to study and is now back on the local scene. This particular gig was a kind of shake down cruise for the new musicians. An opportunity to run the changes on some familiar standards and jazz tunes before taking on the original material and projects that I am sure are in the works. Geoff and Stu had an opportunity to explore the standard piano jazz trio with "Darn That Dream" as well as such small combo staples as, "Fly me to the Moon", "You Can't Take that away from Me", "It might as well be Spring" "Summertime", "A Nightingale Sang in Berkley Square" "Harlem Nocturne", "If I had a Bell", "Night Train" and at least one Miles Davis Tune. For this civilized night of music, food and refreshment the musicians and the patrons need to thank the new Patron Saint of Live Music in Cranbrook, Ric's Operation Manager Rheanne Groumoutis. Thank you, thank you, thank you Rheanne.
@@@@@@@@@@@@@@
BILLY MANZIK AND LISA EDBERG: Friendz Now Pub, Cranbrook, Saturday October 6, 2012 9pm. Well this was a surprise and a very pleasant one at that. Who are these guys? Sorry Lisa, you are definitely not a guy. Where did they come from? How come we have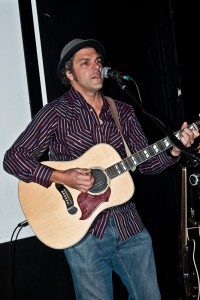 not heard of them? These are two very talented musicians who currently reside in Santa Cruz, California. Billy Manzik is originally from from Thunder Bay, Ontario and plays guitars and sings. Lisa Edberg plays outstanding upright bass and is originally from Colorado. They are part of that musical underground of very talented people who seem to just kick around gypsy style, covering thousands of kilometers going from gig to gig. They may play for a dozen people or 15,000, depending on circumstance. Their music is a blues/country/roots mix  best meant for a "foot stompin' good time".  Although there are a few original songs in the mix most of their material consists of "covers". That can be taken as a unkind compliment but it isn't really. There is way more to it than that. Rather, they take material, remold it and come up with interpretations that are definitely their own personal vehicles of expression. They work extremely well together. Billy sings lead with some exceptionally authoritative finger picking / flat pick guitar with some nice clean dobro slide thrown in for good measure. Lisa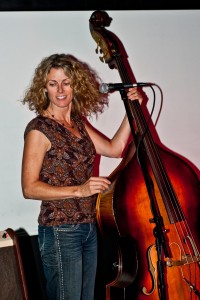 excels on her 1957 Epiphone upright bass, plays guitar and sings mostly back vocals. She plays her bass in a "slap" style that is not too often seen around here. The end results are great bass lines punctuated with a percussive attack that drives the rhythm into that "foot stompin'" mode. On Saturday night they"stomped" their way though Neil Young's "Helpless", J.J.Cale's "The Breeze", and on down "Highway 61", checked in on a  "Brown Eyed Handsome Man", "Corrina", "Who Do You Love", "Make Me a Pallet on Your Floor", and for good measure they threw in a Van Halen Song. That is only a sampling of what when down during two sets of fine rootsy music. I hope they are back this way some time and maybe a few more Cranbrook residents will get to savoir their talents.
And that was the week that was.
 @@@@@@@@@@@@@@