In days of old the Islamic world had Harems. In modern western society we have Beauty Salons. Both, I suspect, serve very similar functions. They are both exclusively the domains of women. Men are excluded and under normal circumstances would not want admission. Steel
Magnolias is a glimpse into this world of sisterhood. The play is set in a home based beauty parlor in Chinquapin, Louisiana and is an exploration of the lives and transformations of the six protagonists over a three year period. Annelle (Hannah Van Der Roest) is the young miss fresh out of school trying to come to terms with an unsatisfactory relationship and is desperately seeking employment and independence. Hairdressing in Truvy's salon is the first step in her transformation from naivety through worldliness to born-again Christianity.
Shelby (Kirsten Kasner) could be a stereotypical prom queen. In this instance she is an attractive young woman with an obsession for the colour pink and suffering from a very serious diabetic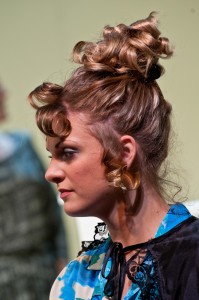 condition. She gets married, and against medical advice has a child and ends up with terminal renal disease. Throughout the process she goes through her own emotional and physical transformations that include a hair make over and dealing with the outcomes of her decisions.  M'Lynn (Michelle McCue) is her long suffering mother
who tries to deal with the decisions of her willful daughter and is left to cope with the consequences. Among the constellation of characters there is Clairee (Elizabeth Ross). A very attractive wealthy matron who
starts out as an avid football fan and ends up as a radio station owner. Ouiser (Joanne Wilkinson) is the eccentric in the pack. She behaves the way she does because people expect her to wear outlandish hats, clothes and act as a crazy old lady. That's what people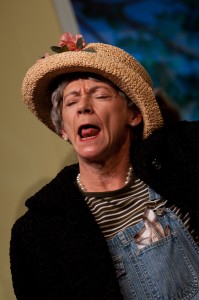 expect so that's what they get. Despite that, this crazy old lady does undergo some moderation of her eccentricities within the the turmoil of the Salon. Truvy (Susan Hanson) seems to be the least affected by change. She reacts to the constellation of characters that inhabit her salon but she under goes no significant changes or transformations. In fact she doesn't even get her hair done.
She seems to be the rock solid centre of what is after all her salon. She's a hairdresser and therefore it's her business to bring about change. "There is no such thing as natural beauty", or so she thinks. So in
addition  to the meaningful personal transformations of the protagonists there is the manic outcomes of the hair styling process and the behavior of the patrons and their families (including the gun toting husband of M'lynn and Ouiser's hairless dog – all of whom are off stage).
Here are some images from the life and times of Steel Magnolias:
The play STEEL MAGNOLIAS, written by Robert Harling and directed by Bob McCue is playing at the the Studio / Stage Door in Cranbrook. The shows are Friday and Saturday of November 16th and 17th of November, Wednesday to Saturday November 21-24th, 2012 and Wednesday to Saturday November 28, 29, 30 and December 1, 2012. All shows are at 8pm and Tickets are available from Lotus Books.
  @@@@@@@@@@@@@@@@@