Cara Luft: Live at Lotus Books, Cranbrook B.C. 7:30 pm , Wednesday April 3, 2013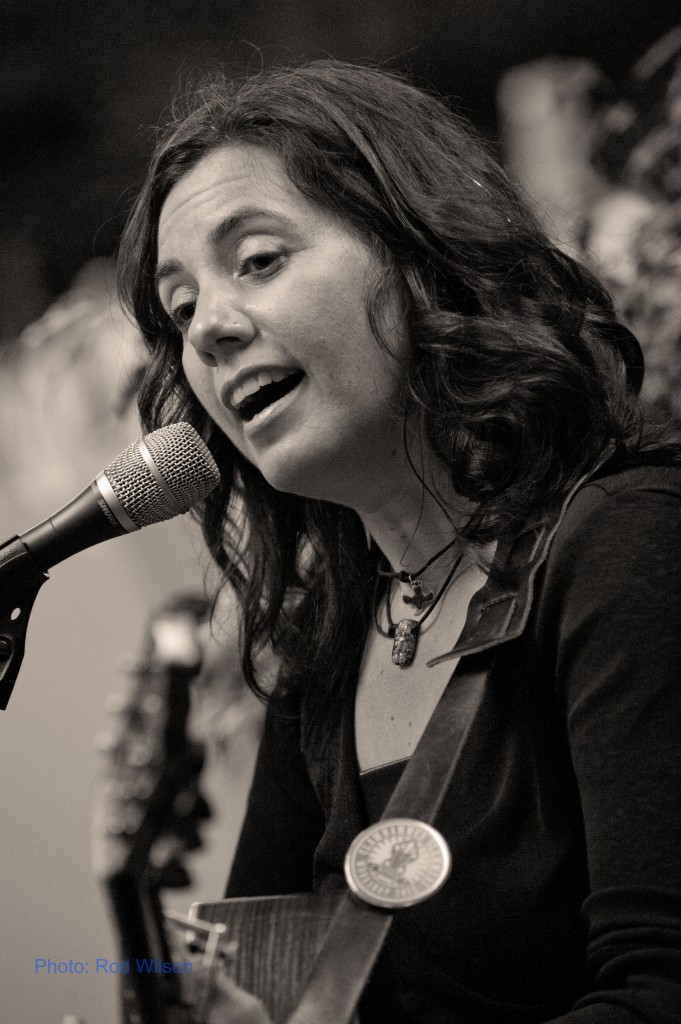 On her resume Cara probably lists her occupation as "Professional Folksinger". I know for a fact that is how she described herself to the US Customs personnel. But that is another story and it is one she tells in the song It's Not Mine. There are not too many people in the world that could be included in the select group of "Professional Folk Singers". Woody
Guthrie was one. So was Pete Seeger. These were musicians that basically wandered the country, and the world, making their living by singing and writing songs that arose from that huge body of work, documented and undocumented, described as "folk music" or "traditional music". They are basically a modern extension of an occupation that goes way back, and probably beyond, medieval times. Troubadours of old literally sang for their supper. As did the pipers, instrumentalists, story tellers and hedge poets of the old world.  Cara is in pretty select company. She comes by her profession honestly.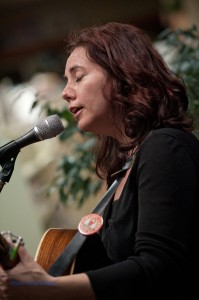 Cara was born into a family of traditional musicians. Her father is a well known banjo player and mentor of young musicians in Calgary. Cranbrook is pretty lucky to have been associated with Cara over the years. Years back she performed at Doug Erickson place out at Mayook. She has toured through the area with THE WAILING JENNINGS and done numerous solo gigs in Cranbook, Creston and Fernie over the years. Everything from a headliner act at St. Eugene Mission Casino to small gallery and small stage venues. The engagement at LOTUS BOOKS  is a perfect example of Cara performing in a small intimate environment. Erin and Ferdy, the new owners of Lotus Books, re-organized the kids book section to accommodate a small performance area for the evening. Fifty five very excited patrons showed up for this the first of, hopefully, many future intimate concerts. There are not
enough superlatives in the English language to truly capture the essence of a Cara Luft performance. Joyous and brilliant are two words that immediately came to mind as Cara wove a rich tapestry of stories and song into a very memorable evening. Her clawhammer banjo playing sparkled on an original piece called My Darling One  as did her encore performance of The Huron Carol . In the past Cara resisted the pull of the banjo but now that  she is well down that road and it is a joy to hear the steady bum-ditty-bum clawhammer banjo rhythm, the tapping of feet and the delicate melodies floating over the top of it all. If a musician must play banjo this is the style to play. And, if one is a banjo player, then one must accept that  huge repertoire of "banjo jokes" as part of the baggage. The prize of the evening came from a member of the audience – " a terrorist group took a busload of banjo players hostage and threatened to release one every hour until their demands were met". On guitar, Cara restored Led Zepplin's Black Mountain Side to it`s rightful place as Bert Jansch`s interpretation of the traditional ballad Black Water Side. Also on guitar Cara revisited Davy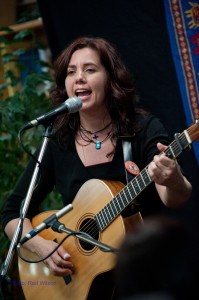 Graham`s interpretation of She Moves Through the Fair. It is great hear credit being given to such ground breaking acoustic guitarists as Bert Jansch and Davy Graham. Both of these musicians have recently passed on but their legacy is still with us. Cara has a number of strong traditional songs, including The Plough Boy and the Cockney in  her repertoire. In addition she has some some original songs of her own. Her song, It`s Not Mine, is a recounting of a particularly difficult encounter with the US Customs Service. It was a tour de force of joyous audience participation and humor. The audience obviously enjoyed the evening's show with a call for at least three encores (I lost count). For this inaugural concert at Lotus Books Ferdy and Erin chose a winner. A Cara Luft concert is an unforgettable event.
@@@@@@@@@@@@@@@
 PS – I forgot to mention Cara's rousing clawhammer version of Guns and Roses'  Sweet Child of Mine. Rock and Roll never sounds this good.
@@@@@@@@@@@@@@@