Locals Coffee House May 4, 2013 7:30 pm at the Studio / Stage Door in Cranbrook.
Every musician, regardless of genre, needs to get to grips with the music of Bach. On a similar, but not as an intense a note, every tune-smith or purveyor of traditional music should pay some attention to the music of Stephen Foster. His tunes have been around for over 150 years so they must have some merit. In fact his songs and tunes are a goldmine
of material for re-interpretation and performance. Case in point. At the LOCALS Coffee House on Saturday night, late in the program, RedGirl (Mike and Anie Hepher with Steve Jones) took to the stage and kicked off their set with Stephen Foster's Angeline the Baker. From the moment that Mike's delicate muted mandolin intro sounded they had me. For me this was a complete re-invention of a tune that we have been kicking around for years. But Mike's vocal and mandolin, Anie's clawhammer banjo and Steve's bass playing took the song to a whole new level. As a band RedGirl has been around for a number of years and like all great musicians they continue to evolve. The new format (at least to my ears) of the band is a more stripped down acoustic version of their former self. On this particular night the emphasis on mandolin, clawhammer banjo and ukulele was a pure delight. I hope they are planning a recording session in the near future. But I am getting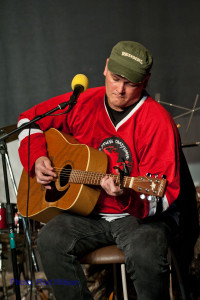 ahead of myself. They were in fact the last act in an evening of incredible music. A couple of new musical duos kicked off the night. First out of the gate was JR LIVES with Jon Bisset on guitar and vocals and Rod Wilson on Irish Bouzouki. Their selections included Carrot Juice is Murder  and Neil Young's Old Man. A couple of months back Dave Prinn (guitar and vocals) hooked up with Bill Renwick (guitar, harmonica and vocals) at an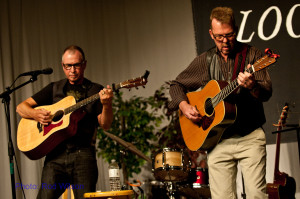 open-mic session at BJ's Creekside Pub in Kimberley. The musical chemistry was immediate. They have cemented their musical relationship into the duo VESTED INTERESTS and I guess this was their first formal performance. Both musicians are strong guitarists and vocalists and they seem to seamlessly slip into complementary roles. With his strong performances in many sessions over the past few years Dave is the better known musician. Bill may be the lesser known but I suspect that will change. His voice is a wonderfully polished version of Neil Young, that is if Neil could actually sing. (don't get me wrong, I like Neil Young). They kicked off their set with an Eagles tune (I missed the name), followed by a Dave Prinn  original called Gonna Ride That Big Twin Home (a motor cycle trip from California to Edmonton) and Bill Renwick's Hold Me in Your Arms Tonight. They rode out on a blaze of glory on James Taylor's Steam Roller Blues. Tom Bungay is also a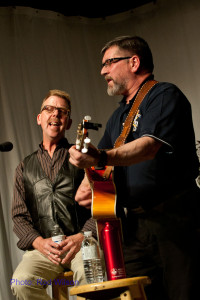 regular on the session scene and for this night's performance he decided to take it down a notch with a couple of tribute performances dedicated to Rita MacNeil and George Jones. Dave Prinn stepped on
stage to sing harmony behind Tom on Rita's Working Man.  The song He Stopped Loving Her Today was the George Jones tribute. Tom's wife Verna joined him for their masterpiece monologue / song Wave Over Wave  – a very fitting tribute to the sailors of Newfoundland. Also featured was the song  Jeckyl and Heyde. This is a fine piece of song writing by Tom's eighteen year old daughter.The Quimby's (Erin and Ferdy
Belland) with some able help from Mike and Anie Hepher strutted out some covers of Blue Rodeo and the John Prine song called In Spite of Ourselves. This song could be, so they say, the story of their married life. Erin, like Annie (and a whole horde of other musicians) has become a devotee of the Ukulele. It is an instrument that has come out of the shadows and has become an important ingredient in "Jaiwaiin" music (ie. a mixture of island music from Jamaica and Hawaii). I am not sure under what banner James and Tristan Neve, Rob Young and Ferdy Belland are travelling but I guess Lonesome Jim is a good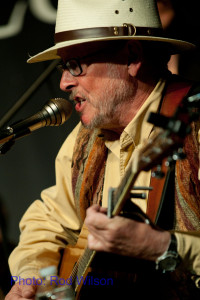 as any.  As always Jame's original songs continue to astound and on this night the band included Hold On, Passing Through Your Heart, and Take the Wheel. Also, as always, Rob Young contributed some fine lead guitar work, including some of his rarely heard slide
playing.
This Saturday night was the end of LOCALS  2012/2013 winter season and it was also a special night to pay tribute to Beth Crawley who was stepping down after chairing the LOCALS Committee for 15 years. Thanks Beth for all your hard work over the past years. Beth proved time and time again that by presenting local artists the quality of musicians in the area is second to none and that the Studio / Stage is a venue that captures the real essence of music – music that is unique, personal, and intimate. It is music that is shared among local musicians and their friends and deserves to be shared by the wider community.
Here are some more images from an unforgettable evening of music:
Home Grown Coffee House May 4, 2013 7:30 pm at Centre 64 in Kimberley.
Unfortunately I haven't yet found a way to be in two places at the same time so I had to make a choice. Which Coffee House should I attend? LOCALS or HOME GROWN ? LOCALS was closer to home and I was performing there in a duo with Jon Bisset (JR Lives) so that decided the issue. Still it would have been nice to attend both.
@@@@@@@@@@@@@@@