A series of at least 10 concerts have been scheduled for the summer in Cranbrook's Rotary Park. The idea is to co-ordinate the musical events with the adjacent Farmers Market. On the first scheduled Saturday, June 22, 2013, the weather king had other ideas and the "Rocky Mountain Monsoon" forced a cancellation. We didn't get to hear The Rosie Brown Band and The Little Jazz Orchestra. Not to worry they will get their chance to shine. Well, that's all history for the moment and the first event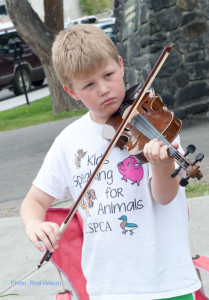 was postponed until Saturday June 19, 2013. The rain was gone but the skies were overcast and the weather muggy.  The vendors were active in the Farmers Market and the buskers were out there busking. Young  Benjamin Franklin Noer was playing his fiddle for the SPCA, the sound crew was busy setting up the gear.
Summersounds was on track for a full afternoon of music. First on the schedule was  Daze of Grace (Sharon Routley, Jubal Routley and Rod Wilson) with their unique covers (All Along the Watch Tower) and a number of Sharon's originals. Their appearance was somewhat momentous. This will be their last performance for awhile. With various sidemen rounding out their sound Sharon and Jubal have been a staple on the local music scene for many years. As a band they have decided to take a rest from performing. There is nothing dramatic about the decision. It is just an opportunity to refresh and re-invent themselves.
Jim Conley (guitar and vocals) and Brian Noer (also guitar and vocals) are both seasoned performers and organizers.  This summer music series is largely their  baby and musicians are very appreciative of the tremendous amount of effort these gentlemen have put into Summersounds. For the afternoon's performance Jim took the lead on vocals with Brian providing back up and lead guitar. Rod Wilson sat in on percussion. Jim's strength is his ability to re-interpret songs in such a way that they come across in a completely fresh way. On his list of fresh interpretations was The Midnight Special,  Bruce Cockburn's Lovers in a Dangerous Time, the Beatles A Little Help From My Friends,  and Lou Reed's Walk on the Wild Side. The standout performance was Talkin' Heads Psycho Killer with some great guitar effects from Brian Noer.
In addition to the local performers the audience were given a special treat by visitors Brad Smith & Orion Marcano of Coastal Giant. They were up here from Saltspring Island to visit family in Kimberley. Being Island folk they had to feature that classic island instrument, the Ukulele, along with vocals, guitar, banjo and a little harmonica. Both musicians were strong singers and instrumentalists who played original material. These are are couple of musicians worth watching (and hearing) and I suspect we will hear more of them in the future.

As well as the live music there was the Limbo Contest and in the late afternoon the DJ Music of DJ ALEX. Here are some more images from a great afternoon of music – may there be many more over the summer.
The organizers of Summersounds would like to thank the sponsors of the event: Columbia Recycling, Kootenay Gradall, South Sierra Developments, Salvador Redi-Mix, Tundra Steel, Freightliner, White Oak Valley Contracting, BCGEU, Rocky Mountain Diesel, AquaPro Drilling, Cranbrook Farmer's Market, Cranbrook District Arts Council, Cranbrook Rotary, Fiorentino Brothers and HD Kootenays.
Thanks to Peter Warland for this rare image of me (RodWilson) playing percussion for Daze of Grace.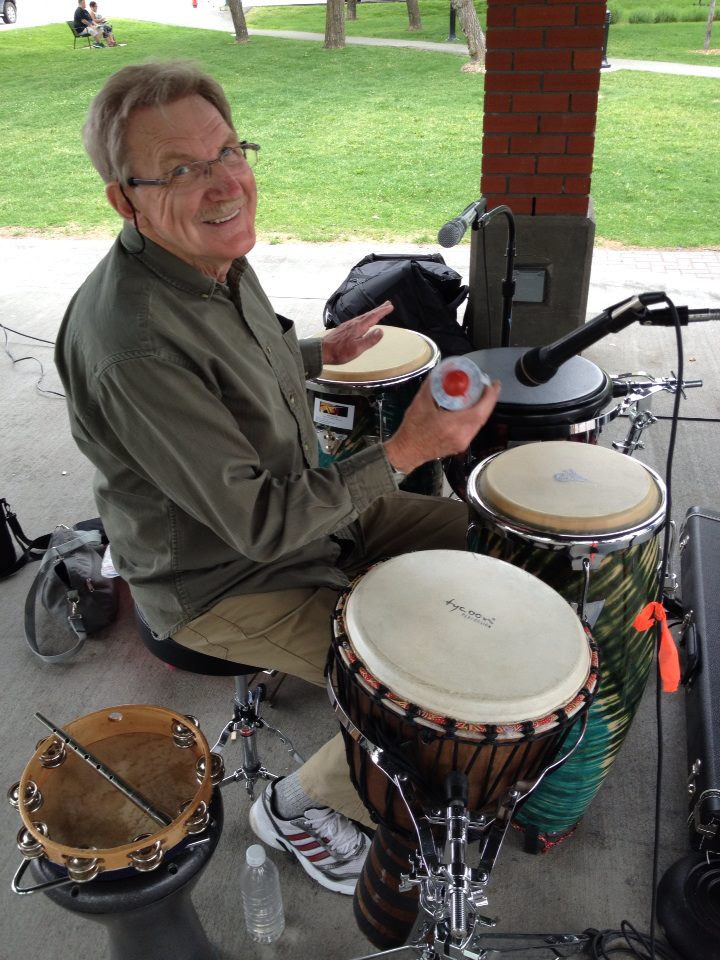 @@@@@@@@@@@