Jon & Holly (Jon Burden & Holly Hyatt) at Centre 64, Saturday September 21, 2013, 7:30pm. Check the Holly and Jon website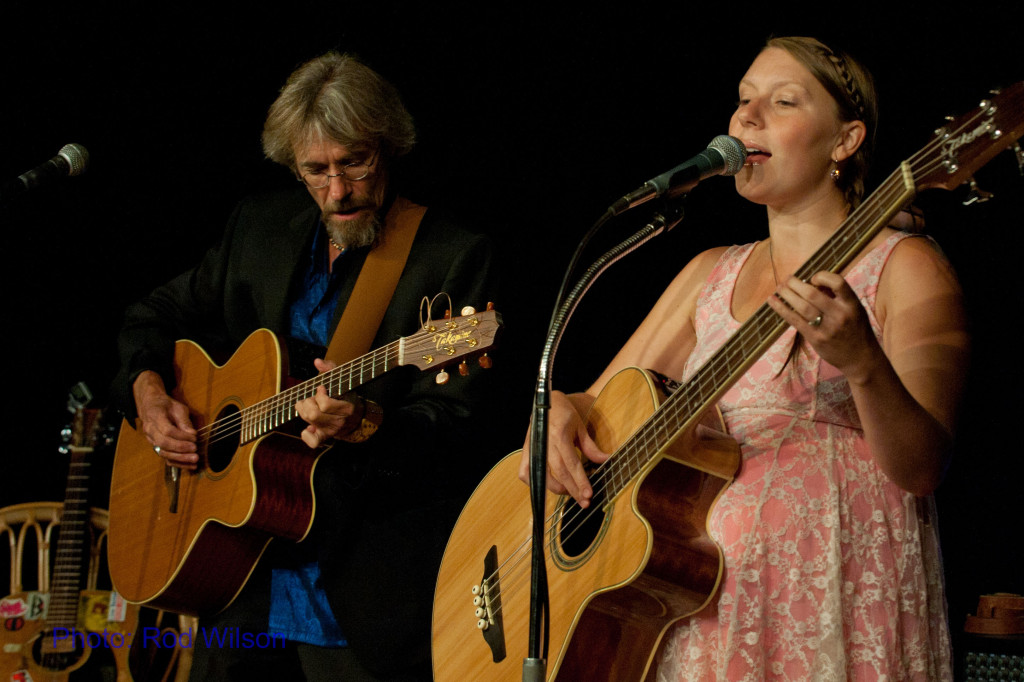 This father and daughter duo have been frequent visitors to the Kimberley area over the past 10 years. We have virtually seen Holly grow up to become a great vocalist, bass player, composer, mother and complete musician. From being a teenager to being a mother in that seemingly short space of time hardly seems possible but there it is. As a musical duo they have set the bench mark for "less is more". With these two – guitar,
bass and vocals are a complete musical entity without the unnecessary clutter of drums, etc. Having said that it is not to dismiss their fine work with that extremely hot band The Blaze Kings. A band that they normally perform with on the festival circuit. It was unfortunate that we didn't get to see and hear them this year at the local festivals. There is an unsung hero in the father / daughter duo. That is GONZO. Who may you ask who is Gonzo? He is a used and abused family guitar that is pretty beat up and had been seemingly left to his own devices until Jon discover his unsung potential as a slide guitar. With all the maltreatment over the years Gonzo has earned the right to sing the blues. In recent years Gonzo has be rehabilitated and has a new lease on life as an essential voice in Jon's interpretations of a number of Robert Johnson's classic blues. Of particular note is Jon and Gonzo's handling of Better Come on in My Kitchen and If I Had Possession Over Judgement Day. In amongst the cover tunes are such originals as Home Renovation Blues,  Cool Kitties (with its nice walking bass line), the "popish" One Desire, Slushy Blues, Back to 1929, The Low Down Blues, Stop Breaking Down and Holly's Better Get Your Our Own Man ("cause this one's all mine"). Two covers that were snuck into the mix were Neil Young's Human Highway and the Horace Silver jazz classic Song for my Father. As always Jon and Holly delivered an exceptionally fine evening of music and when they come back, as I am sure they will, they are not to be missed.

I would like to thank Terry for his deft manipulation of the lights that made these images possible.
@@@@@@@@@@@@