LOCALS COFFEE HOUSE, Saturday November 15, 2013 at the Studio/Stage Door, Cranbrook. This is the second LOCALS of the season.
Things are going really well for organizers and patrons with an excellent lineup of performers and the second sold out show of the season. The MC Stacey Oig set the audience up for a great night with his introduction for Trena Spears. Trena is a vocalist who sang with a back up track of
a rocking rhythm section, solo guitars and saxes. The chorus of the first song I'm Here for the Party kind of said it all : "You know I'm here for the party / And I ain't leavin' till they throw me out / Gonna have a little fun, gonna get me some / You know I'm here, I'm here for the party" (Gretchen Wilson). Trena followed that up with Take it Back, then an original piece followed by a Dixie Chicks number called (I think – Some Days You Gotta Dance). Trena has a big voice, looks good on stage and has all the right moves down pat. The only thing she is
lacking is a hot live band and, who knows, after Saturday that could change. Younger performers these days have made a religion of writing their own material. That is all well and good but Bud Abbott and his accompanist Carol McGrath, on piano, ably demonstrated that there is an incredibly deep well of great songs and tunes that have been kicking around for the past hundred or so years. They ran through a repertoire of With a Little Bit of Luck, Get Me to the Church on Time, I'll be Seeing You and the tango Spanish Eyes. Bud Abbott also demonstrated that you can't keep a
good man down no matter what his age. SAGE GRASS is the the Clelland family band (Bill, Judy, Jason, Justin and Wasey) and they have been around for a while and take their music seriously. They rehearse twice a week and have spent the last two summers at the Sorrento Bluegrass camp. Their music coasts along the edges of BlueGrass, Folk and Country and they are not afraid to experiment with unconventional configurations. BlueGrass purists frown on the use of shakers and Djembes but I think it adds sonic texture to the mix so  I say keep it up. They introduced a beautiful new upright bass to the mix and that has really
rounded out the sound. They kicked off their section of the show with Bill Monroe's Blue Moon of Kentucky, followed by Doc Watson's Rising Sun Blues, Old Crow Medicine Show's Wagon Wheels and the wonderful vocal harmonies of The Sons of the Pioneers Cool Water. Youth must have its day and thank God it comes in such wonderful packages like the charming Miss Maddison (Maddy) Keiver. Maddy revisited the Animal's version of The House of the Ring Son, Stevie Nicks Landslide and an original piece entitled Going No Where. After the charm of youth and beauty the old and short sighted demanded equal time with the music of, your truly, Rod Wilson  on vocals and 12-string guitar. The first piece song was the traditional Crooked Jack and that was dedicated to all the Radicals, Reformers and Unionists who fought for our current world of social justice. It was a tale of of a strapping young Irishman cut down in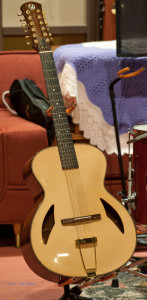 his prime by an industrial accident. I have a liking for instrumental music so as a special treat (I hope that`s what it was) I played the Ashokan Set, a medley of the Ashokan Farewell (from the PBS Civil War Documentary) and the original tunes Paxton`s Parody, and the forever optimistic, Tomorrow is a Better Day. Ferdy Belland took us on a little nostalgic tour of his misspent youth drowning in classic rock while living in rain drenched Bella Coola. He brought back some of his memories with some classic Springsteen, and a song by Kirsty MacColl, daughter of the famous British Folk icon Ewan MacColl. Way back in 1979 Kirsty scored a hit  with They Don't Know. I like narrative songs and The Streets of Baltimore, written in 1966, is one of the great songs of that idiom and is one that Ferdy obviously enjoys performing. Ferdy finished his set with a piece by the drummer Roger Taylor from the classic rock band Queen. The closing set was by Gold Creek, (Connor Foote, Clayton Parsons). After flirtations with such names as Pine Slacks and Steamboat Hollers  the young guys seem to have settled on a new name, for now, Gold Creek. I think that will work. I rolls off the tongue easily, has some local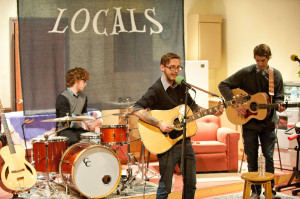 connections to the area and brings to mind images of the "rootsy/country" music that seems to be their trade mark. For this engagement Gold Creek used the talents of the tasty drummer Zach Silver (a drummer who uses brushes instead of sticks can only be tasty).  The first out the gate was the original song Box Car Willie (no connection to the well known country singer). Clayton penned the original  September Sunday at 4am in the morning at a location that cannot be disclosed. Connor's tune Heart Break Blues  was dedicated to Ferdy. The song Tennessee was a new one to me. Connor took us out on the classic quotes from his most well known original song "I met my wife at a family re-union", "true love never had no reason", "nothing lasts for ever" and "passion burns like gasoline". I like their new name and I hope they stick with it. By the way an upright bass player would really fit well with group. Angus MacDonald where are you when we need you?
                 
Here are some additional images of Gold Creek and me sent by Lorraine
 @@@@@@@@@@@@@