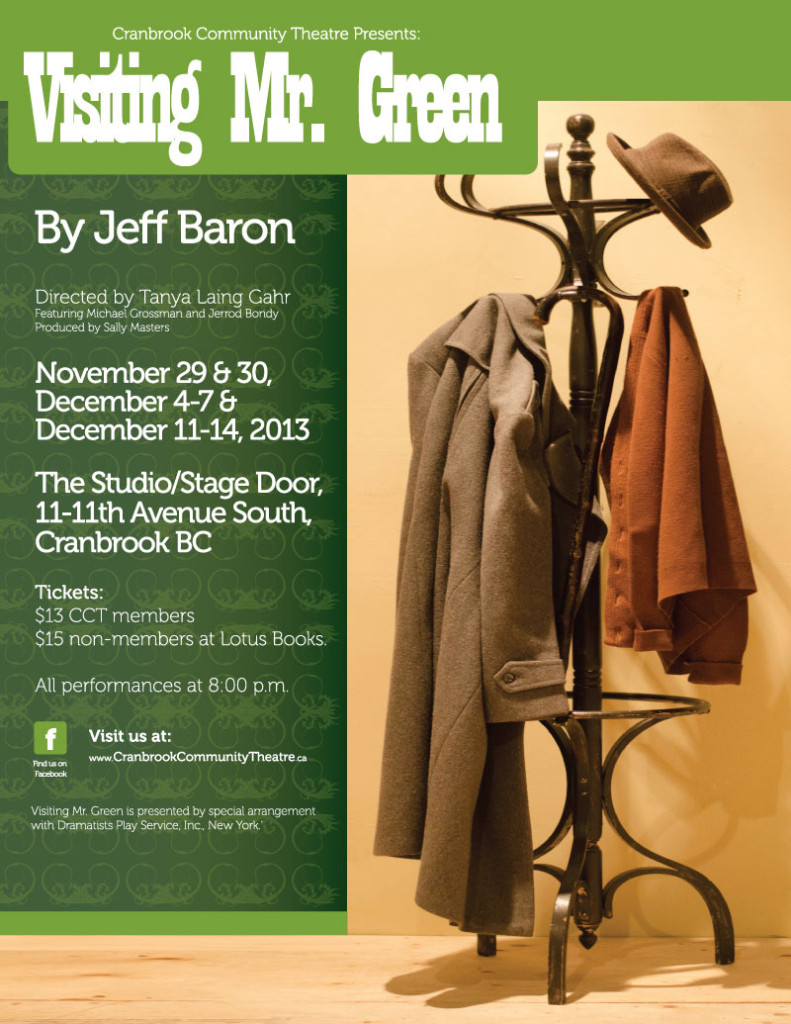 What can you do with a good set and only two actors? Actually quite a lot. Case in point is the play Visiting Mr. Green. This is a play written by the American Jeff Baron and is currently playing at the Studio/Stage Door staring Michael Grossman as Mr. Green and Jerrod Bondy as Ross Gardiner. This production is directed by Tanya Laing Gahr in, probably, her last opus for the Cranbrook Community Theatre. Unfortunately for local patrons Tayna is relocating to Vernon. The play explores a number of dimensions of the themes of racial and sexual orientation prejudices and how the issues are mirror reflections in the differing circumstances of the two protagonists.
 @@@@@@@@@@@@@@
As a significant aside I should mention the music selections for the play. As always one of the highlights of the Cranbrook Community productions is their music selections. In the case of Visiting Mr. Green, appropriately, the general mood of the evening was enhanced by a great selection of Klezmer including music by Andy Statman, Geoff Berner and a number of the more traditional ensembles. The outstanding song Weep Bride, Weep by Geoff Berner  almost ran the risk of upstaging the play. Here are some lyrics from the song:
All of the places have been set, I'm so happy all you honoured guests all came
There's been planning and preparation to put the Normandy invasion to shame
This day is all for you so now there's nothing left to do but
 weep, bride, weep / weep, bride, weep / weep, bride, weep
Weep, bride weep / now your girlhood is over and your womanhood lies stretched out before you / weep, bride, weep
Like a dull grey matronly corpse on the coroner's slab / weep, bride, weep
Nothing but the horrifying agony of childbirth for you to look forward to now / weep, bride, weep / While the melodies of yesterday's parties echo sadly in the past
Weep, bride, weep / Now I'm sorry but it's time for me to talk about the subject of your husband / weep, bride, weep
 I guess you think he's pretty 'cute' and pretty smart and maybe even pretty deep / well weep, bride weep
'Cos he's a closeted marxist who thinks that marriage is state prostitution / weep, bride, weep
So sometimes you'll have to f**** him just to get him to shut up and go to sleep
Weep, bride, weep / but not too hard, we can't have you collapsing out of sheer desolation / weep, bride weep
Because we need you functionally depressive so you'll still get up and drive the kids to class / weep, bride, weep
Well at least tonight your father's buying all the liquid consolation and the musicians will enjoy the bridesmaids in the ***.
 @@@@@@@@@@@@@@