The original "Maddy" was the English singer Maddy Prior who, along with Sandy Denny,  virtually defined the female voice role in the British Folk Rock genre of the 1960s. Sandy Denny may have had the looks and the rock persona but Maddy had the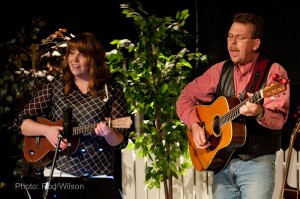 voice. Young local singer Maddy Prinn has a voice that does not suffer from any comparison with either Maddy Prior or Sandy Denny. Miss Prinn, accompanied by her father Dave, made her first appearance at the Local Coffee House on Saturday. It was a stunning performance. She dipped into the recent rock repertoire to sing U2's With You or Without You, The Dixie Chicks Easy Silence, and, for me two unfamiliar tunes, Sky Scrapper and Love your Memory. Maddy played Ukelele and guitar and, off to one side her father sang harmony and played some really beautiful back up and lead on his vintage Martin D-28. Dave looked so happy I thought he was going to burst. As they say the apple doesn't fall far from the tree and Maddy sounds like she will continue the Prinn legacy and in all probability out shine her dad. Here are a couple of links worth checking: Maddy Prior singing Gaudette and Sandy Denny singing "Who Knows Where the Time Goes".
Mark Casey – "a folk singer with attitude" (guitar and vocals) is a big fan of the 60's British invasion band The Kinks. His special treat for the evening was a collection "Kink"
songs. He was joined on a couple of tunes by Barry Coulter on blues "harp". The other "Mark", there are many "Marks" around this town, Mark Rosini and his partner Krista
have recently returned to the area and this was their first exposure at Locals. Mark on  guitar and vocals backed up Krista on some songs that include Smokey Robinson's You've Got a Hold on Me. "Mr. eclectic" (Barry Coulter) on such diverse instruments as blues harp, guitar, 12 string guitar and amplified dulcimer is a frequent performer on local stages. His special treat for the evening was a full-on "Nic Drake" experience. For those who don't know Nic Drake "he was an English singer-songwriter and musician known for his acoustic guitar-based songs. He failed to find a wide audience during his lifetime but his work has gradually achieved wider notice and recognition" (from Wikipedia). He suffered from chronic depression and towards the end
of his life was smoking what has been described as "unbelievable amounts" of marijuana and exhibiting "the first signs of psychosis". By the winter of 1970, he had isolated himself in London and in 1974 he died from an apparent suicide. The resurgence of interest in his music may be due to the use of Pink Moon in a 1999 VW Cabrio commercial. Drake tended to use open tunings in his guitar music. So, to achieve the full "Nic Drake Experience" Barry has opted to use some of Nic Drake's tunings such as B E B E B E (alternating 4th and 5ths), E A D F# B E, and C G C F C E (? Csus) and, rather than haul a number of pre-tuned guitars on stage, he felt the experience demanded the full visual and aural sensations of re-tuning the guitar for each song. Barry is not only eclectic he like to be authentic as well. His final piece of the evening was Pink Moon. Darin Welch is a local singer / song writer who runs the
Driftwood Concert House in Kimberley. Darin and his family (Jen and Silas) are dedicated to promoting intimate and sustainable music in a house concert setting. To read reviews and see images from recent Driftwood Concerts do a "Driftwood search" in this blog. He performed three of his original songs that included Wilderness, Pretty Water and Simple City. Darin writes great songs for his own unique voice and his guitar finger picking technique on an outstanding instrument. His performance strength is in his sensitive use of dynamics. RedGirl (Anie and Mike Hepher and Steve Jones) need no introduction. They have been staples on the local music scene for years and during that time they have continued to grow and evolve. Each performance is a fresh look into their musical world. They were joined on guitar by
Keith Larsen. Prior to the show they were busy in the "Green Room" pulling together the material for this performance and the result, as usual, was smooth, polished and flawless. For RedGirl there is no other way to perform. For the evening they performed a few bluegrass and "old-timey" tunes (with the emphasis on "old-timey"). Keith was given ample opportunity to display his flat picking talents on Lazy John. Their encore was the old American bluegrass favorite Darli'n Corey.
Once again the Stage Door was sold out and thanks should go to Lorraine Casey and all the volunteers that make this wonderful institution such a joy. Here are some more images from the evening.
@@@@@@@@@@@@