Two One Act plays at the Studio / Stage Door: rehearsal Wednesday, January 22, 2014, 8pm.
The Exquisite Hour – A one act play written by Edmonton playwright Stewart Lamoine (hurrah for Canadian content), Directed by Elizabeth Ross, staring Jennifer Inglis as Helen Darimont and Patrick Baranowski as Zachary Teale.
"He's a big galoot" ! It is an expression that probably goes way back to the days of Mark Twain and it is a perfect descriptor for Zachary Teale. It is usually meant to describe some one who is socially awkward and clumsy. It's not usually meant to be malicious. In in an appropriate context, such as in this play, it can be  term of endearment. Helen Darimont probably thinks of Zachhary Teale as a "big loveable Galoot". Helen Darimont is a kind of Patti Page / Doris Day character straight out of a 1950's TV sit-com. The setting of the play and the musical prelude to the play re-enforces that Dejavu notion. It appears to be set in the days when ladies wore dresses and colored co-ordinated ensembles. It is a tale of infatuation and shyness. Helen poses as a door-to-door encyclopaedia sales man (sorry, sales person) and, in developing a sales-pitch rapport,  proceeds to smooth away some of Zachary's social awkwardness. The play is nicely paced as the characters, with some humor, navigate their way to a point when all is revealed. They are not exactly perfect strangers after all. The cast is perfect; Jennifer Inglis looks and acts like  she is straight out of a 1950's sit-com; Patrick Baranowski has the right amount of awkwardness for the character he portrays. This is a play well worth giving up a night of television hockey.  Here are some more images from the play:
NEXT  a one act play written by the American actor and playwright Terrence McNally, starring Peter Schalk as Marion Cheever and Melodie Hull as Sergeant Thech and directed by Bob McCue.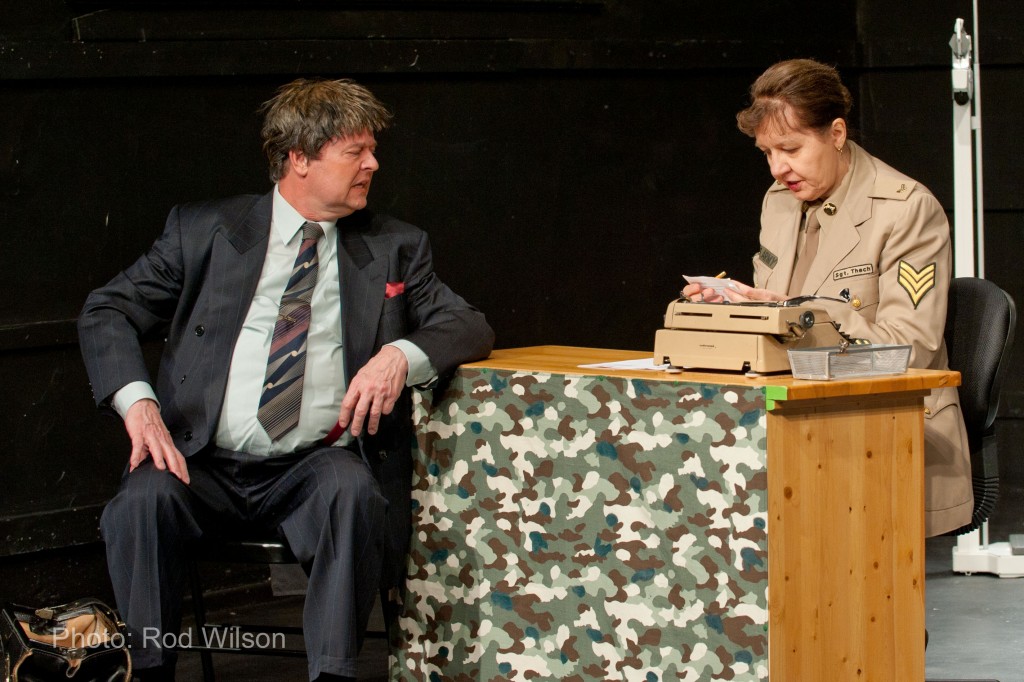 Marion Cheever, played by Peter Schalk, is a man who is unfit, fat and 58 years old. He considers himself unsuitable for any role in the army. His task is to convince the Army Induction Centre examining officer, Sergeant Thech played by Melodie Hull, of his unsuitability. Peter Schalk, in a manner that he does so well, does that in a maniac tour-de-force. Melodie, in contrast, is a solid sea of stern calmness. During the Vietnam war era I am sure the army examiners were exposed to all manners of the absurd behavior by conscripts trying to avoid the draft. This scene reminds me of a scene in the classic cult  movie Big Wednesday when all the local surfers, in their efforts to avoid military service, show up as physical and mental head cases. All this in an effort to prove they are unsuitable material to serve in the army. For Marion, in the end,  the evidence is overwhelming but once declared unsuitable the outcome is a little unsettling for Marion. He has achieved what he set out to do but he seems to have some trouble accepting the rejection. Here are some images from the play.
This play is another good reason to miss a TV hockey game.
@@@@@@@@@@@@@@