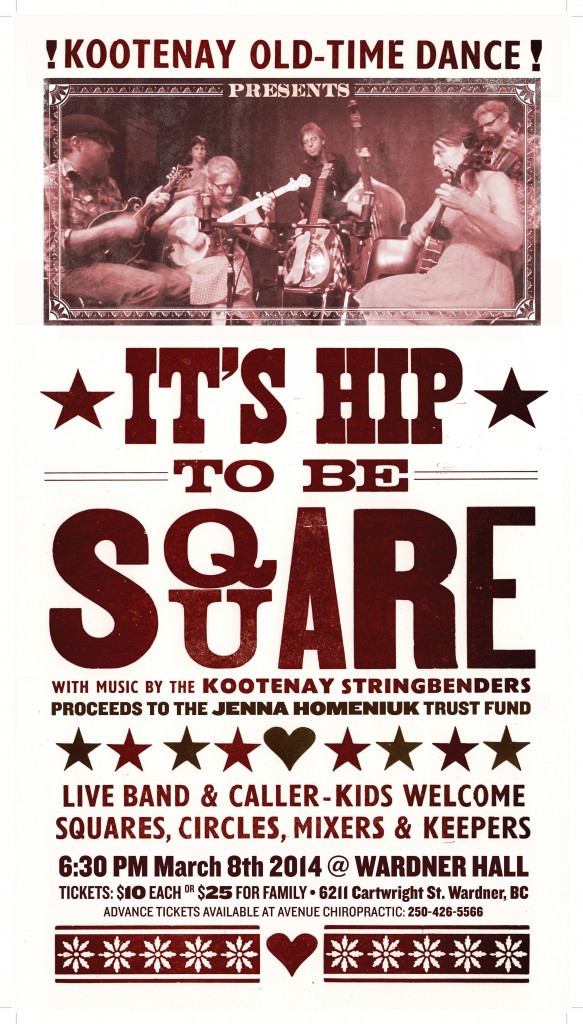 "T'was a dark and stormy night", and then some. The drive out to the metropolis of Wardner was like driving on the inside of a black hole. Every glimmer, every reflection, every photon of light seemed to be literally sucked up in the black void of night. Staying on the road was a matter of keeping one's eyes glued to the white line on the edge of the highway and adjusting one's navigational skills accordingly. Strangely enough this was my first visit to Wardner and I didn't know what to expect. Although I have only had a passing acquaintance with the notion of traditional dancing this trip to Wardner was a chance to enlarge my experience. The town was so small that I was through it and out the other side of the "city limits" before I even ventured to look around to see if I could find the Community Hall. As it turned out it was on a side street, there is only one, and once on it there was no mistaking the Community Hall. The street was jammed packed with vehicles and finding a spot to park was a challenge (parking difficulties in Wardner on a Saturday night who would have thought it was possible).  In this black void of night the hall was a blaze of light, with the walls pulsating to sound of stamping feet, laughter and the wail and screech of fiddles, mandolins, guitars and banjos. To use an old jazz expression – the joint was jumpin'. And, as such, for most of us, it was not a normal situation. It was a reflection of  circumstances and situations of a time long gone.  By that I mean there was a time when music had a social context and a lively night of live music was a more normal thing. It was a time when music was a social cement that bound together families and communities. It was different to our modern concept of music in clubs, discos and pubs.  Although even those situations, for most of us,  also seem to be fading into the past. There was a time when music was more entwined with our daily lives. A time for friends, family and straight forward socializing. A time when  a night out at a dance or picnic meant a trip to the local school house or community Centre and, heaven forbid, LIVE MUSIC. It was a time for friends, family and heaven
forbid (again) a night of fun unadulterated by the commercial motives of image and spectacle. The Square Dance at Wardner Community Hall was a throwback to those simpler times of music, dancing and socializing. The actors in this grand mish/mash of fun were the dance caller Leslie Gotfrit from Calgary, the dancers (of course) and a collection of local musicians collectively known as
The Kootenay String Benders that appeared to be led by Mike and Anie Hepher. The band also included Van and Shelagh Redecopp, `Gus`  MacDonald`, Shauna Plant, Drew, `PotLuck Steve`,
Steve Jones, Rod Wilson, Reg Parsons, Heather Gemmell (trying her hand on fiddle) and many, many more. The large number of young musicians in the ensemble proved that the fate of acoustic music, particularly mandolin players, in this area is in good hands. The musicians kept dancers on their toes with lots of those familiar melodies that must be encoded in our DNA. Such tunes as The Soldiers Joy, Blackberry Blossom, Swannoa Waltz, Big Sciota, Whiskey Before Breakfast, Old Joe Clark, Squirrell Hunters, Nail the Catfish to the Tree, Liberty, etc. The steady pulse of familiar melodies and rhythm kept the feet moving.  The flow of bodies was controlled by the deft instructions of caller Leslie Gotfrit. The dances may not have been familiar but that didn`t matter. Just follow the shouted instructions  to avoid the traffic hazards of dances such as The Torpedo and  after that just have fun.
Apart from the fun objective the dance was a benefit to raise money to support 14 year old Jenna Homeniuk  in Calgary's Childrens Hospital. Jenna is receiving treatment for Leukemia. So apart from the good cause it was a chance to re-establish something that has been long lost. The chance to give music it's true value as a social cement in our daily life. And, you never know, it was just so much fun that we will want to do it again.
 @@@@@@@@@@@@
ps. Need a dance caller contact Leslie Gotfrit at 403-200-3300 or Lgotfrit@me.com
 @@@@@@@@@@@@