No this is not a weather forecast. It is the entertainment line up for Saturday's Summer Sounds in Rotary Park.
Dark Fire Cloud and the Lightning Band Saturday July 12, 2014 11-12 noon. check their website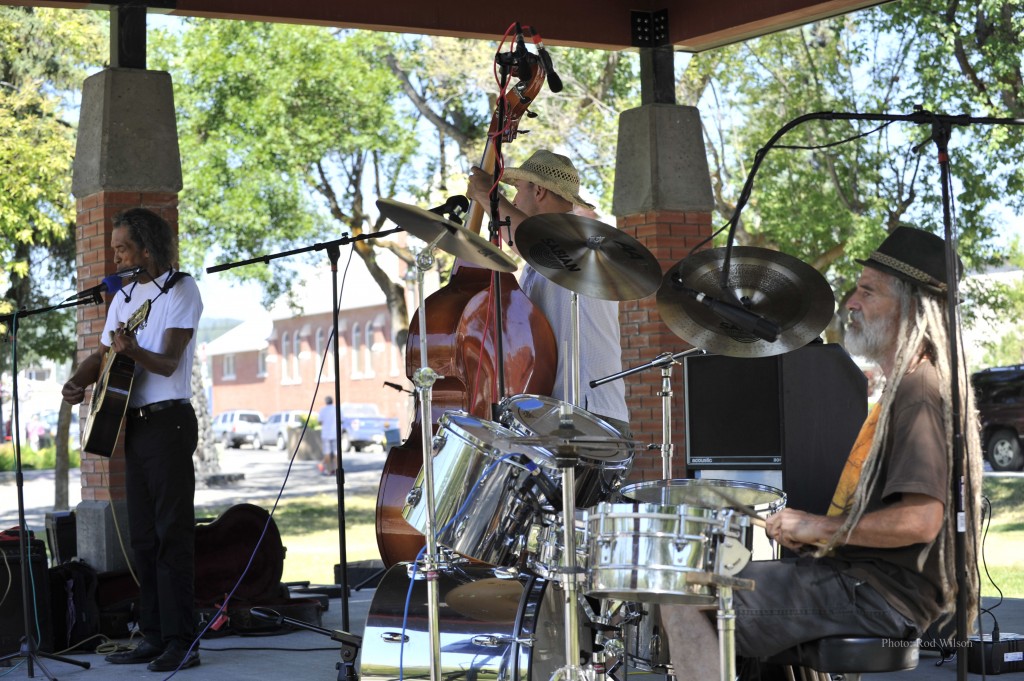 I am a sucker for the unique and Dark Fire Cloud and The Lightning Band certainly filled that bill. Led by Dark Fire Cloud (Thadeus Prejean) on vocals, guitar and "echo" harmonica, with Jay Buttle on upright bass and Shuggy Mulligan on drums / vocals this band looks unique and sounds unique. There aren't too many Zydeco / Reggae bands in this neck of the woods. Appearances alone would make them stand out in a crowd. Thadeus is a tall black "drink of water" with a frightfully manic hairstyle; Shuggy Mulligan with his mammoth set of dreadlocks must be an extremely rich man with all the money he has saved on haircuts; Jay Buttle looks so "straight" that he is a startling contrast to the two other musicians. All musicians bring their own little kink to the music. Thadeus with his guitar and Echo Harmonica – I think it is a double reed Instrument that sounds remarkably like a Cajun button accordion – provided a creole sound that would probably be at home in Lafayette, Louisiana. Shuggy Mulligan's drumming is something else. As most people know I am not overfond of drummers (they are usually just too loud and clutter up the sonic envelope) but every now and then there is an exception. Shuggy is an exception. Yes he is loud and he does from time to time play with the thick end of the sticks but I forgive him for that. The time he spent in the West Indies has left a rhythmic mark on his drumming that took me back to a 60's recording of the Dizzy Gillespie band in Barbados. That recording stamped in my mind  a hi-hat beat with the snappy snare accents that just gets the hands and feet twitching in joyous sympathy. Shuggy had that West Indian rhythmic punch that I just love to hear. Jay Buttle is another example of why the upright bass has come back into favor. He has that big round sound that blended so well with Shuggy Mulligan's drumming. With the exception of the old Creole standard Jumbalya the music was mostly original material. That didn't seem to be a challenge for patrons at the Byng Roadhouse on Friday night. They kept the band on stage until 2 o'clock in the morning. Unfortunately I missed the show but if they come back I will be there in spades. Here are some images from a day in the sun at Rotary Park on Saturday.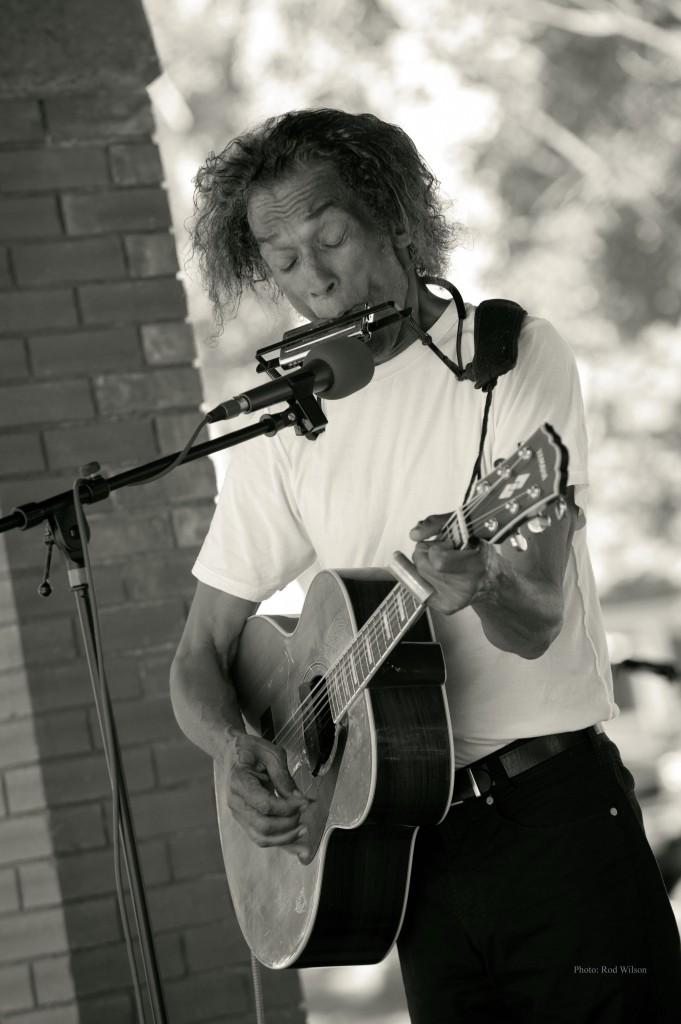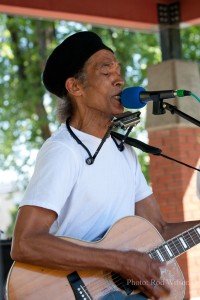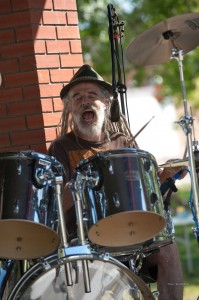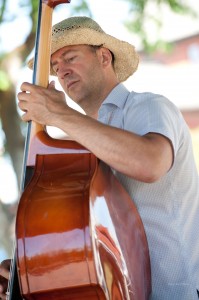 Sunny Day Saturday July 12, 2014 12 noon to 2pm (Brian Noer, Dave Prinn and Bill Renwick).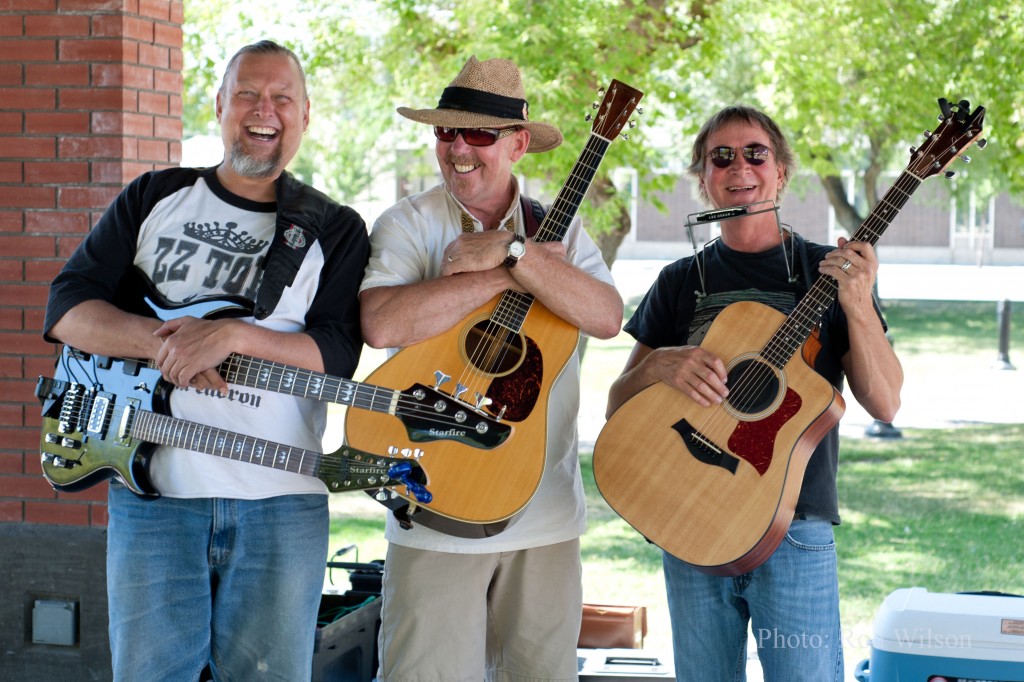 Right off the cuff Dave Prinn admitted that this was a made up band name for this spectacular day in Rotary Park. Considering the great weather and the sunny disposition of the performers the name is more than appropriate. It is also a nice counterpoint to the name of the opening act, Dark Fire Cloud and the Lightning Band. Dave Prinn (vocals and Guitars) is a troubadour who is always in top form. Bill Renwick (guitar and vocals), his compadre from the duo Vested Interests has a voice that if Neil Young could really  sing he would sound like Bill. Brian Noer (bass, lead guitar and back up vocals) from the Heather Gemmell band is a consummate musician who manages to control his thrasher guitar instincts to provide some really tasty lead guitar and bass. As a group the vocal harmonies were superb. Dave kicked off the afternoon with Kansas City and from there on out it was a steady diet of classic rock with songs such as Southern Cross, Steam Roller Blues, I'm Already Standing, Heart of Gold (Bill outdoing Neil Young), I Saw Her Face (The Monkees), Wanted Dead or Alive (Bon Jovi), Still Haven't Found What I am Looking For (U2), Angel from Montgomery (John Prine), City in the Grass (a Dave Prinn original), Wake Up Little Suzy (The Everly Brothers), etc. Two hours later the sun was still shining and the audience was smiling from ear to ear. Another great afternoon in Rotary Park with Summer Sounds.
 @@@@@@@@@@@@@