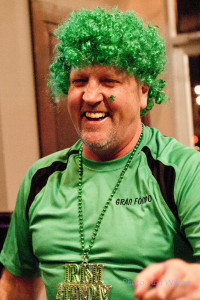 The Oak Republic at the Heid Out, Tuesday March 17, 2015 (St. Patrick's Day) 6:30 to when ever.
St. Patrick is reputed to have converted pagan Ireland to Christianity. If he did that then it is kind of ironic that the life of this Christian Saint is celebrated with a day of bachanalian  frivolity.  St. Pat never made it to The Oak Republic but given half a chance he would have been right at home. Where is the Oak Republic? Well it isn't actually a place, maybe it's more a state of mind that exists in the imagination of a musical collective
known as The Oak Republic. OAK REPUBLIC?? Where did that name come from? As it turns out the band's Bouzouki player Shawn Robertson is a big admirer of the great Canadian guitarist Don Ross. Don is famous for his aggressive finger style playing that has been labelled "Heavy Wood". Considering the nature of the band's music "Heavy Wood" would seem an appropriate name for the band but, in deference to Don, the band moved on looking for another name. "What's a significant heavy wood. Let's see; say what about Oak? Now that's a step in the right direction. What's a name for a collection of citizens? How about a Republic? By George Jay, you've got it. The OAK REPUBLIC is what we are." Under that name Jay Toner (guitar, vocals), Allyson Blake (fiddle and vocals), Shawn Robertson (guitars, mandolin, vocals and Irish Bouzouki), Murph Martin (electric 5-string bass) and John Seiga perform music of both the old and new worlds. It is a folk/rock based ensemble with a touch of "the olde Irish" in the mix. In honor of the day's celebration the band kicked off the evening with The Wild Rover, Whiskey in the Jar, and the Pogues re-invention of Ewan McColl's classic Dirty Old Town. And that was just the beginning. It was a night of frivolity, fun and some great old tunes.  Here are some images from the night.
@@@@@@@@@@@@@@@