Cranbrook Community Theatre – Making God Laugh full dress rehearsal at the Studio Stage Door in Cranbrook. Wednesday October 7, 2015, 7:30pm.
A play written by Sean Grennan, Directed by Trevor Lundy, starring Melodie Hull as the mother Ruthie and Michael Prestwich as her husband Bill; Gina Martin as daughter Maddie, David Booth as older son Rick(y) and Woody McGuire as Father Tom, the youngest son.
Movies are about the wham, bam, bang factor with lot of action an unlikely plot twists. As a general rule, films do not emphasize inter-personal relationships and character development. Of course there are exceptions, but I think the general rule applies. Live theater does not lend itself to spectacular car crashes, chases, sinking ships and space Opera cliches. As a result plays tend to have more elements of  human relationships. That is the case with the latest Cranbrook Community Theatre production of Making God Laugh. Here, without giving too much away is the synopsis of the play – "Making God Laugh follows the lives of Bill and Ruthie and their three adult children through more than 30 years of holiday gatherings. Sometimes uproariously funny and other times very moving, the play examines all of the facets involved in being part of a crazy, messed up, but mostly normal, dysfunctional family."
Tickets are available at Lotus Books and at the door for October 9, 10, 14,15, 16, 17, 21, 22, 23, 24 performances at the Studio Stage/ Door in Cranbrook.
Here are the images from the Dress Rehearsal:
THANKSGIVING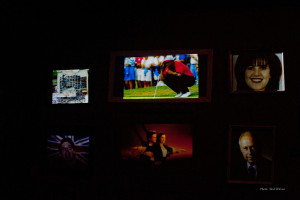 NEW YEARS CELEBRATIONS AND THE IMPEDING CHAOS OF A "Y2K" MELTDOWN

@@@@@@@@@@@@@@@@@@