On the poster Moulettes describe themselves as a British Touring Electric Art Rock Band. That is quite a mouthful. When I checked out their YouTube video clips I ended up with some sense that the band may be an up dated version of the classic British Folk Rock Band Steel Eyed Span. Now, having seen and heard them perform I don't think I could have been more wrong. There is almost no element of "folk" in their performance but the concept of "Art Rock" is probably the right descriptor. This is no "lead guitar, rhythm, bass and drums" rock and roll outfit. This is a completely original band with a configuration and a performance that is so completely out of the box that it is outside any of my frames of reference. I am speechless. I overheard a member of the audience suggesting that the performance reminded him of Frank Zappa's music. Although I am vaguely familiar with Zappa's music I really can't authenticate that observation. But he could be right and that may be as good a hook as any on which to hang Tuesday's night performance. Here is some information from their web site:
What is Moulettes?
moulette /ˈmu.lət/ noun
1. (physics) a unit of force exerted by group of small objects/persons- energy exerted results in force disproportionate to their size.
2. (botany, biology) a seed, cell or embryonic vessel containing a hatchling.
3. a type of barnacle or sea mollusk, known for their resilience and traction. Free-swimming as larvae; as adults form a hard shell and live attached to submerged surfaces such as reefs, hulls and wharves.
4. a small morsel of food believed to have aphrodisiac qualities.
5. a short story or song, both factual and fantastical in its themes; a refrain, spell, sound sequence or chorus.
They are not 'The moulettes', their songs are 'Moulettes'. Welcome to the multi-verse of Moulettes.
Band Members:Hannah Miller – 5 String Cello, Cellola, Vocals, Guitar, Synths, and Autoharp.
Raevennan Husbandes – Electric Guitar, Vocals, Acoustic guitars & Dobro.
Ollie Austin – Drums, Guitar, Synth, Vocals.
Jim Mortimore – Bass, Double Bass, Moog, Vocals
 Here are some more images from the concert.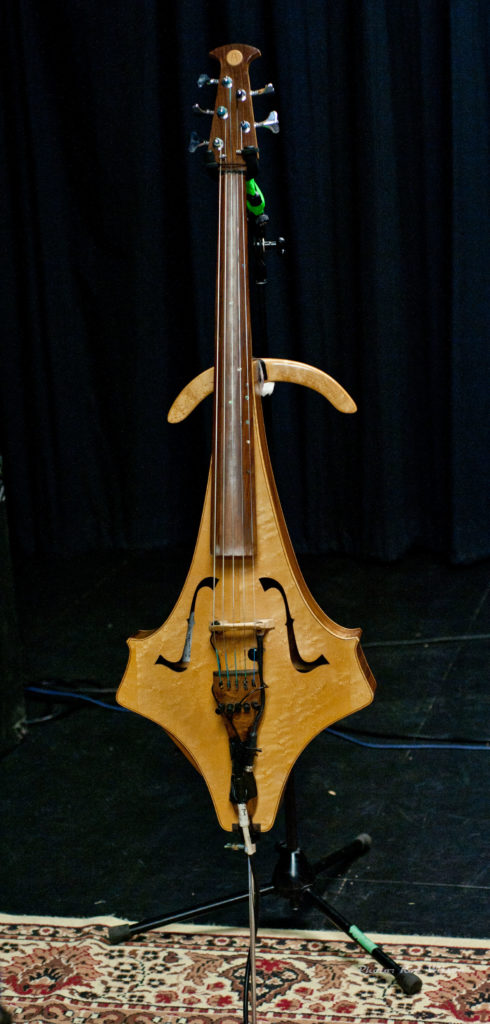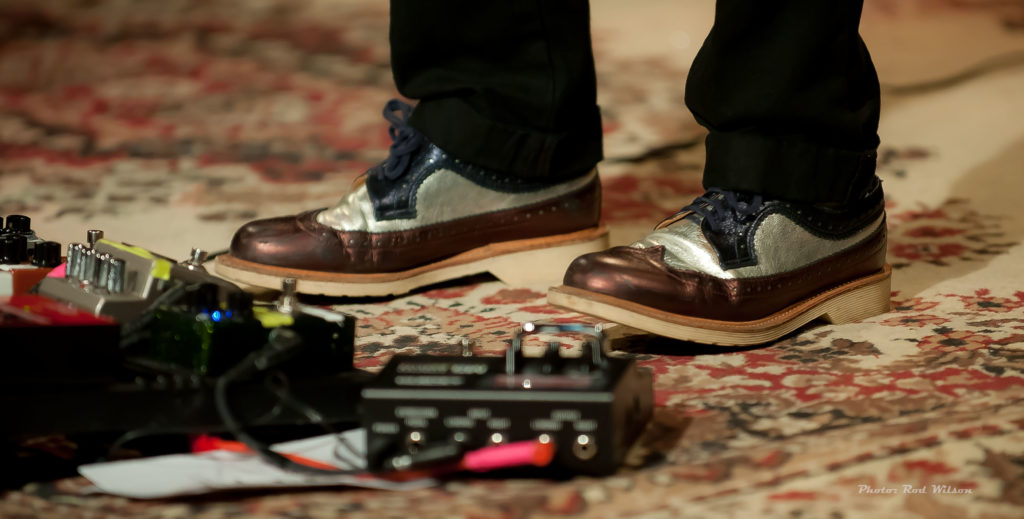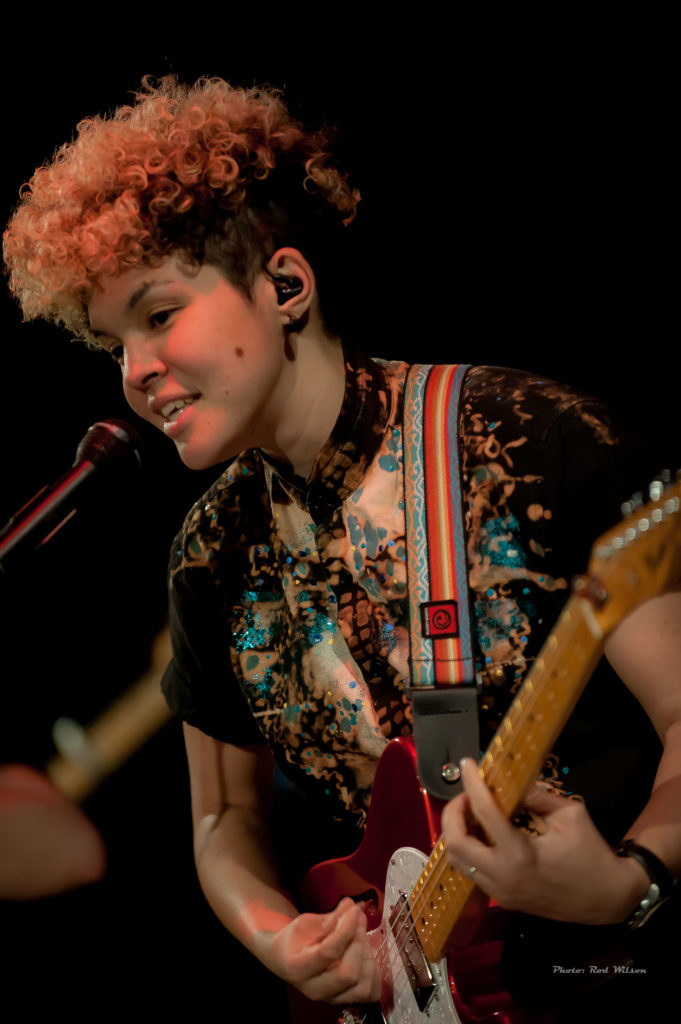 This was a night of very original music from a band that obviously put a lot of work into their arrangements and performance. I only have one small negative comment. The volume of the sound re-enforcement was too loud  for me to really hear all the nuances of the music.
The band would like to thank Keith and the committee for arranging the concert and they would also like to thank the volunteers and the sponsors, Burrito Grill for the food and Trickle Creek Lodge for the accommodation.
An Art Rock Band deserves an "arty" finale to this blog entry – and here it is – a technicolour abstract photo of Jim Mortimore in full flight on electric bass.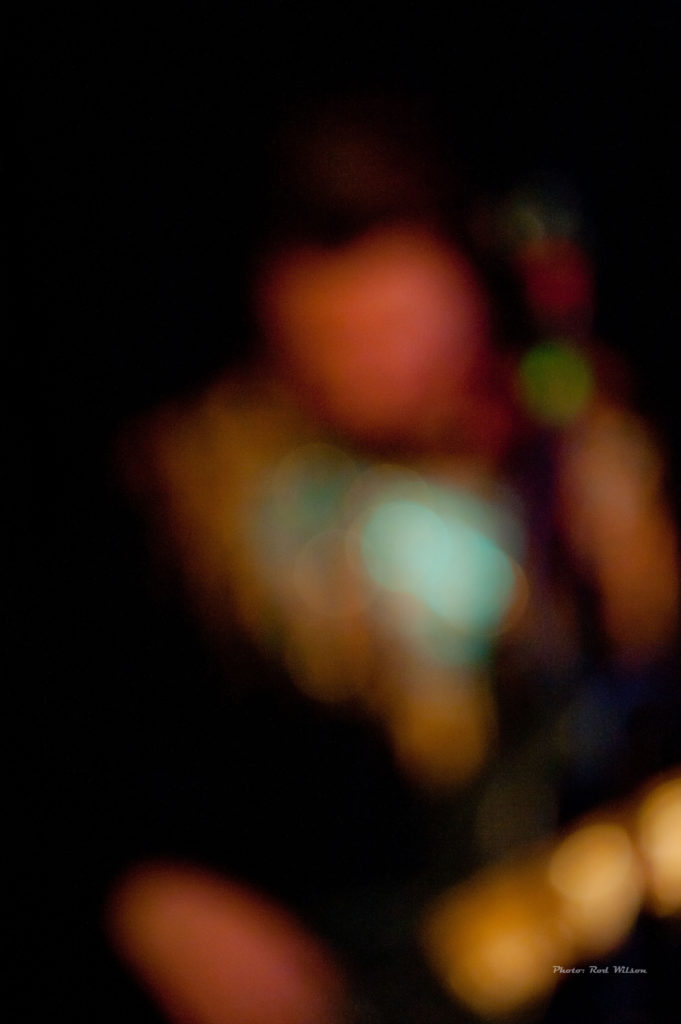 @@@@@@@@@@@@