Gabriel Palatchi Trio at Studio 64 in Kimberley , September 8, 2018, 8pm. This is the first concert of the 2018 Winter Jazz and Blues Concert Series.
Keyboardist Gabriel Palatchi is a citizen of the world. He is an Argentinean with Jewish, Turkish and, given his surname, Italian Roots. He is a ceaseless wanderer touring the world, performing and studying the many musical cultures  he encounters along the way. His recent forays into Spain and Morocco included the study of Flamenco piano music.
"Born in Buenos Aires, Argentina in 1982, Gabriel Palatchi started his first piano lessons at the age of 8. He spent his formative years in Buenos Aires studying classical piano, and being mentored by some of the great maestros of blues, tango, jazz and Latin jazz.  After graduating in 2007 from Berklee international School, Argentina, he spent several months in Cuba where he studied Latin jazz with the master Chucho Valdez. Gabriel subsequently became a composer when he moved to Tulum, Mexico in 2008, and his life experiences up to that point influenced the composition and
production of his first solo album "Diario de Viaje" (Travel Diary) in 2010. The album received critical acclaim from music industry journals, and was chosen as one of the best Latin Jazz albums of the year by JAZZ FM Toronto.   He went on to record a further 3 albums that cemented his unique sound, culminating in his 4th and latest album, "Made in Canada" (2017), which also happens to be his first live recording. Gabriel's songs are a representation of the many cultures which have influenced his music over the years, with a deep core in Latin Jazz.
For the past 8 years Gabriel has been performing at major international music festivals, touring throughout Mexico, Canada and Europe.  His music is broadcast across radio stations all over the world from Alaska through to South America, Europe, the Middle East and Australia  It has been reviewed and featured in the Rolling Stone Magazine, Latin Jazz Network, Ejazznews, All About Jazz, Jazz Caribe, The Toronto Star, Salsa Son, Timba Columbia, Newstime South Africa and inside World Music, among many others.
"Trivolution" was selected as the Gold Medal Winner in the Composer/Album categories; achieved TOP TEN status in the 2015 "Global Music Awards", and also featured in the "Emerging Artists" section of the April 30th, 2016 issue of BILLBOARD MAGAZINE."   – This info is from Gabriel's website.
In the past he has performed in Kimberley. In 2015 his band was included in that year's Jazz and Blues Concert series ( http://www.rodneywilson.ca/2015/09/13/its-a-long-way-from-buenos-aires-the-gabriel-palatchi-band/ ). I must commend the organizing committee for setting aside their "no repeats rule" to invite Gabriel back to the Studio 64 stage. In that particular performance Gabriel was joined by West Kootenay musicians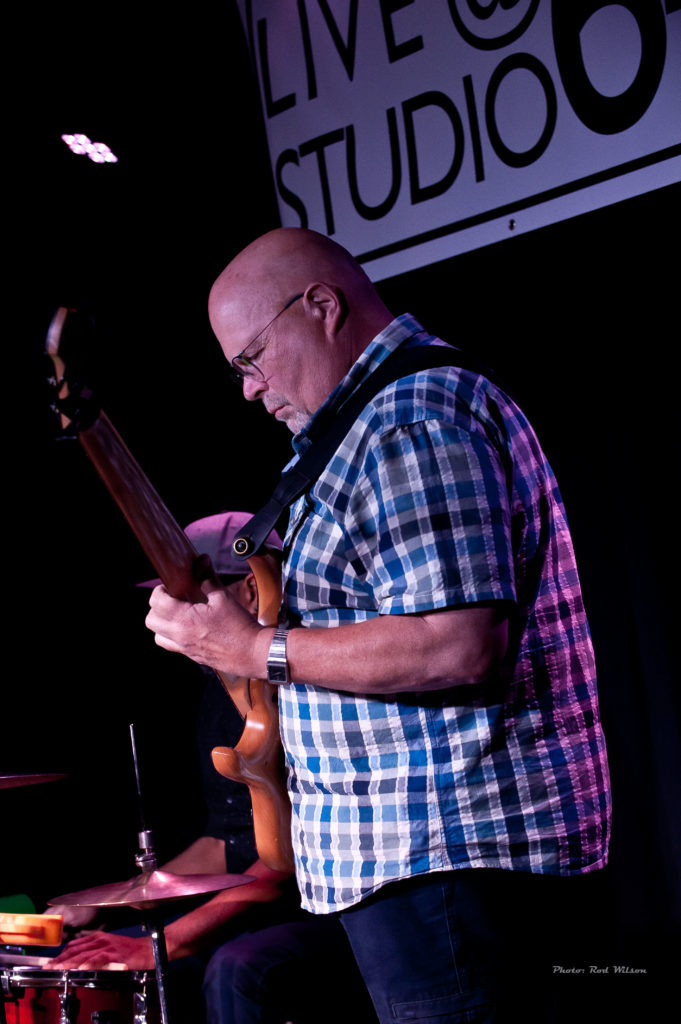 Doug Stephenson on bass and Tony Ferraro on drums for a collection of some familiar material (Juan Tizol's Caravan and Ahmad Jamal's Poinciana) along with his original compositions. This time around the other members of the trio were Cameron Hood from Vancouver on 6 string Tobias electric bass and Luis "El Pana" Tovar on drums. Luis is originally from Venezuela and is now a resident of Calgary. The program for the evening was all original material. As can be imaged, rehearsing such a scattered group of musicians is a challenge. It was done by exchanging mp3's across continents followed by only three days of rehearsals before the tour. Cameron assures me that the music is fiendishly difficult and for him to nail the exotic piece "in sevens" required many hours of solo practice. Cameron explained that the piece was in 7/8 (perhaps a nod to Gabriel's Turkish roots) but it was complicated by mirror images of the rhythm. 123 4567 followed by 1234 567 – three and four followed by four and three. On top of that there was all the salsa, Latin and funk overtones. I confess as an Anglo the names of all the Spanish tunes just flew by me. "Oh yeah. There was that thing in sevens. Then there was the Flamenco piano piece and the piece with fragments of Astor Piazolla's Libertango but as to the names of the tunes they just flew by". No matter. The music was a tour de force of Latin, Funk and not to be forgotten Nuevo Tango.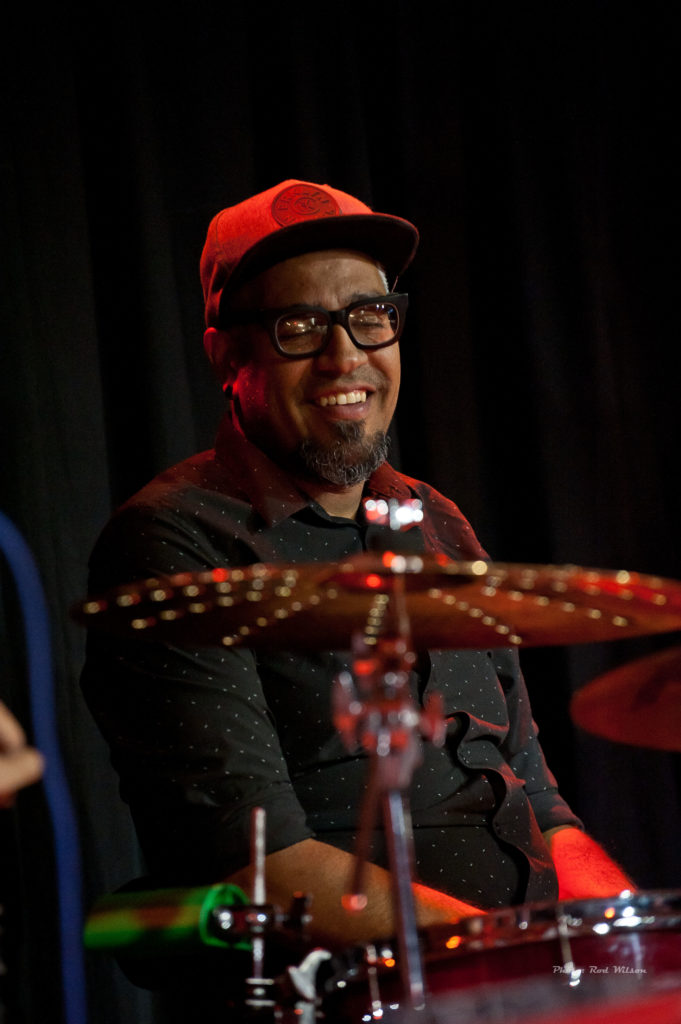 In Argentinean Nuevo Tango, drum kits do not figure prominently in traditional performances . Luis "El Pana" Tovar stepped up to the plate magnificently, particularly in the Tango pieces. That style of music is noted, among other things, for its shifting rhythms and structural complexities. It's enough to make you wonder if a thorough grasp of rhythm requires being born south of the equator. Luis is a noted conga player and percussionist and that may account for some of the musicality in his performance. Or is it perhaps because the guy appears to be almost seven feet tall? Maybe from that height the rhythms of the world are more understandable.
Here are some images from a spectacular night of music.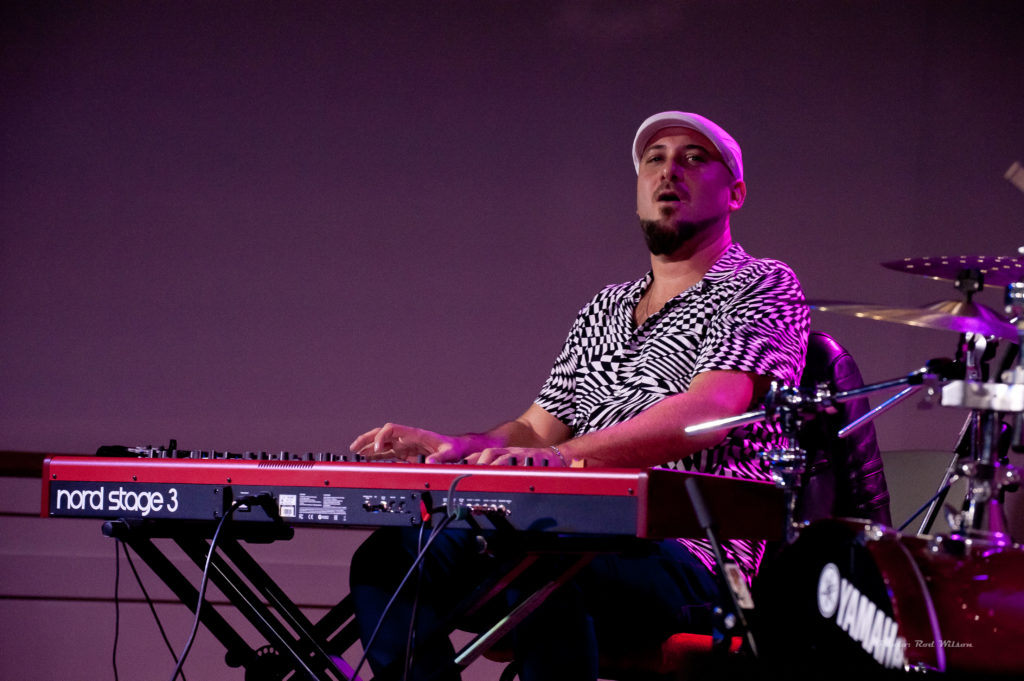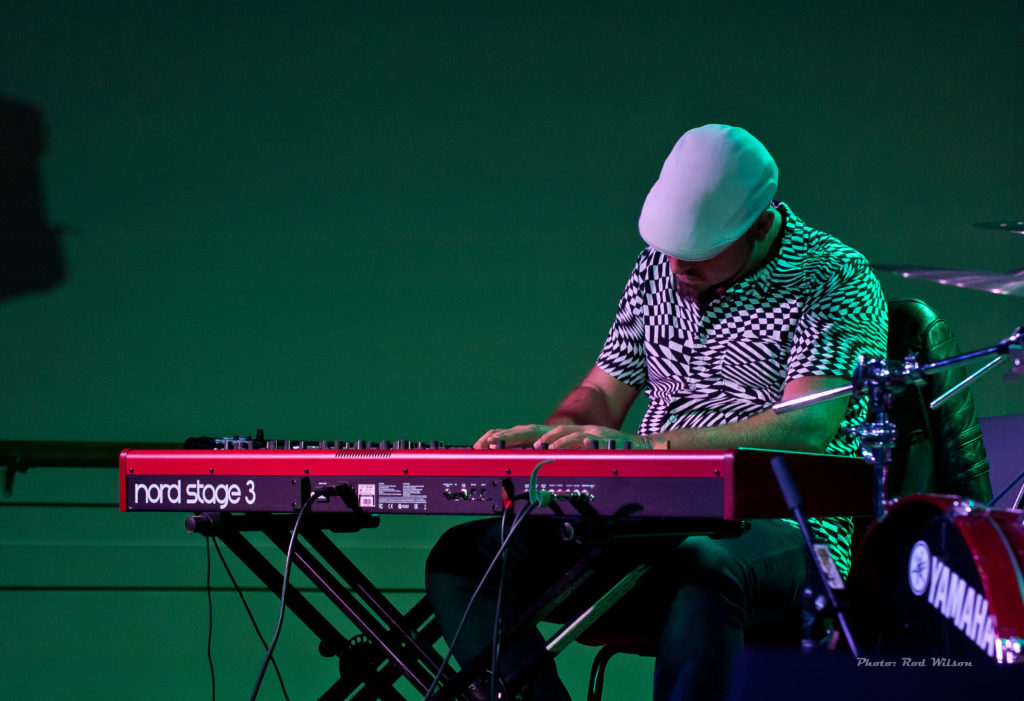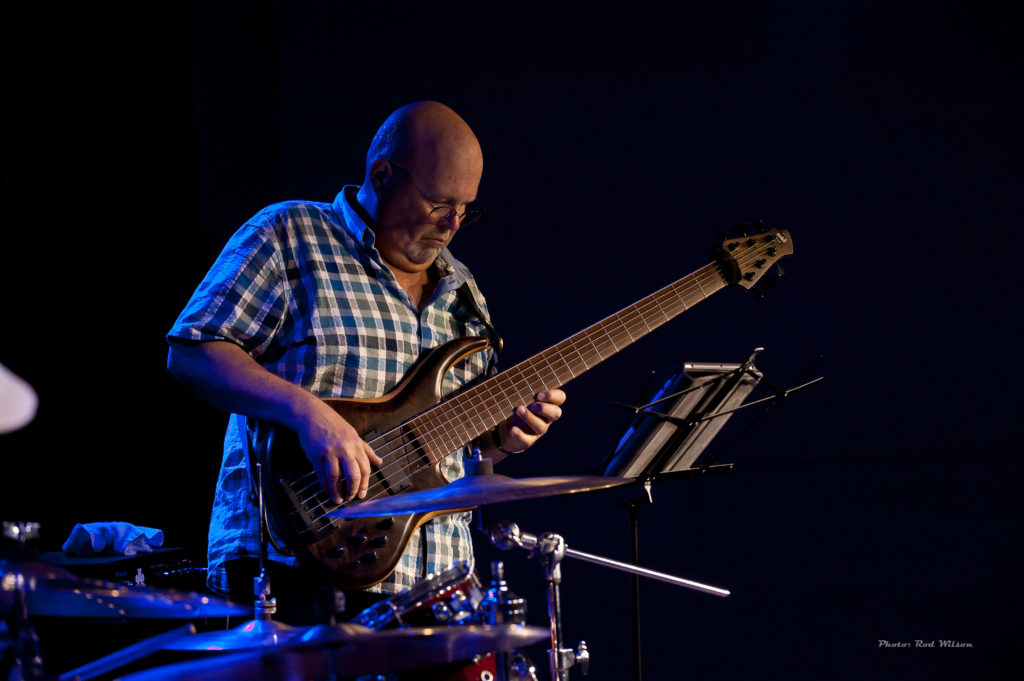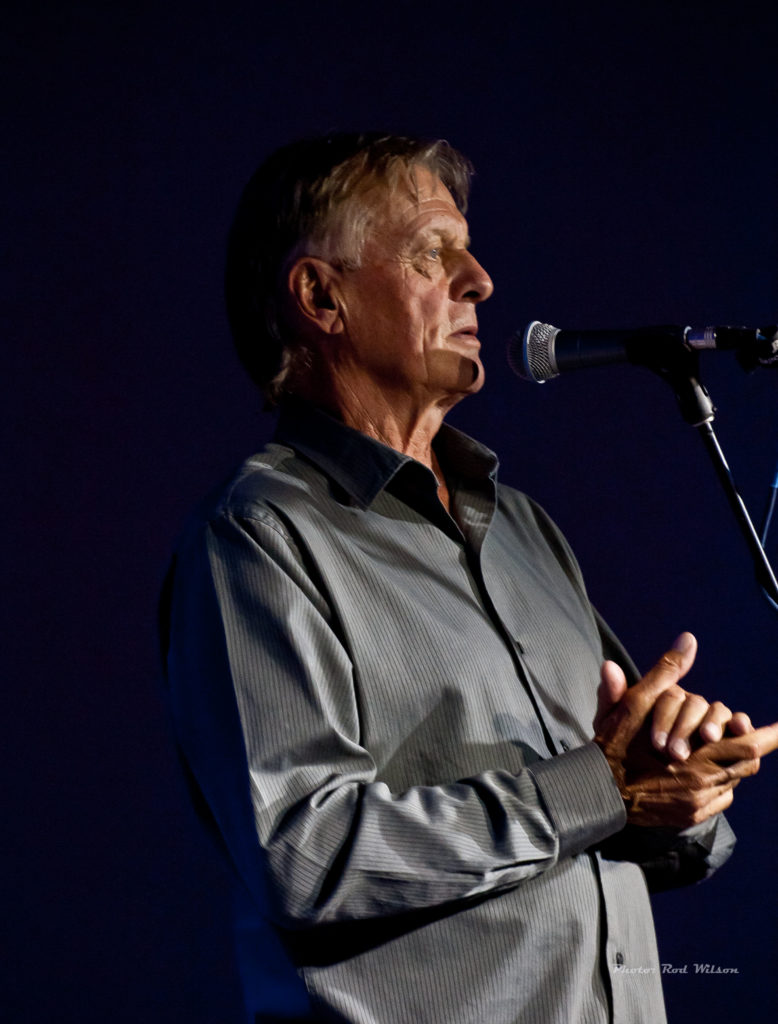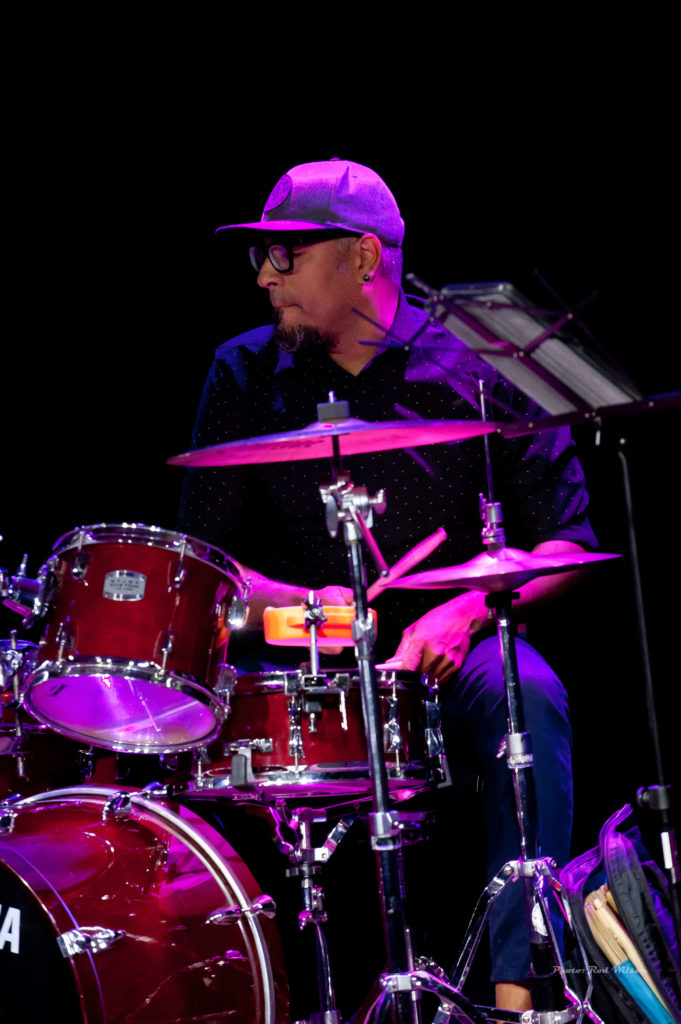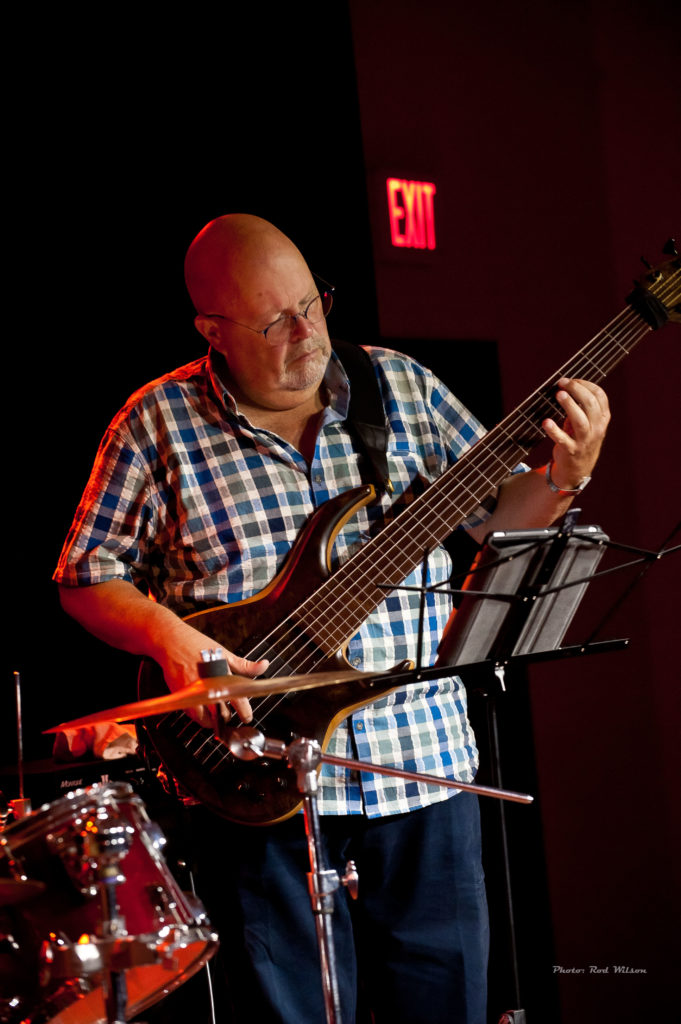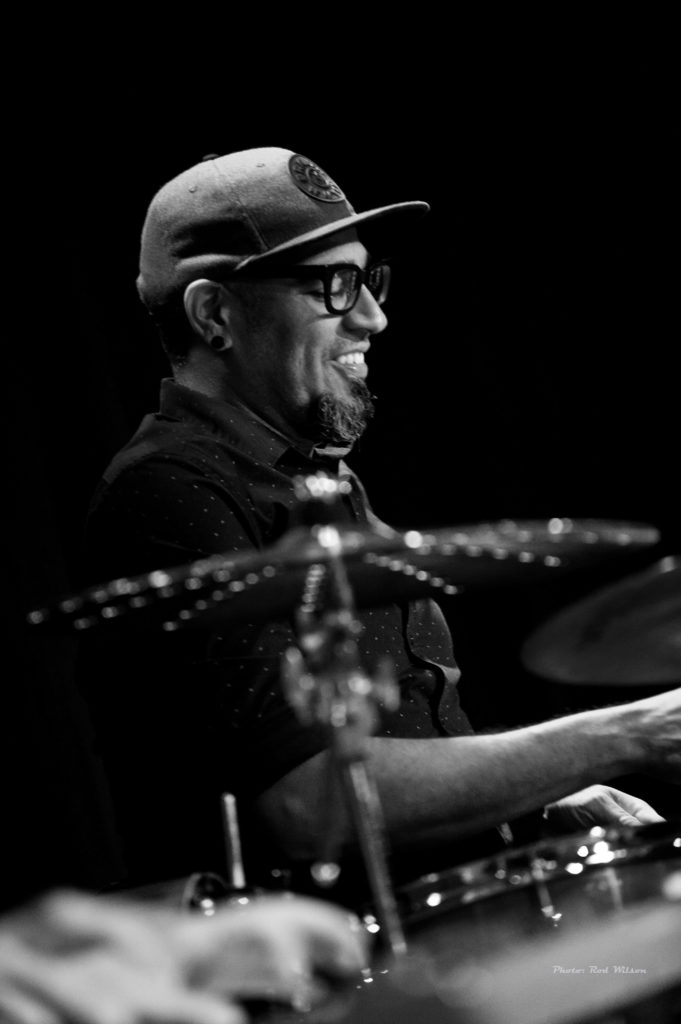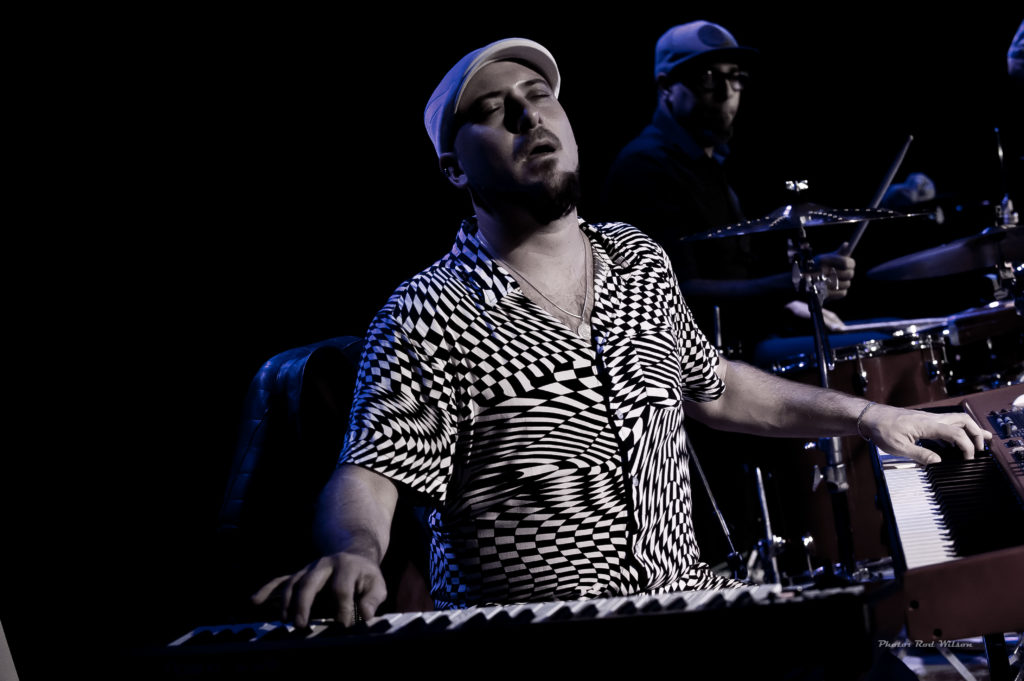 As with the previous concert in 2015 the music was outstanding. So much so I hope the organizing committee will once again put aside "the no repeats" rule if Gabriel decides to return.
As always, thanks must go to the volunteers, the organizing committee, The Burrito Grill for feeding the musicians and "A B&B at 228" for the musicians lodgings. Oh, by the way, the bassist Cameron Hood would love to come back this way with some of his fellow Vancouver musicians.
@@@@@@@@@@@@@@