Saturday July 7th, 2012 noon to 5pm: TWO SCOOP BBQ AND MUSIC JAM  at Two Scoop Steve ice cream parlor in  down town Yahk.
It is one of the outstanding features of Canadian seasons. When it is time for the seasons to change it is like the big guy in the sky throws a big switch and its time to move on. A week ago we were in the throws of a very wet spring and a couple of days into the week the rain stops, the sun came out and the temperature soared and here we are into summer. The Big Guy threw the switch in time for TWO SCOOP STEVE'S ANNUAL BBQ AND JAM in Yahk. As usual this was a musical smorgasbord of talent from the East and West Kootenays and below are some images and comments about another unforgettable day of music in Yahk (click on the images for a larger view). Mr. Tom Bungay in full summer red neck attire doing the sound check with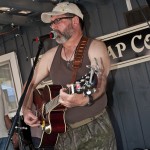 "You Say it Best When you Say Nothing At all". He returned a little later with "Folsom Prison Blues", and John Denver's "Country Road".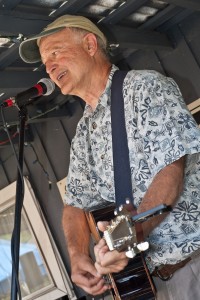 Les and Melissa of Elmer Street Conspiracy
with "You Ain't Going No Where" and Darryl Scott's  "River Take Me"
Dan Unger adding some Dobro sweetness to Dave Prinn's version of "Vincent"
Dave Prinn with a set that included "Vincent", "Crazy", "Man of Constant Sorrow" (just for Dan Unger's Dobro), "Daddy Played the Banjo" and "Get Rhythm".
Dave Prinn stayed on deck with Jim Marshall, Mike Mitchell (percussion and harmonica), Neil Ostafichuk (bass) to jam on a Neil Young tune, Chuck Berry's "Memphis Tennesse", "Have you Ever Seen the Rain" and "Bright Lights, Big City".  
Ernie Toupin and his hat.
The Kings of Kitchener (Mike Mitchell, Ted Bryant and Neil Ostafichuk) played a set of their weird inventions and were joined by Tom Brown  on Tenor Sax for the famous "I'm the Ice Cream Man".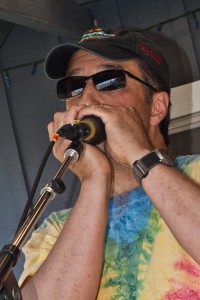 Other performers during the afternoon included poet  R. Lee Rose, Connor Foote, Bob Gollan, Rod Wilson (on Irish Cittern playing some traditional or tradition inspired tunes – "Bonnie Ciara / The Blarney Pilgrim", "Ben's Lament" and "Billy of Tea / Cuppa Jig"), Bob Gollan and his tribute to Bob Dylan and Jackie Gingras ("Can't Let Go", "A New Coat of Paint").
And that was not all. Tom Bungay was taking to the stage as I left at 5:30pm and I know Daze of Grace were in line to take the music further into the evening. For another wonderful day of food, ice cream, ice cream, ice cream, burgers and music, music, music, a special thanks to Mike and Marlene Mitchell. They took ownership of the place in 2004 and are now going into their ninth season. Their annual BBQ and Jam is the high light of the summer season and should not be missed. See you next year!!
 @@@@@@@@@@@@@@@@@@@@@