Music on a Human Scale:   Chris Coole at the Clawhammer Letter Press and Gallery, Fernie, Saturday July 14th, 2012, 8pm.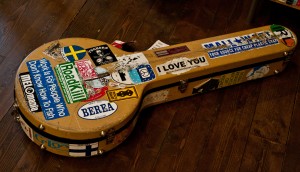 This is a concert that took me back, way way back to the mid-1960s. The United States Government had finally issued Pete Seeger with a passport and he was in my home town in Australia. While there he performed a a concert at Sydney University. He walked onto a bare stage with nothing but a clawhammer banjo in one hand and a 12 string guitar in other.  He then proceeded to entertained the audience for two hours. In those days it was very unusual for a solo musician to take on a challenge of the that magnitude. Chris Coole, although the comparison probably embarrasses him, is cut from the same cloth. After a short warm up session by redGirl  (Mike and Anie Hepher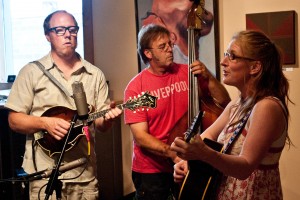 with Steve Jones) Chris, armed with only a clawhammer banjo and a borrowed guitar did a marvelous recreation of a Pete Seeger style concert of so many years ago.
Chris Coole plays clawhammer style banjo, so named because the right hand picking hand is held in a claw like position with sound being generated by the backward flick of the fingernail across the strings. It is a style that is a significant step away from the more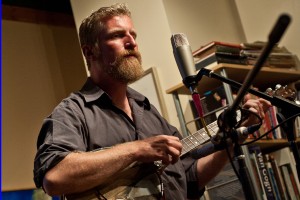 familiar frantic Bluegrass style of banjo picking. It is actually a step more than away, it is a step back to the origins of Bluegrass music. That is, the songs, the murder ballads, and fiddle tunes of Appalachia. It is rhythmically softer and, to these ears, a way more melodic way of playing the banjo. And that was the tone set for the evening – the rhythmic tinkling of the banjo underscoring beautiful melodic lines and songs.  A delightful feature of the evening was the complete lack of musical cliche. Every song and tune was fresh and new. Even such familiar songs as the 1971Stone's hit "Wild Horses" and Paul Simons "I Know What I Know" came out sounding so unbelievably new   that it was like you had never heard them before. Chris paid tribute to the much admired John Hartford with "Let him go on Mama" and "I Wish We Had Our Time Again". No show saturated with traditional music would be complete without a blues and for the occasion Chris borrowed
Anie's wonderful old beat up Gibson guitar for a version of Blind Willie McTell's classic blues "Delia" (as I type this I am listening to Martin Simpson's recreation of the same tune). Among the plethora of traditional songs and tunes there was a sprinkling of original material that included "Old Dog" and "One Hundred Dollars". If a blues must be included then Gospel music is not far behind. For the occasion "Keep Your Hand on the Plough" included the audience in the performance. The full throated participation in the chorus and the gentle stomping of the audience's feet generated an ambience that will not fade from my mind for a long time.  The evening of wonderful traditional songs, tunes, and cover versions of newer pieces that seem to be finding a place in the folk tradition came to a close with an encore that included the Gospel instrumental "Camp Meeting on the Fourth of July" followed by another unnamed tune. One of the joys, for me, of this style of music is the prevalence of instrumental pieces and Chris served them up in spades.
Anie and Mike Hepher need to be thanked for bringing Chris into town for this concert in this small wonderful space that is Mike's work place (The Clawhammer Letter Press and Gallery). Steve Jones the bass player was gob smacked happy to be playing his wonderful
new bass behind Chris Coole and it will take a while for him, and the audience, to come down from this wonderful concert. It was music presented the way it should  always be – minimal sound re-enforcement in a very intimate setting. In other words music on a human scale.
Some more images from the concert:
The quote of the evening "Welcome to my world, bass playing and clawhammer banjo." Steve Jones.
@@@@@@@@@@@@@@@@@@@@@@@@@