JUST ANOTHER FRIDAY NIGHT OF LIFE WITHOUT A DRUMMER.
HEATHER GEMMELL at the Pickled Bean Cafe (Cranbrook International Airport), Friday August 3, 2012 5pm. The weather is heating up and so is the local music scene. No sooner had I pronounced the local scene dead than things have started to happen. Heather has managed to string together a series of solo engagements and that meant no drummer. I, for one, didn't mind. It was an opportunity to hear some of Heather's especially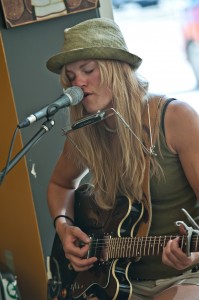 fine guitar work. And judging by the audience response, airport and cafe patrons were more than happy to kick back and enjoy a more mellow version of  Heather`s rootsy/blues offerings. I have this wish list. I would like to see and hear more of Heather in a more jazzy laid back environment. I have this image of her performing with an upright bass player and a really hot soprano sax player as a perfect foil to her voice and bluesy guitar. With lots of space in the music I think it would be a really cool combination. This engagement was part of the Airport and the Pickled Bean Cafe`s Summer Artist Showcase series. Keep in mind that on most Friday evening, 5-7pm, local performers have an opportunity to play for anybody passing through the airport.Over the next few weeks Daze of Grace, Leather Britches and Tom Bungay will be performing.
(Click on the images for a larger view)
THE JAZZ COUNCIL at Ric's Lounge in Cranbrook, Friday August 3, 2012, 7 pm. Well, I never did get the story straight about their drummer Sven Heyde. He either got lost, was ditched by the band or he was away in a huff because the bass player Joel Kroeker and Tim Plait are leaving the band. Without the drummer Laurel Ralston (trumpet and fluegelhorn), Bernie Primbs (baritone sax) Tim and Joel soldiered on. It was not a hardship. In fact, on a couple of piano / bass duets the drummer would have only been clutter (sorry Sven). Even without the drummer it was another very civilized night of music, food and refreshments. The band kicked off the evening with a tune long associated with Armad Jamal and Miles Davis – "If I Were a Bell" – complete with the corny, but essential, piano intro. The band and worked their way through such jazz standards as "Summertime", "Moonglow", "I`ve Got You Under My Skin" and "It had to Be You". My favourite of the evening was Luis Bonfa`s "Manha De Carnaval`(Morning of the Carnival`) from the wonderful 1959 classic film "Black Orpheus". This is a tune definitely touched by the gods and Joel`s exploration of the melody was especially fine.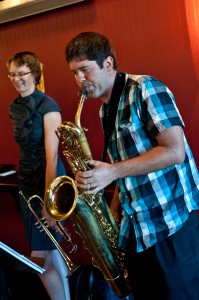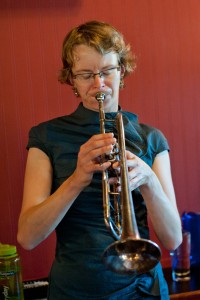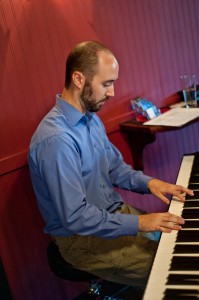 Keep in Mind THE JAZZ COUNCIL will be performing at the Arts on the Edge Gala at Centre 64 in Kimberley next Friday and will be giving a farewell performance next Saturday at the Studio – Stage Door for Tim Plait who is heading off to Germany and Joel Kroeker who is taking up a teaching position in Sparwood.The Jazz Council will be back in the fall with a new line up and some exciting musical adventures.
&&&&&&&&&&&&&&&&&&