Apre ski with The Pursuits at the Stemwinder Bar and Grill, Kimberley Ski Hill, Saturday / Sunday, January 13th and 13th January 2013, 3-6pm.
Fraser Armstrong is older than dirt, or so he says. That may or not be true but one thing for sure he has been on the music scene since prehistoric times (that is any time prior to the closing of the Sullivan Mine). He is a good buddy of Tim Ross and along with Ferdy Belland has played in a number of Tim's musical organizations over the years. His latest musical adventure is a family band that includes sons Connor on keys, Declan on drums & percussion, daughter Marlo on bass and wife Patti on alto sax.  The family was joined by  special guest cellist Julika Ulrich. Julika is an exchange student all the way from Germany.  Fraser takes the lead with his instantly recognizable voice, lead guitar and percussion.The band has played a number of gigs but this is their first step into the professional league. Their repertoire is a mixture of classic rock, pop and jazz and during the afternoon the ski crowd was treated to Autumn Leaves, Glory Days (Bruce Spingsteen) Dock of the Bay (Otis Redding), Georgia on my Mind, Born to be Wild, Take Five (the classic Paul Desmond Jazz tune in 5/4), Kung Fu Fighting, Learning to Fly (Tom Petty), Super Something Blues (young Declan's ode to a super hero), I'm a Blue Bird (Cold Play), I Want to be Sedated (The Ramones), I'm a Believer (The Monkees) and in among a whole stack of tunes there was a Neil Diamond tune done in a punk rock style. Not to be forgotten were a number of Fraser's original tunes.
Fraser may be the patriarch and the ladies are especially fine but the cuteness award has to go to that master of rhythm and sartorial elegance young Declan Armstrong.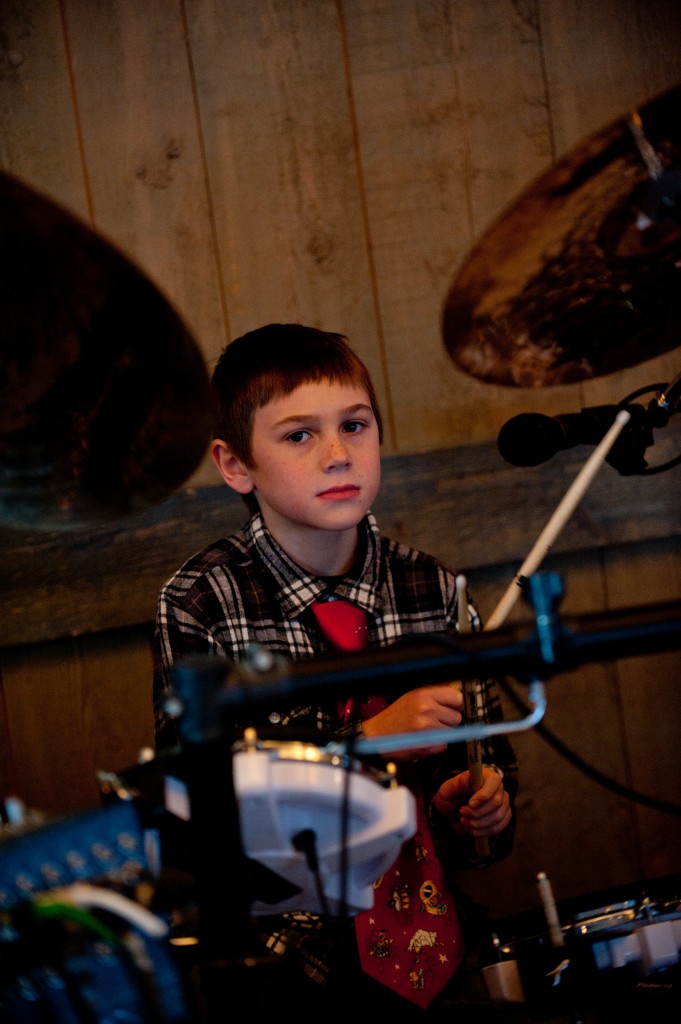 @@@@@@@@@@@@@@@@@@@@@