So ends a crack-a-jack weekend (Friday / Saturday/ Sunday Jan 4-6, 2013) of live music.
Heather G's Jam at Ric's Grill (Prestige Inn, Cranbrook) Friday January 4, 2013 from 7:30pm to midnight.  featuring local performers. As usual there was a great turn out of performers and patrons and a significant amount of audience participation on percussion. Performers included a shakedown performance by Heather Gemmell, Brian Noer and their new drummer Podier Atto ("P.J."), DAZE OF GRACE, Jon Bisset, EAST MEETS WEST (Tom Bungay and Gene), Dave Prinn, Mark Casey, Steve Lungal, Rod Wilson, James Neve, Connor Foote, Clayton Parsons  and those fine ladies of BlueGrass fame (Cosima Wells, Shauna Plant and Heather Gemmell). Their performance of Stephen Foster's You are My Sunshine in a minor key was absolutely stellar. Here are some images from the night.
Tim Ross hosting the Open Mic at BJ's Creekside Pub in Kimberley,
Saturday, January 5, 7:30 pm.

On the local music scene BJ's is a shining light of live music for local musicians and patrons. During the winter months there is live music nearly every Saturday evening. That includes an "open Mic" session on the first Saturday of the Month.  Tim Ross, ably
assisted by Colin Righton and Ferdy Belland (The Bison Brothers) managed attract a plethora of local talent. Musicians included two of the area's premier singer / songwriters Garnet Waite and James Neve,  fellow musicians Connor Foote, Brent Ross,  Rod Wilson, DAZE OF GRACE,  Bill St. Armand, Brian Morris and the absolutely stunning back up vocalist "Irene". Kimberley residents are noted for a crash and burn approach to a night out and are usually home in bed ten o'clock. Not this night. This session, like Heather's Jam at Ric's the previous night, rolled right on past midnight.
Apre Ski with 60 Hertz at the Stemwinder Bar and Grill (Kimberley Ski Hill), Saturday and Sunday, January 5 & 6th, 2013, 3-6pm. This is one of an ongoing series of regular musical events held at the Stemwinder though out the ski season.

It has been said many times before that this is "The Band" of note in the East Kootenays.  60 Hertz is a well oiled musical machine that is way more than just four older guys try to relive their youth. A bygone era may have been their initial inspiration to play rock music but from there on in they are their own musical muses. 60 Hertz with Rob Young on lead guitar, Dave Birch on bass, Marty Musser on drums give substance, voice and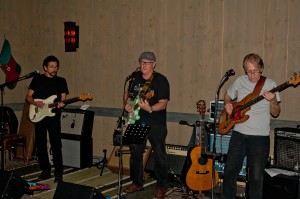 punch to the original songs and tunes penned by James Neve. This is an innovative intelligent rock band with great songs, great arrangements that they play so incredibly tightly. So, after a day on the slopes it is a real treat to be able to kick back, enjoy some food and refreshment and hear the music of this fine band. And, as an added bonus, kids can mill around enjoy live music up front and personal in a family environment. How ofter do kids get to sit down with their parents, friends and others and listen to live music in a civilized setting? I suggest almost never.  As usual the band delivered their repertoire of, by now well known, original songs such as Desperate Train, Don't Get me Wrong and Time Stands Still , and also a healthy serving of new material. These guys continue to write and rehearse on an almost continuous basis and as an audience we gain the benefit.
Viva the Kimberley Ski Hill and the Stemwinder Bar and Grill.
@@@@@@@@@@@@@@@@@@