Jake Ian and the Haymakers Wednesday, March 27, 2013, 7:30 pm at BJ's Creekside Pub.  Lonesome Jim – aka James Neve was scheduled to open the act but because of a cold Ferdy Belland stepped in to open the show.
Over 40 years ago Bob Dylan, Leonard Cohen, Joni Mitchell and their contemporaries completely revolutionized the content of popular songs. The "moon, June, spoon" sentiments of that era were replaced with songs of personal statement, content and meaning and for that we can be thankful. Although, at the same time, songs tended to become more oblique and obscure. Almost to the point  where sometimes, even with some head scratching and research, it has become difficult to figure out the meaning of
the song. Clarity often was sacrificed for the pure poetry of the words. So Jake Ian is a pleasant respite from the "fuzzy" songs of recent years. In his craft he returns to songs of narrative, songs that tell stories, songs that reflect the "rolled up sleeves and callused hands" of rural Alberta. Jake is a guitarist/ singer/ songwriter hailing from Warspite, Alberta, a small hamlet of 48 people located 100 km north east of Edmonton. He grew up on a family farm and his Ukrainian cultural heritage stretches back though several generations.  In listening to his songs I was transported back to the the world of the great short story writer W.P. Kinsella. Not to the scenes of Kinsella's Hobbema  Ermineskin reserve but to a series of stories that he did about Ukrainian communities north of Edmonton (I have been unable to recover the name of the collection but the stories still rattle around in my brain). What Kinsella managed to put into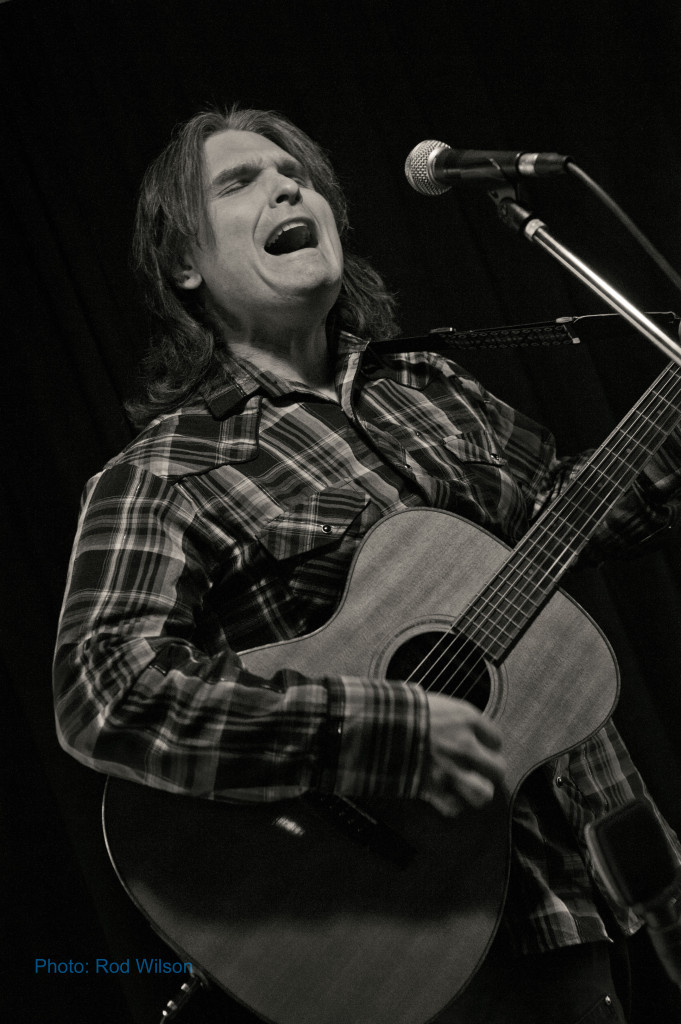 print Jake manages to put into song. Although some of the evening's performance included covers of acoustic material by Neill Young (Long May You Run),  and Town Van Zandt (If I Needed You) the strength of the night was in Jake's original material about life on the farm, people met, people left behind, old cars, and old experiences. Included in the originals were Bunk House Blues, Hide the Guns, The Hired Hand (based on some late 1800's poetry by dissident Ukrainian Ivan Franks), Down the Drain, White Wagon Blues, Maria, Public Defenders Blues and Be in Fort  Qu'Appelle by Dusk. Jake played a beautiful small bodied Martin 000-15M guitar in a wonderfully clean complementary style and was supported by the bass player Braden Sustrik.  James Neve was scheduled to open for Jake but due to illness he was forced to relinquish the opening role to Ferdy Belland. Ferdy had orchestrated the evening's event and the choice of James Neve would have been the perfect bookend to Jake's material. James's endless supply of original songs from another area of the troubadour tradition
would have been a nice complement to Jake's songs. Be that as it may, Ferdy rose to the occasion with a wealth of covers that included The Early Morning Rain (Gordon Lightfoot), The Great Compromise (John Prine), Pancho and Lefty (Towns Van Zandt), He's and Old Hippie (David Bellamy), Aurora Borealis (Neill Young), Chelsea Hotel (Leonard Cohen), The Wreck of the Edmund Fitzgerald (Gordon Lightfoot) and Hello in There (John Prine). Once again the evening was testament to the management of BJ's Creekside Pub (Shannon and Kurt Schiller) and their commitment to live music. It was also a testament to the cultural strength of the land north of "Edmonchuck" (Edmonton).
@@@@@@@@@@@@@@@@@@@@@@