LJO (The Little Jazz Orchestra) at BJ's Creekside Pub, Friday July 19, 2013 7:30 pm,
Apart from a brief flurry of activity last year  and on into this spring there has not been much Jazz on the local music scene. Prior to that, the Key City Theatre used to import some significance jazz artists but since the "Key's"  manager's, Monique, passed from the scene hard core jazz at the Key seems to be a non-starter. Of course that is all understandable because jazz doesn't figure in too many musical imaginations these days. If you are not an Elvis Presley impersonator, a tribute band or an old worn out rock star there  is very little call for your services. Mind you, some of the scuffling, under the radar, performers still manage to make some semblance of a living
playing the smaller venues. This spring the Kimberley Arts Council's  Laurel Ralston did import some jazz artists (stand up Tyler Hornby) to grace the small stages in Kimberley. So perhaps I exaggerate. As a long term jazz aficionado I long for a steady diet of that improvised musical art form called jazz. Although it has been pronounced dead over the years, jazz still surfaces from time to time. And that it did on Friday night at BJ's Creekside pub. Jim Cameron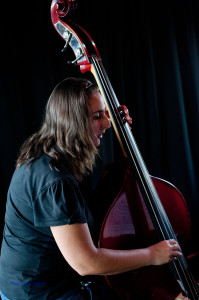 (guitar), Janice Nicli (upright bass), Dave Ward (trumpet
and flugelhorn) and Graham Knipfel (drums), collectively known as The Little Jazz Orchestra are well known musicians on the local scene. They all have "real" jobs (teachers, office workers, construction) and have performed in a multitude of genres but they all seem to share a passion for playing and improvising jazz. They were on top of their game on Friday night as they worked their way through such standards as Softly as in a Morning Sunrise, Sunny, Moanin' , Smile, All Blues, Besame Mucho and Dave Ward's wonderful original family portrait with the unlikely title Me and My Old Man and My Old Man's Lady. Jim Cameron, although playing a nylon strung classical guitar, came across with a full throated arch top jazz guitar sound that would not have been out of place in any uptown jazz club. Graham Knipfel showed why more local drummers should lose their sticks and play their kits with brushes. The solid propulsive sound of brushes is one of my favorite rhythmic sounds. Graham gave up his seat on the drum kit to fellow drummer Sven Heyde for a tune. Dave Ward laid down some memorable solos on trumpet and flugelhorn and, although the principal soloist in the band, he graciously gave up time and space for fellow members to shine. Janice Nicli was rock solid on stand up bass and proved she can handle her jazz chores with as much authority she once commanded on funk electric bass in Billy Jive's funk outfits. Jazz, more than most other musical performances, is about being in the moment, taking risks and laying down the grove. Those attributes were in abundance on this particular night.  BJ's Creekside Pub is the perfect venue for jazz and I hope we will hear more of the same  in the near future.  This was an  exceptional night of improvised music.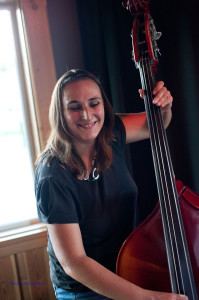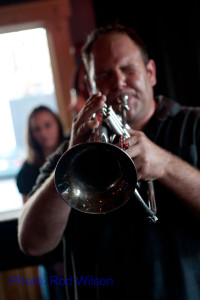 @@@@@@@@@@@