Elena Yeung and the Kootenay Express with special guests Michael and Anie Hepher at the Marysville Pub, Sunday May 27, 2014 3pm.
For some of us it was a little slice of Bluegrass heaven. Elena Yeung (banjo and vocals), her great original songs supported by Steve Jones solid bass playing;  some choice counter melodies from Karl Sommerfeldt; Keith Larsen's  classy rhythm and flat picking guitar, plus the added bonus of the old-timey sounds of Mike and Anie Hepher on mandolin and clawhammer banjo. Yeah, for the aficionados a little slice of heaven is an apt description. For anybody else maybe it was just a relaxing Sunday afternoon of good music  – either way "just another rotten day in paradise". Although the usual fetish of a single condenser microphone was center stage the musicians broke with tradition and "plugged in" the fiddle, bass and guitar. That suited me – I always find the dancing around a single microphone distracting and, beside you never really hear the guitar and the guitar of Keith Larsen is always worth hearing. Although Lena has recorded a lot of her material it was good to hear live versions of Dandelion, Wake Wake up Little Sparrow, Fire on the Mountain and the wonderfully dreary The Grave Diggers Daughter. One of the joys of traditional music is the sound of great melodies. Karl and Lena did not disappoint with their great banjo and fiddle duets on Dance Around Molly, and Cindy,Cindy. Mike and Anie stepped up to the plate with Steve and Keith on Lazy John. Most people don't realize that the late rock guitarist Gerry Garcia had some pretty solid Bluegrass credentials and, to prove the point, Keith Larsen played a version of the Grateful Dead's Friend of the Devil. He also dipped his hat to Mike Jagger and Keith Richards with his rendition of their hit song Wild Horses. There are some songs and tunes that should no longer be performed. For instance, Scottish Bagpipers should refuse to play Scotland the Brave and Amazing Grace. They have been done to death. And, normally, I would put Dueling Banjos and the Orange Blossom Special in the same category. However, this fine group of musicians breathed new life and humor into these old war horses and I have to retract my condemnation – Well done guys!!
Check the review of her last show at the Marysville Pub  Elena Yeung doing the Clinch Mountain Back Step . Elena Yeung and the Kootenay Express (Steve, Karl and Keith) will be touring around over the summer. Catch them if you can because we are going to lose Elena to Ottawa. She is relocating in the fall. Sigh!!!!!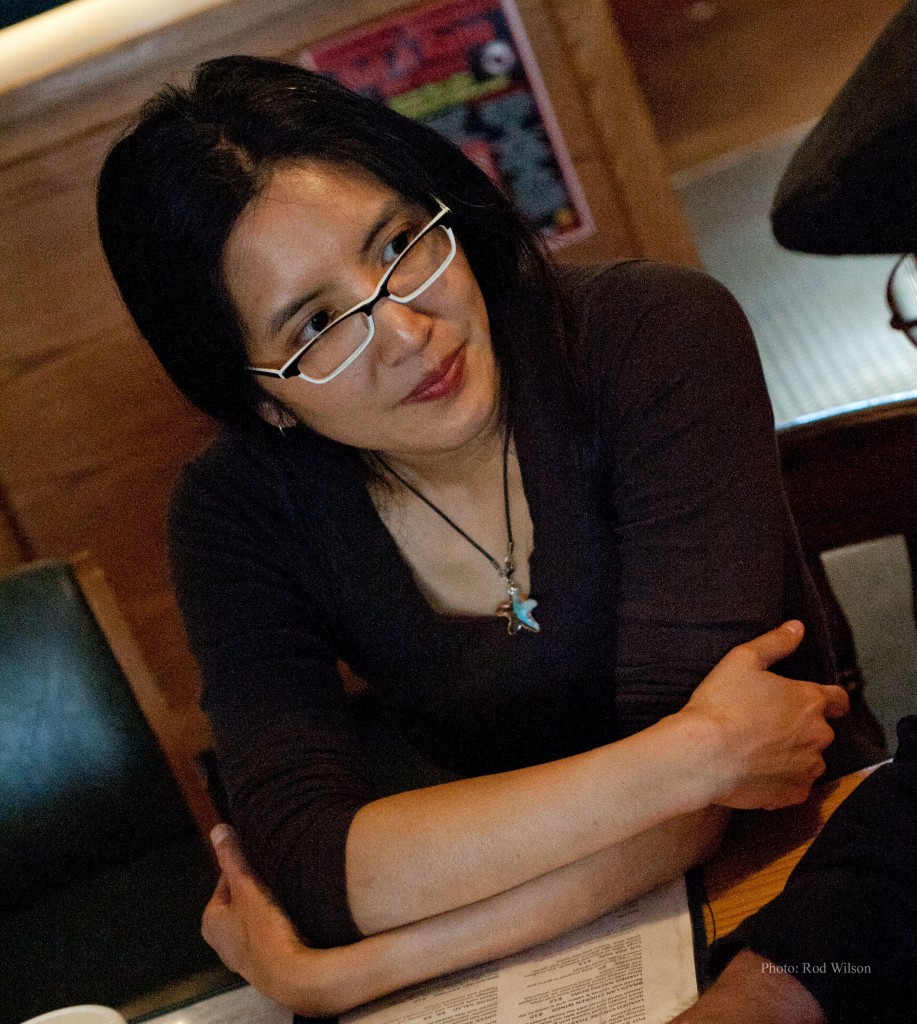 @@@@@@@@@@@@