LOCALS COFFEE HOUSE: The last of the season , Saturday, April 25, 2015 7:30 pm at the Studio/Stage Door, Cranbrook
Once again it was a night of attractive women, new and old tunes, some musical theatre and some low level testosterone enhancements. The night was kicked off by the MC Katie Elders ———
Katie introduced Janice Nicili, best known as a kick-a***** bass player with the Little Jazz Orchestra and the Rosie Brown Band.  Janice has been known to don an afro-wig and play masterful funk bass when the occasion calls for it. Tonight, on guitar she accompanied the mother and daughter duo Shawna and Meghan Plant . The trio chose a selection of contemporary songs  that included The Lions Roar by the Swedish band First Aid Kit. For those not familiar with this band I have attached a couple of YouTubes at the end of this blog.
Next up was the first quotient of testosterone for the evening with Ian Jones playing a classic 1982 Gibson acoustic guitar that he appropriated from his mother some years back. As I was dealing with a camera malfunction I didn't note down the tunes he performed. For some unknown reason or other I had disabled the auto focus and it required a little bit of fiddling and a hasty consult of the manual to get my eyes uncrossed and the equipment back on track. Below is one result of my attempt at unfocused photography. While it doesn't do justice to Ian or his music it does have some sort of "Arty" quality that I kind of like. If I tried I probably could not duplicate the effect ………..ever.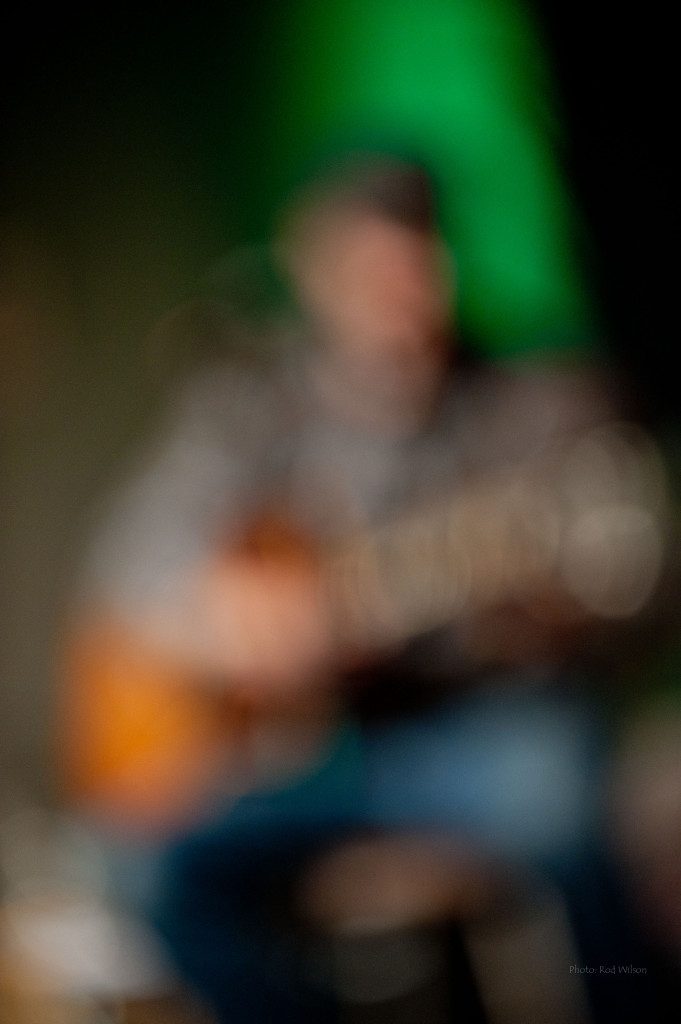 I did manage to get my eyes uncrossed long enough to get the auto-focus working again for a couple of clear shots.
Carter Goldseth is an original. He has a voice and musical maturity beyond his years. It is hard to believe he is only in high school. He has stepped away from the usual pop music of his peers and seems to be focused on musical theatre. He is a strong singer who doesn't really need a microphone to fill a room. He was accompanied on keyboards by Kia Hromadnik.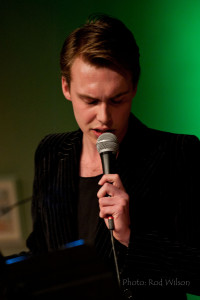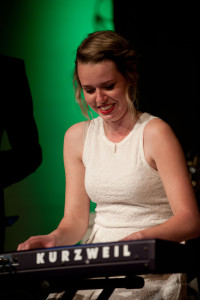 During the intermission, in amongst the gear stacked on stage I spotted a Romero Clawhammer Banjo. This is Paige Lennox's new toy. This is another example of the  finely crafted instruments  that are currently being built in BC. Romero Banjos are much sort after and to have one built to order there is a four year waiting list. Apart from their magnificent sound they have this wonderful antique look.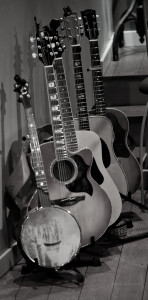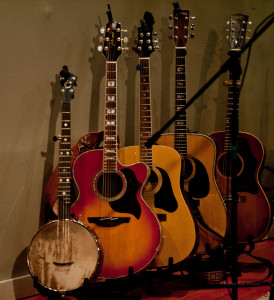 For more eye candy click on the link to J. Romeo Banjos and Resophonic Guitars
The East West Connection may be old testosterone but there are three of them so that may make up for a slight loss in vigor. Gene Anderson on bass and Tom Bungay
on vocals and guitar are the long standing members of this entertaining group. Recently they found the keyboard player Rick Parsons lying by the side of the road and they decided to give him a break by inviting him to join the band. They did a mix of old and new tunes and finished their set with a stomping version of Neil Diamond's Sweet Caroline.
For a while Connor Foote and Clayton Parsons had a country duo called Gold Creek. As a band they faded out when Connor went off to Vancouver for a while and Clayton spent some time down on the coast building a guitar. But here they are back with their special brand of Not-Nashville country tunes. This gig was part of their re-union one-stop world tour and it included Connor's soon to be a world wide hit, his new original song Saw Mill Blues.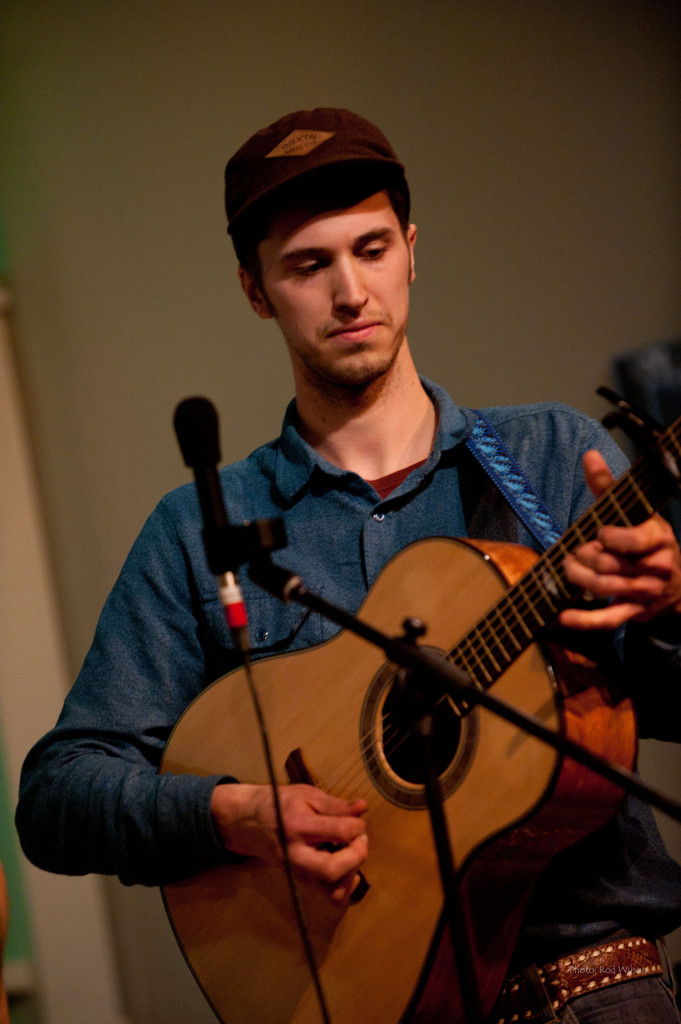 Last but not least for the evening was the Rosie Brown Band featuring Page Lennox on banjos and vocals, Janice Nicili on bass and vocals, Cosima Wells on guitar and vocals, Shawna Plant on Mandolin and Heather Gemmell on Guitar, Dobro and vocals. They did a selection of old time tunes but finished up with the Eagles Seven Bridges.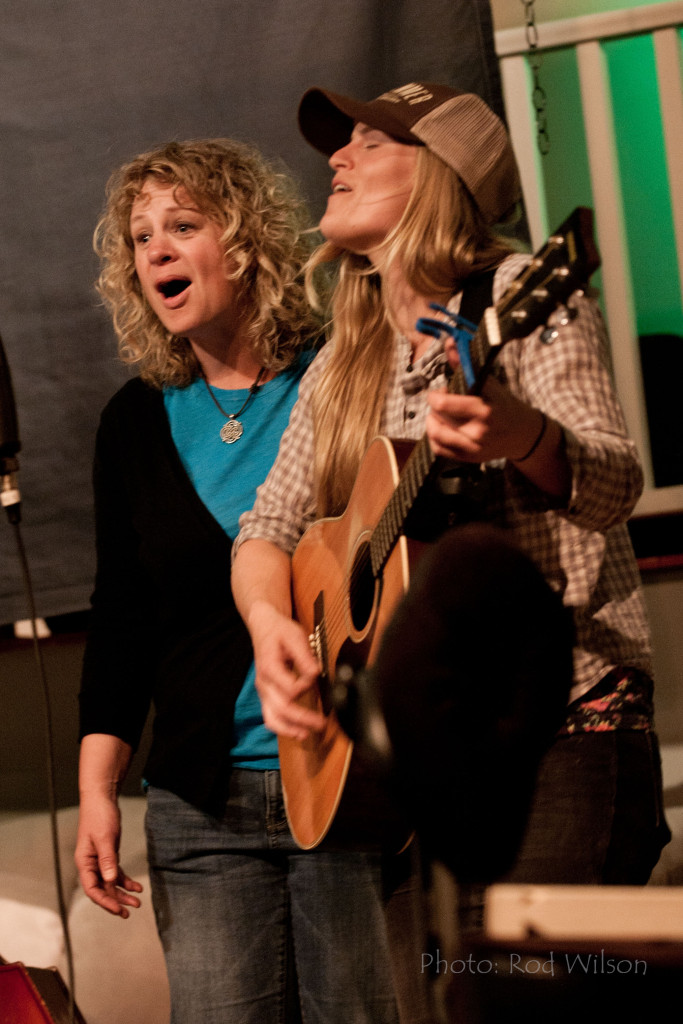 So ends another successful season of Locals. This is the second year in  row that they have sold out all shows. Thanks should go to Lorraine, Mark and all the volunteers and performers that make the series possible and such a success.  Thanks guys !!!!!!!
@@@@@@@@@@@@@@@
As promised here are the YouTube links for the Swedish duo First Aid Kit
@@@@@@@@@@@@@@@