Elizabeth Shepherd Trio at the Green Door in Kimberley, Tuesday November 17, 2015, 8pm. The trio features the talents of Michael Occhipinti on guitar and Scott Kemp on acoustic fretless bass.

Elizabeth and a number of her band mates are on a cross Canada tour and perhaps  the tour could have been named the "The Almost Famous Tour". Between them, Michael Occhipinti and Elizabeth Shepherd, two of the finest musicians on the Canadian scene today, have scored 10 JUNO Nominations (Elizabeth – 2; Michael – 8). I guess that is as close as you can get without actually becoming famous. A small audience in The Green Door were very fortunate to hear the trio in a very intimate setting  as the trio stopped off for a brief respite from the larger sites on the tour. In the press Elizabeth has been hailed as "a jazz virtuoso blessed with a pop sensibility", " praised by critics worldwide for her arrestingly original writing and soulful delivery. Along with artists like Esperanza Spalding, Robert Glasper, and Jose James she is seen as part of a wave of jazz musicians bringing the art form to a new generation of music fans".  That's pretty high praise indeed. But that's not all. Elizabeth has released  four widely acclaimed records and toured extensively in North America, Europe, Japan and Mexico. She has sold out legendary clubs from Tokyo to Detroit, played major festivals like Montreal and North Sea Jazz Festivals, shared the stage with Victor Wooten, Branford Marsalis and Christian McBride, and opened for Jamie Cullum at The Hollywood Bowl. Elizabeth is also the only jazz vocalist to ever have been long listed for the Polaris Prize – Canada's most prestigious music prize.
If you have ever spent any time listening to CBC radio and TV Michael Occhipinti will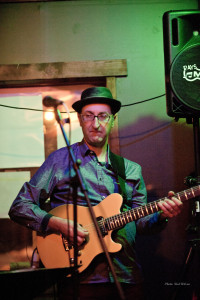 be a familiar name. Michael is a cross-cultural "dabler" with projects that have explored the music of John Lennon, Pink Floyd, Bruce Cockburn (Creation Dream) – and more recently the music of Sicily in Muorica. Michael has collaborated with many jazz musicians of note and in his spare time he is an educator at Humber College in Toronto.
Scott Kemp is nominally an upright Bass player originally out of Manitoba but now resident in Toronto. On this tour he is using an Ephiphone fretless Bass Guitar that he managed to pick up almost as gift on Craig's list. The original owner felt that such a great instrument need to be played. It is easier to transport and more robust that an upright bass. It has taken it's share of beatings on the road but is still holding together.
Like a lot of jazz influenced musicians and music today Elizabeth's music is hard to define. She is a jazz singer but not in the classic senses of say Dianna Krall. She doesn't dive too deeply into the "Great American Song Book" but rather delivers highly original material in a somewhat soul tinged timbre. Songs from her new album Signal include Willow, What's Happening, BT Cotton, The Signal, Lion's Den, This, Another Day, and Baby Steps.
Here are some more images from an intimate evening of Jazz behind The Green Door in Kimberley.
@@@@@@@@@@@@@@