JAZZ BLUES & STUDIO 64: THE ANDREA PETRITY TRIO, September 24, 2016, 8pm at Studio 64 (Centre 64) Kimberley BC
Some musicians have an epiphany. They may be wandering along in a sonic fog and out of the blue they hear a performer or a recording that becomes an "aha" moment. It becomes lodged in their brain and the thought train becomes  – "So that is what it is all about. I want to do that". What follows is a commitment to a musical performance philosophy that may take them in a completely different direction, one that they may have never considered prior to the "aha moment". That didn't happen for the Calgary jazz pianist Andrea Petrity. The metamorphosis was much more gradual than that. Like so many other youth she took piano lessons and worked her way though the standard classical piano curriculum and repertoire. After leaving school and wondering what to do with her life she came to a conclusion that she already had a possibly useful skill set and perhaps, if she applied herself, it may lead some where.  That is what she started doing and, eventually, she applied for admission to a Jazz Performance Program at Mount Royal University in Calgary. Now, years later she is a fully fledged Jazz Pianist with a great love for the music of Bill Evans, Brad Mehldau, Thelonious Monk and that whole other world of Jazz Piano. Her favourite is the long deceased musical genius Bill Evans but she freely admits that there are so many talented musicians out there it is impossible to know them all, hear them all, or give credit where credit is due.
When asked the crass question "And what is your real day job?" the unequivocal response from Andrea, her bass player Stefano Valdo and drummer Robin Tufts is that they are full time professional musicians. That they possess a degree of professionalism is more than self evident in their on stage demeanour and commitment to technical and musical excellence.
On Saturday night at Studio 64 in Kimberley the Andrea Petrity Trio gave the admittedly small audience (very unusual for this extremely popular annual series) a substantial serving of straight ahead, no holds barred piano trio jazz. They kicked off the evening with their interpretation of Leonard Cohen's Bird on the Wire. I normally approach listening to drummers with a certain amount of scepticism. Kit drummers tend
to play too loud and dare I say it, often sound unmusical. Andrea promised a tasty treat with Robin Tufts accompaniments and we were not disappointed in his adroit handling of brushes and his simpatico accents. The bassist Stefano Valdo is no stranger to Studio 64 audiences. The last time he was here he played a huge electric bass guitar but this time around he had switched to upright bass. One of his musical heroes is the late great Scott LaFaro of Bill Evans Trio fame. The influences, at least to my ears, were very evident
in his free wheeling accompanying and solo style. One of the sonic pleasures of recent years is the return of the upright acoustic bass. Nothing quiet matches the big fat bottom depths  of the acoustic upright bass. The first "standard" tune of the evening done in a very original style was Harlem Nocturne. The rest of the program was filled with a number of Andrea's originals that included You Took Love With You, a nod to Thelonious Monk in Monkey Around  (I am sure Thelonious was smiling), and a cute interpretation  of a Hungarian Folk tune with some nice hand percussion from Robin. The name of the tune was loosely translated as an ode to a Brown eyed or gypsy girl. It was a neat 4/4 tune with a triplet feel, kind of 6/8, but not really. After the intermission they kicked off with a Latin feel in Andrea's original Marianna, followed by an achingly slow (Andrea's direction to the trio) version of the standard The Very Thought of You. This was followed by I Found a New Baby. Then more original tunes  including a new untitled work simply called Untitled and the final piece of the evening PMS. A title that doesn't mean what you think. It is a nod to three modern Jazz master musicians, the bassist John Patitucci the guitarists Pat Metheny and John Scofield – PMS.
Here are more images from the evening.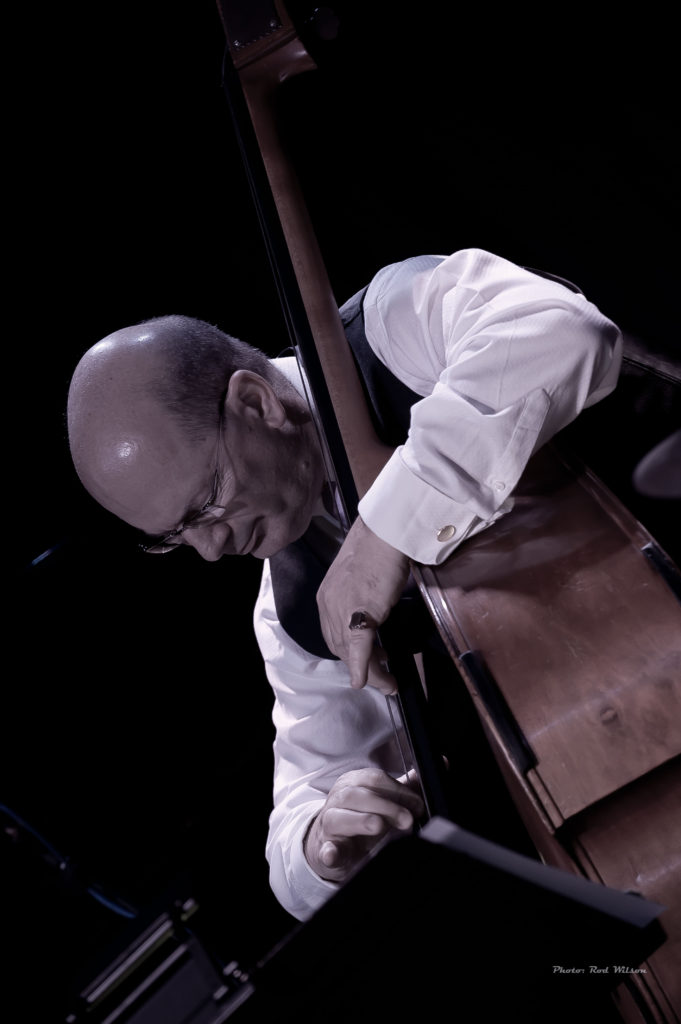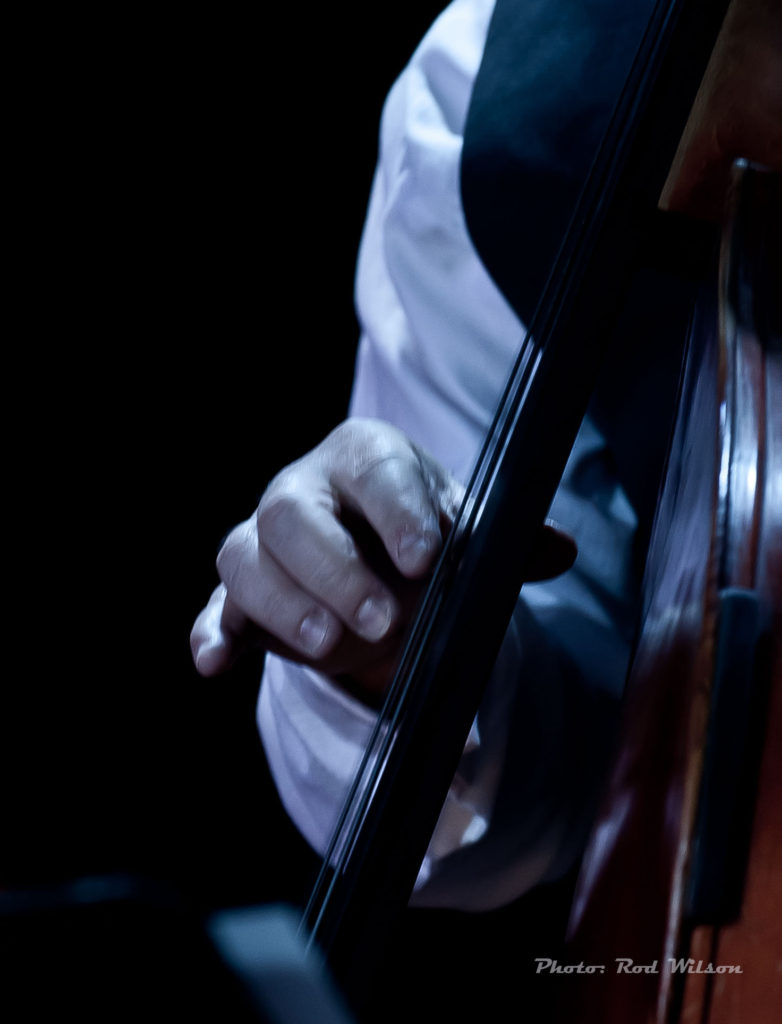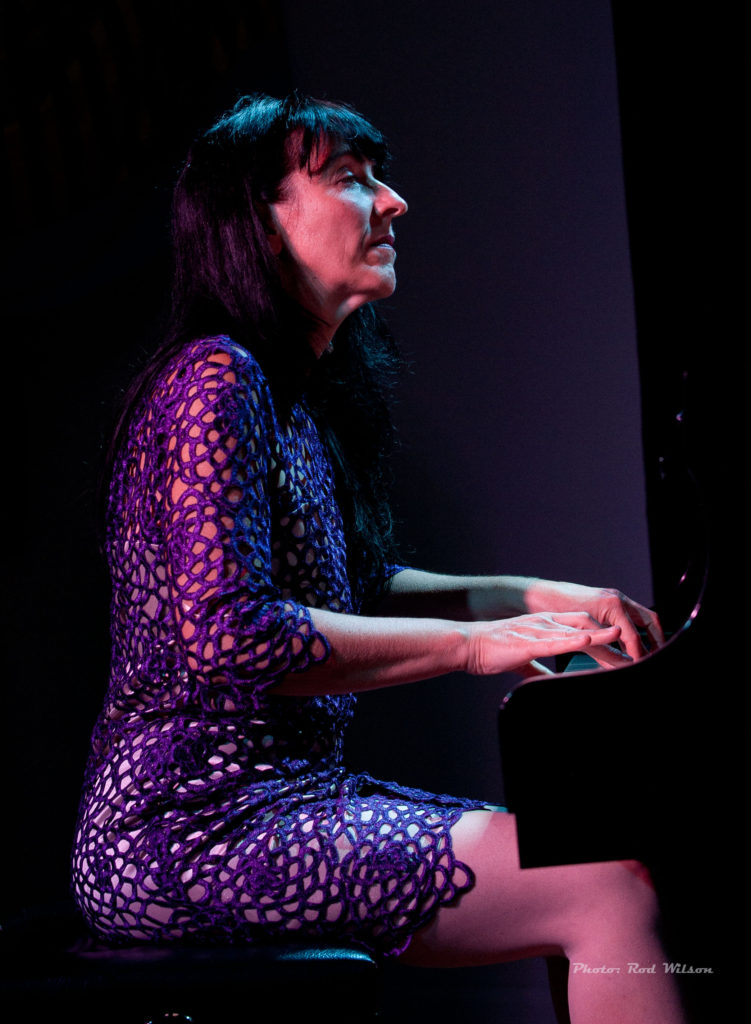 As always in the Studio 64 Jazz and Blues Concert series the music in this concert was a joy to experience. There is something about the interplay and shifting textures of live jazz that cannot be beaten.
The musicians in the trio would like to thank the Studio 64 Organizing Committee, Volunteers, the audience and A B&B AT 228 for their hospitality. They would also like to thank Elaine Rudser fo her astonishing art work on the walls of the performance space.
@@@@@@@@@@@@@@@