THE FISHTANK ENSEMBLE
Saturday August 3rd
, 2013, 7:30 pm –
brought to you by the 1st
Saturday committee.
Location: In the empty lot beside Centre 64. Bring your own seating!  Check them out at
Fishtank Ensemble
. Members of the band are
Fabrice Martinez – violin; Ursula Knudson – violin, musical saw, banjo ukulele and voice; Doug "Douje" Smolsen – guitar; Matt – drums and John Hatton – Bass
(substituting for their regular bass player who is currently in Slovenia).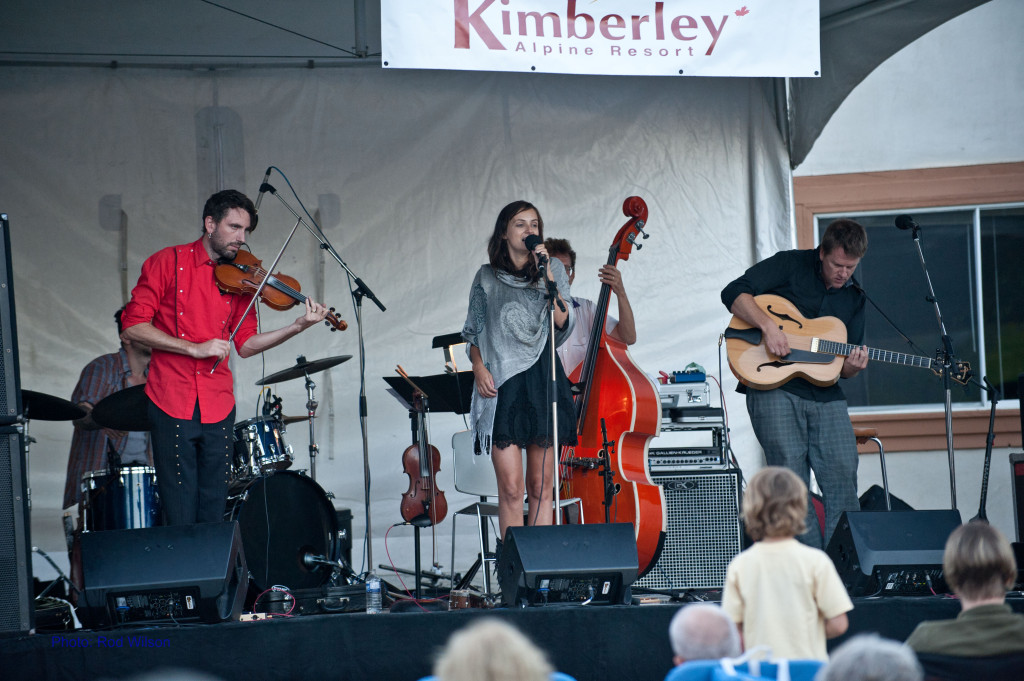 When I first saw TV performances of
River Dance
I was puzzled by the inclusion of a Spanish (?Flamenco) dance act. It was only later that I concluded that the "Spanish" dance was a nod to the Romany elements in Irish music. Otherwise known as "Travelling People" the Romani were an important element in Irish Music. The great Uillean Piper Paddy Keenan  (
The Kesh Jig
) is but an example of that heritage. The Romani, or Gypsies, originated in India and spread throughout the world. In my youth I can remember gypsy caravan encampments just outside my home town of Sydney, Australia. Today Romany music is still more than a significant element in the music of Turkey, the Balkans, Eastern Europe and spreading westwards into the rest of Europe. The late great French guitarist Django Reinhardt, although his claim to fame was as a jazz guitarist, it was the Romany elements in his music that set him apart from his contemporaries. His music has, in turn, filtered back into the tradition and founded a whole school of "gypsy jazz" that is played the world over. So what goes round comes around and it would appear that
The Fishtank Ensemble
is but another example of the
Romany tradition influencing yet another, albeit American, generation of musicians. The Fishtank Ensemble may be American but they seem to have some petty solid European cultural roots. Two core members of the ensemble,
Fabrice Martinez
and
Ursula Knudson
, have spent significant time in Europe and their bass player,
Djordje Stijepovic
, is originally from Serbia. To quote from their website "The dynamic, virtuosic, fiery and peripatetic quartet that comprises Fishtank Ensemble take their roots both from their own varied musical and national backgrounds, as well as from their adventures and travels. The singer Ursula sang opera on the streets and town squares of Italy, until she found a love of gypsy music…their French violinist voyaged around all of Europe in a handmade mule-drawn caravan for ten years, collecting music and experiences.  Their Serbian bass player has spent time playing with gypsies as well as some of the rock and roll's legends, and aptly defends his reputation as the best slap bass player in the world… and the guitarist is a master of flamenco and gypsy jazz guitar who honed his craft in the gypsy caves of Granada, Spain…". With these credentials it was no surprise to have a smorgasbord of music that ranged from the Balkans, Romany, Greek Rembetika, French swing, Gypsy Jazz,  American Swing and all ports in between. True to tradition, Fabrice's violin performances were spectacular and virtuosic. He looked like the English actor Ralph Fiennes playing the part of gypsy fiddler. So, was it life imitating art or vice versa? Ursula Knudson had a fine grasp of jazz intonation on vocals that included covers of Billie Holiday and Peggy Lee. Although the afternoon got off to a slightly rocky start on the first tune, it settled down very quickly into an evening of probably one of the finest musical performances Kimberley has seen for quite some time. The outdoor venue up against Centre 64 was a vast improvement over the performance area in the platzl and the park just down the road.  The Chamber of Commerce, the City and local merchants should take note of the difference a good venue can make. There was no struggling to find seating or shade and the audience was one of the largest I have seen at any outdoor concert in Kimberley or Cranbrook. A simple request to bring one's own seating was all that was needed to provide comfort and joy. Although the weather was wonderfully co-operative it should be noted that the Californian musicians obviously felt a little chilly in this balmy Canadian summer evening. Ursula made a dash to her car at one point in the evening to get a jacket that would have not looked out of place on "Nanook of the North". Although this was not officially part of the annual Arts on the Edge Festival I suspect that what will follow in the celebrations will be somewhat anti-climatic after this performance by The Fishtank Ensemble.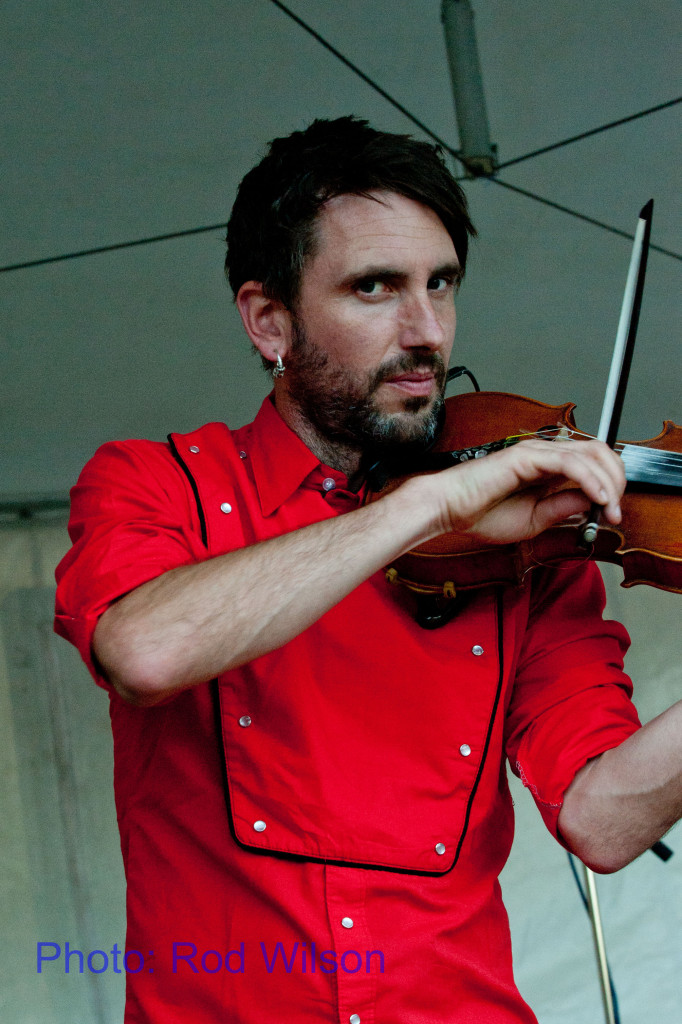 How a Californian musician deals with a balmy Canadian summer evening: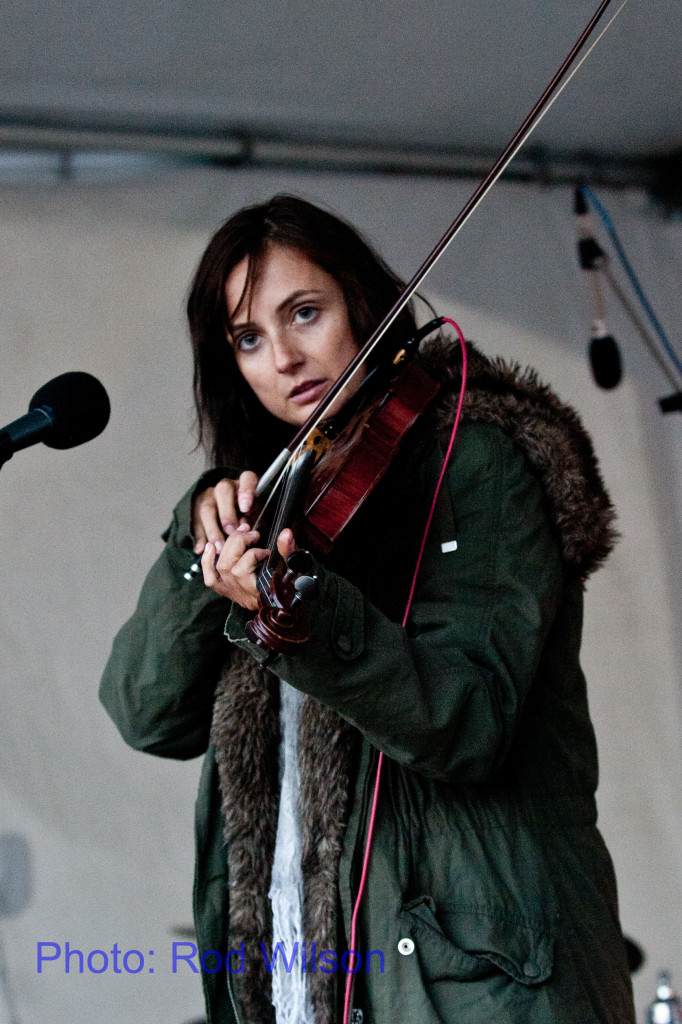 The audience would like to thank the following sponsors of this event: Columbia Basin Trust, Kimberley Resort of the Rockies, City of Kimberley
 @@@@@@@@@@@@