Thursday August 1, 2013, 7:30pm :

STEVE PALMER
at BJ's Creekside Pub.    Steve Palmer Website LONESOME JIM (aka) JAMES NEVE was the opening act.
James Neve and Steve Palmer are modern day troubadours from somewhat different traditions. James comes out of the "British Rock Invasion" of the 1960's and, while he has been known to do cover tunes he is best known for his original music with the band 60 Hertz.   On the other hand, apart from some early flirtations with  "Psychedelic Rock",  Steve Palmer has his feet firmly planted in the country / blues / gospel / folk traditions, and, although he is a song writer, his emphasis is on the reinterpretations of past masters of the tradition. At least a third of his performances are devoted to instrumentals styles. So thanks to the promotional skills of Ferdy Belland this performance was a rare opportunity to get these two diverse performers in  the same venue at the same time. James began the evening with a short opening set that included Somebody Told Me, Please Take the Wheel, My Blue Girl (inspired by a wedding photo) and Passing Through Your Heart.
Steve Palmer has the looks and demeanor of everybody's favorite uncle. Originally from Edmonton, with a few years on Vancouver Island and now thoroughly settled in Moose Jaw Saskatchewan. He has been a touring musician for 40 years. One of his claims to fame is having his song Welcome Back used in Stuart McLean's wonderful radio show The Vinyl Cafe, so, it only fitting that this same song should be used to open his first set at BJ's Creekside Pub on Thursday night. From then on it was a steady diet of Gospel tunes – Take a Trip On That Old Gospel Ship, including an original I Thought I Saw Jesus on Main Street; a wonderful instrumental version of Blind Blake's Rag; some Johnny Cash – and I Walk the Line and I Keep a Close Watch on This Heart of Mine; an extremely short version of Marty Robbin's El Paso; lots of the classic songs of the past 40 years (500 miles, Freight Train Boogie, I Can't Help it If I am Still in Love with You, Did She Mention My name, Lucielle, Wild Mountain Thyme, The Water is Wide, Snakes Come Out at Night,  Passing Through and Roll On, Roll On Saskatchewan.Sprinkled among the classics were some of Steve's originals including From Here to Nashville, Rolling Down to Memphis, Sweet is Sweet and My Home Town). There was lots of repartee and story telling. As I said a troubadour in the classic style complete with some stellar 12-string guitar accompaniments. It is nice to hear a 12-string guitar sound like a real 12-string guitar with shimmering chords and signature bass runs.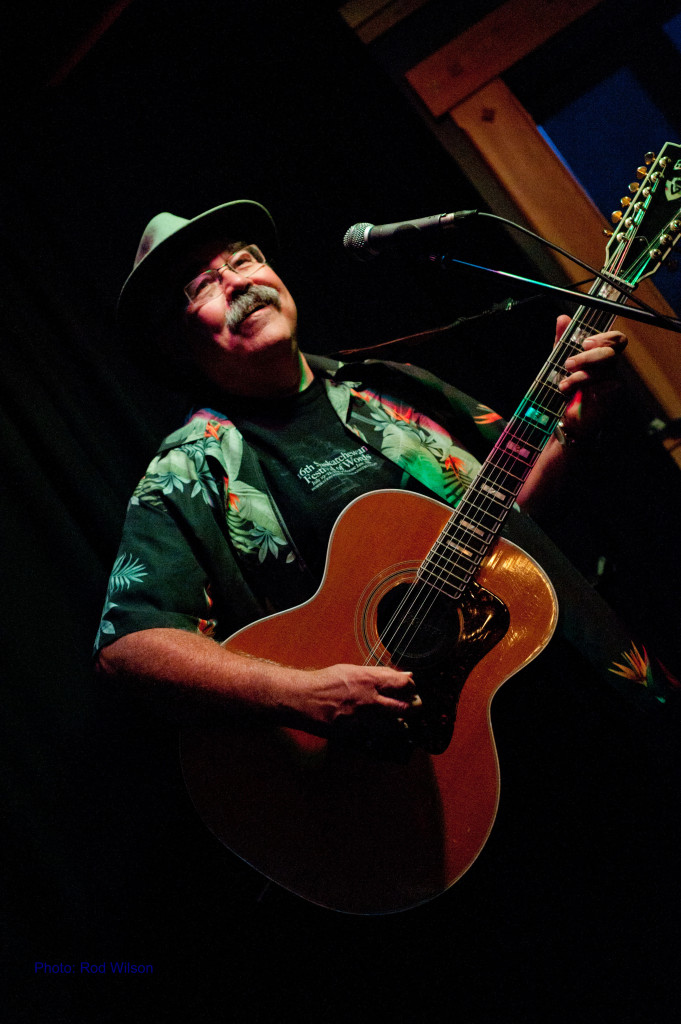 Steve has done gigs at the Snoring Sasquatch in Creston but to the best of my knowledge this is the first time he has performed in Kimberley. I suspect it won't be the last. I believe a return engagement has already been booked for Cranbrook.
@@@@@@@@@@@@