Daniel Champagne at the Studio/Stage Door, September 12, 2014 8pm.
There is a whole cadre of musicians who are out of the musical mainstream and under the radar. There are performers who are a cut above the run of the mill. We have been very fortunate over the years in having local impresarios like Gord and Jill Johnston and Terry Miller who have extended themselves to present these unsung heroes of the music scene. The list of legends who have performed in the area include Martin Simpson, Kelly Joe Phelps, Andy Irvine, Garnet Rodgers, Steven Fearing and many, many others. Gord and Jill have moved on to other fields of endeavor and Michael and Corianna  Robinson have stepped up to the plate to keep the tradition going. Some months back they brought in Old Man Leudecke and this past Friday they presented Daniel Champagne. Daniel is a young Australian guitarist and vocalist who is not (yet)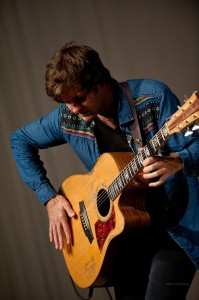 a household name.  The best way to describe his music is that it is a cross between Tommy Emmanuel (another Australian who is a household name), and Michael Hedges with a dash of Van Halen thrown into the mix. He is a dramatic performer who uses the open tunings and the percussive possibilities of his guitar. It goes without saying that his guitar has taken a lot of beatings in its short life (check the duct tape that seems to be holding it together). He has an endorsement agreement with Australian Cole Clark Guitars and maybe it is just as well. I can't see his instrument lasting more than a couple of years. Despite his aggressive playing style and on stage athleticism he has a finely developed sense of dynamics that can take his playing from whisper soft to outrageous shouting. The shouter of the evening was Willie Dixon's blues classic Spoonful. It was an extended performance that could easily match the many other cover versions that are out there. Apart from a number of original tunes, The Pendulum, I Grew Up Where I Could See the Stars, Wrecking Ball, Gypsy Moon, Renegade's Rule there were a couple of covers tunes as well. They included  Don MacLean's Vincent. This was a masterpiece of deconstruction in which he took the melody apart and put it back together  with wonderful instrumental shadings. For the guitarists in the audience here is a hint …. he plays the piece in the key of G using Dropped D / Dropped G tuning (the bottom E string is tuned down to D, and the bottom A is tuned down G ie DGDGBE). Daniel credits Chet Atkins with this arrangement
This was an especially fine concert and the second in this new series. For the purpose of this blog I have decided to "brand" the series by calling it the IN THE TRADITION CONCERT SERIES. The next concert will be the magnificent Freddie Eaglesmith at the Studio / Stage Door October 14, 2014 followed by Bow Thayer on November 7, 2014. CONTACT Mike for tickets at music@lotic.co.
Special Thanks to Mike and Corrina Robinson, Ben Blomander (on sound) and the other volunteers lurking in the background.
Here is special treat from Youtube
 @@@@@@@@@@@@@@@@