It's an age thing. There comes a time when we become that caricature of the elderly pensioner whose first scan of the newspaper is the obituaries. I am not quite there yet but it seems to be getting closer. It seems that these days there is an overabundance of legendary musicians "passing away". In the last little while the list seems enormous – Charlie Haden, Jim Hall, Johnny Winters, Buddy MacMasters, Dave Brubeck, Joe Sample, Gerald Wilson, Pete Seeger and Paco de Lucia, just to name a few. The latest is Jack Bruce.  Here is reprint of a very recent Down Beat article.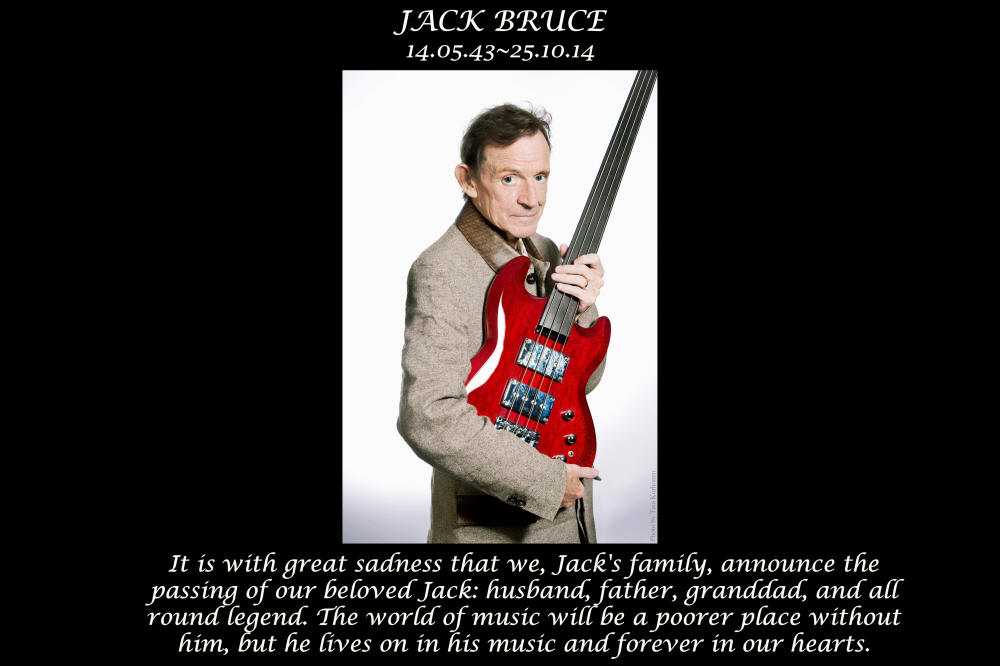 "Jack Bruce—singer, keyboardist, bassist, harmonica player, guitarist and composer—died of liver disease at his home in Suffolk, England, on Oct. 25. He was 71. A significant influence on generations of electric bass players, he attained rock-star renown as a member of the 1960s band Cream with guitarist Eric Clapton and drummer Ginger Baker. In a long solo career away from the glaring lights of pop music, Bruce found his true calling as an adventurer in jazz and its creative offshoots. Soon after Bruce's passing, Clapton released a statement: "He was a great musician and composer and a tremendous inspiration to me." Baker also issued a statement: "I am very sad to learn of the loss of a fine man."
Born on May 14, 1943, in Glasgow, Scotland, John Symon Asher Bruce was first exposed to music by his father, who played Fats Waller-style jazz piano at home, and by his mother's folk-song singing. A gifted classical cellist, he attended the Royal Scottish Academy of Music and Drama and studied composition as a youth. He heard jazz performed jazz performed at concerts by the Modern Jazz Quartet with Percy Heath and the Jazz at the Philharmonic band with Ray Brown during the 1950s.
Bruce took an interest in the string bass at age 14, and by his late teens, he was working in jazz combos at U.S. Air Force bases in Italy. "Once a week there was a jazz evening when people would play records," he told DownBeat in a February 2009 article. "They had an amazing record library, and me being a bass player, one of the guys said, 'You've got to hear this guy!' There it was: Charles Mingus. That changed the direction of my thinking because he became the person that I wanted to emulate. Before that it was a player like Scott LaFaro, but Mingus was a composer, which was what I wanted to be."
After moving to London, Bruce joined other up-and-coming musicians in jazz groups that absorbed the bebop and free-jazz emanating from the States. Drummer Jon Hiseman was part of the scene. Hours after Bruce's passing, he recalled that playing with the double bassist "was like working with an erupting volcano beside you."
Encouraged by saxophonist Dick Heckstall-Smith, Bruce brought his Mingus-like jazz sensibilities to guitarist Alexis Korner's Blues Incorporated band, whose drummer in 1962 was a fresh faced Baker. When Blues Incorporated's singer-organist-alto saxophonist Graham Bond quit to form his own jazz-rock band, the Graham Bond Organisation, he took Bruce and Baker with him and soon added guitarist John McLaughlin.
In 1966 Bruce and Baker joined heavily hyped guitar deity Eric Clapton, fresh out of John Mayall's Bluesbreakers, in the blues-rock power trio Cream, which ascended to global popularity before its wild two-year run ended in 1968. Lengthy flights of improvisations on songs like "Crossroads" and "Spoonful' were a band hallmark, as were well-crafted, quick-witted songs composed by Bruce with Beat poet and lyricist Pete Brown. Clapton lent them a hand in composing "Sunshine Of Your Love." Both "White Room" and "Sunshine Of Your Love" were Top 10 pop hits in the States in 1968. Cream reunited for shows in 1993 and 2005.
Bruce's infallible musicianship and his relentless curiosity and ardor for jazz, blues and probing rock placed him in good stead for solo projects from the late 1960s to his last days. His acclaimed jazz album Things We Like (recorded before Cream disbanded but released in 1970) featured Bruce alongside McLaughlin, Hiseman and Heckstall-Smith. One of the album's highlights, "HCKHH Blues," pointed to Mingus.
The rock masterpieces Songs For A Tailor (1969) and Harmony Row (1971) further illustrated Bruce's boundless musical imagination, combining elements of hard-bop, blues, folk, Bach, Messiaen and the British music hall tradition.
Bruce sang on keyboardist-composer Carla Bley and wordsmith Paul Haines' jazz-opera LP Escalator Over The Hill (1971), and he employed Bley for one of his 1970s bands. Bruce worked with saxophonist-keyboardist John Surman and Hiseman in an excellent but little-known free-jazz trio, and he also recorded with Frank Zappa.
The bassist was a member of drummer Tony Williams' 1970s band Lifetime. In the 2000s, Bruce saluted Lifetime. In the 2000s, Bruce saluted Lifetime with concerts in Japan. He joined drummer Cindy Blackman Santana, guitarist Vernon Reid and keyboardist John Medeski in the Liftetime tribute band Spectrum Road. That band released a self-titled album on the Palmetto label in 2012.
"We can freely improvise and come up with a sophisticated form," Bruce said in a July 2012 DownBeat cover story on Spectrum Road. "It's a revelation that I can go onstage and just play a bass line or melody and everyone will pick up on it and it will become a thing, not just jamming, but some music with an identity."
Additionally, Bruce collaborated with rock guitarist Robin Trower for albums and tours, fronted two German jazz big bands, performed as often as he could with keyboardist Bernie Worrell, played occasionally with Ringo Starr's All-Starr Band and expressed his enthusiasm for Afro-Cuban and Latin jazz playing with fellow free spirit Kip Hanrahan and other notables. In early 2014, Bruce released the last of about 20 albums, Silver Rails, which generated favorable reviews.
As news of Bruce's death spread, he received an outpouring of high praise from colleagues.
Trower said, "[Jack was] one of the few musicians that can be truly called a force of nature."
Hiseman offered, "He was more than the most fantastic singer, player and composer. He was so far ahead, I suspect no one has caught up yet. They probably never will."
McLaughlin wrote, "Jack Bruce and I were playing together by 1964. At that time he only played acoustic bass, but great! We were with Ginger Baker in Graham Bond's band, and it was a trip from start to finish. Not only was Jack a fine musician, he also had a very funny sense of humour. I learned a lot in that band, and playing with Jack was a treat. We parted ways, and the next thing I knew, he had joined Manfred Mann. I thought, what he is he doing with Manfred? It didn't last long, as Cream came along and Jack had moved to bass guitar and singing, and playing blues harp. Our occasional jams with Duffy Power had really influenced him
Cream was a great band. A couple of years later, I introduced him to Tony Williams and he joined Lifetime for a year. Jack was a real character and a fine musician, and I'll miss him."
—Frank-John Hadley
 Also check the wikipedia entry Jack Bruce

 @@@@@@@@@@@@@@@@@