There are entertainers who are just that – entertainers. There are entertainers who are musicians and musicians who are entertainers. Sometimes it is hard to tell exactly which is which. Then there there are musicians who are just that – musicians. Then again  there are those musicians who go beyond the accepted artistic norms of their era and create their own categories. Two such musicians are the Canadian Jazz Pianist Paul Bley and the French modern classical composer Pierre Boulez. Both of these exemplary musicians passed away this month (January 2016).
Paul Bley, born November 10 1932, died January 3 2016
Paul Bley is a Canadian Jazz Pianist born and raised in Montreal. He was essentially a child of the Be-bop era who performed with some of the jazz greats of the era (including Charlie Parker). He started studying violin at 5 and piano at 8, and as a teenager began playing piano professionally as Buzzy Bley. In 1949, as a senior in high school, he briefly took over Oscar Peterson's job at the Alberta Lounge in downtown Montreal. Mr. Bley left for New York in 1950 to attend the Juilliard School of Music. During his early years there, he played with the saxophonists Lester Young and Ben Webster. Keeping a hand in his hometown jazz scene, he helped organize the Jazz Workshop, a musician-run organization in Montreal that set up out-of-town soloists with local rhythm sections; in February 1953 he booked Charlie Parker for a concert and accompanied him. That concert was recorded, one of his first extant recordings before his first album as a leader, made nine months later with a trio that included Charles Mingus on bass and Art Blakey on drums. Through the mid-'50s, he was an adept bebop player with a spare style.
As he matured he went further afield in his musical explorations to become involved in what became known as "free form jazz". In my opinion, what set him apart from the frenzy and frantic performances of other "free form" artists was a more melodic and measured approach. During his time in New York playing with the saxophonists Albert Ayler and Sonny Rollins, he defined as well as anyone the blurry line between the scratchiness of free improvisation and the virtuosity of the jazz tradition. His solo performances are said to have had a significant impact on the extended solo performances of Keith Jarrett.
He often talked about being eager to get outside his own habits. In  the 1981 documentary "Imagine the Sound" he professed not to practice or rehearse, out of what he called "a disdain for the known." He did not stake his work on traditional notions of acceptability, or the approval of the listener. With that particular musical philosophy it is easy to see why he is not a household name even in his own country.
Paul Bley was appointed a member of the Order of Canada in 2008.
Although I don't have an extensive collection of his music I do treasure and enjoy the recordings he made in 1961 (Fusion and Thesis) with the Jimmy Giuffre 3 (Jimmy Giuffre on Clarinet, Paul Bley on Piano and Steve Swallow on Double Bass). The albums were re-released as a double CD by ECM records in 1992. For that I am forever thankful. Another CD of interest is the 1993 duo recording he did with fellow Canadian, saxophonist Jane Bunnet called Double Time (released by Justin Time). Although  Jane is better known for her extensive explorations of Cuban music the album shares some of the "spacey" textures of the Jimmy Giuffre 3. I am sure these albums are only the tip of the iceberg.
Here is an audio clip from the Jimmy Giuffre recordings and a clip of Paul Bley in an interview.
@@@@@@@@@@@@
 Pierre Boulez,  born 26 March 1925 , died 5 January 2016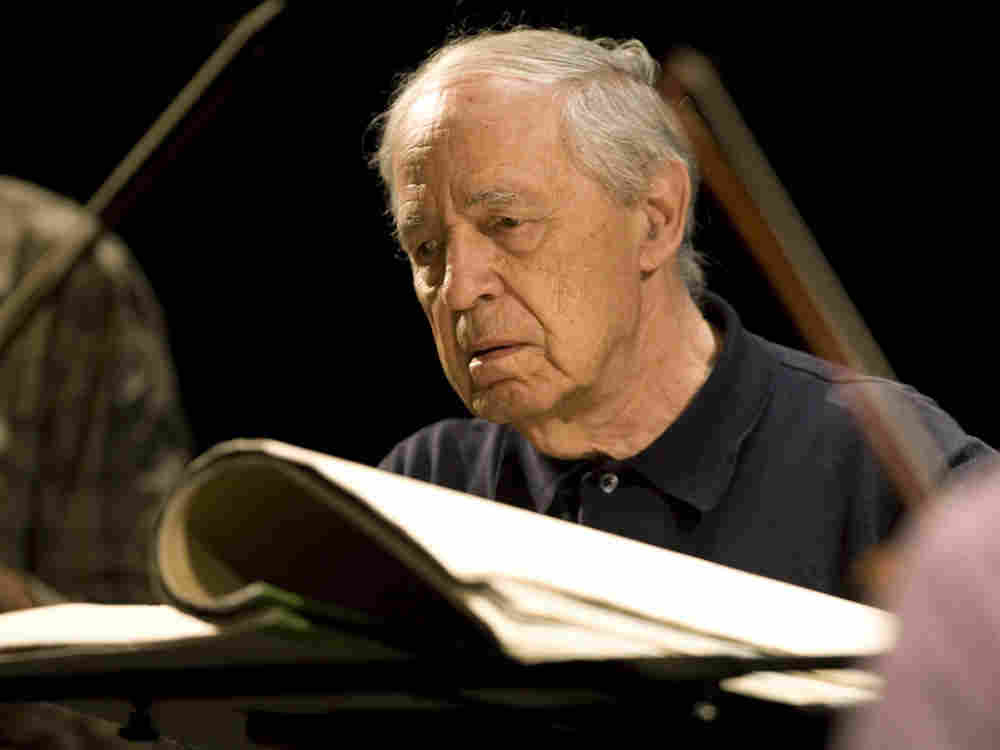 "Pierre Boulez, the French composer and conductor whose career spanned from the avant-garde post-World War II era to the computer age, has died, according to the French culture ministry. He was 90. Boulez famously challenged his peers and his audience to rethink their ideas of sound and harmony. In his music, Boulez often created rich and contrasting layers that were built on musical traditions from Asia and Africa, and on the 12-tone technique pioneered by Arnold Schoenberg — as in his 1955 work, Le Marteau sans maître (The Hammer Without a Master)."
To be honest I am more familiar with his reputation than with his music. Classical music of the 20th century was mostly overshadowed by the music of the Romantic Era and that made it extremely difficult for musicians and composers who tried to create a new vocabulary. Pierre Boulez was one of a number of musicians trying to create a "new music". Among concert goers "the new music" tends to alienate audiences and it is only though the dedicated efforts of musicians like Pierre Boulez  that the music moves forward and, possibly in time, develop a dedicated audience.
This short YouTube video of his most famous composition LE MARTEAU SANS MAITRE  will give listeners some idea of the challenges they face when exploring the music of Pierre Boulez. This is not your typical symphonic fare.
@@@@@@@@@@@@
These two musicians may not be well known and they played music that, by and large, most audience would chose to ignore. However, they have demonstrated that there is more to music than three guitars and a back beat.
@@@@@@@@@@@@