KOGGING – THE SECOND CONCERT IN THE FALL JAZZ SERIES, The Dutch Jazz combo Kogging at Centre 64, Kimberley , Saturday September 28, 2013, 8pm
Back in the early 1980s the Australian Director Peter Weir made a film called The Year of Living Dangerously. Set in turbulent times in Indonesia in 1965 it was one of Mel Gibson's early roles and also starred Sigourney Weaver and the amazing Linda Hunt. Linda won an Academy Award for her performance in this film. One of the sub themes in the movie revolved around the ancient Indonesian Wayang Kulit shadow plays. These plays are essentially silhouettes of especially designed puppets projected onto walls to portray traditional epic stories. So here we are are 50 years later and half a world away from tropical Indonesia with the Dutch Jazz Singer Norbert Kogging on a cool September evening in Kimberley B.C. Norbert is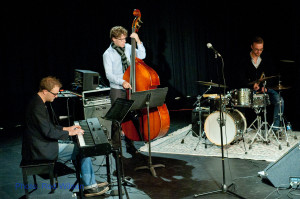 relating his experience of a sunny Sunday morning watching the early morning shadows of kids playing in the yard dancing across his wall. It prompted him to write the song Wajang Scenes. This song was one of a collection of original pieces presented by KOGGING , a Dutch jazz quartet of Folkert Oosterbeek on piano, Tobias Nyboer on bass, Felix Schlarman on drums and Norbert Kogging on vocals. From almost the first note it was evident that this is a quartet of well schooled and disciplined musicians. The control of dynamics, pacing, phrasing and their general approach was definitely a cut well above most musicians.There was a time when a descriptor of "well schooled" had negative connotations in certain styles of music. The popular image of a classically trained musician was of one completely captive to the printed page an unable to play without a printed score. That has changed and a lot of jazz and popular musicians can flash the fairly significant academic credentials they have acquired to enable them to perform in  diverse fields of music. Wynton Marsalis, Keith Jarrett are just two jazz musicians who immediately come to mind who have significant statue in both classical and jazz realms. A little digging around in the background of any number of pop musicians can also reveal some unexpected surprises.  Newer approaches to musical education and a willingness of musicians of all stripes to experiment and broaden their horizons has made for a richer and more diverse musical landscape. Even within this quartet there is evidence of a very different approach to jazz vocals. Usually a  jazz vocalist relies heavily on interpretations of material from "The Great American Songbook". Not this time out of the gate. There was only one cover tune during the entire evening and that was Joni Mitchell's Edith and the King Pin – not exactly a jazz standard. Rather, taking a cue from popular music, Norbert featured wholly original material that had hardly anything in common with the "moon, spoon, June" motives of a bygone jazz vocal era. With songs like Holding the Line, Daydreaming, Our Freedom, Night Train, Craters Song and Silent Scream it was a refreshing departure from the norm, and, according to Norbert, not such an unusual approach in European jazz circles. Judging by some of Diana Krall's recent recordings the practice may have also crossed to this side of the Atlantic. Like Diana Krall (particularly in her earlier work) Kogging also has a strong instrumental component. The  bass / drums combination of Tobias Nyboer and Felix Schlarmann deserve special mention. They are a rock solid rhythmic foundation for the music. I particularly liked Felix's deft brush work, including a device I can only describe as "straw brooms" and his ability to seamlessly move from sticks, to brushes, to broom, to mallets and back again. As always I have an inbuilt suspicion of kit drummers playing in small venues. More often than not they play too loud and lack finesse. Not Felix, he proved that a drummer truly reveals his talent when he plays his kit with brushes. None of this is meant to undermine the talents of the shy smiling Folkert Oosterbeek on piano. He had ample opportunity in his accompaniments and soloing to demonstrate his strengths. Once again we have to thank Laurel Ralston for her unflagging devotion to jazz and bringing this rock solid Dutch Jazz Quartet to Centre 64.
A special treat Kogging performing Daydreaming
The organizers of the event would like to thank the following sponsors The Burrito Grill, Pedal and Tap, Our Place and Mountain Spirit  for their generous support and contributions.
@@@@@@@@@@@@@