Broken Down Suit Case at the Stemwinder Bar and Grill  (Kimberley Ski Hill), Saturday and Sunday, 26 &27 January 2013, 3-6 pm.
Now there is a band name with a difference – Broken Down Suit Case. Very apt in a way because that was what these two "Golden Boys" had in their suit case, so to speak, a whole parcel of roots and like minded music from off the road, off the radio, from out of the
past and into the future. Both musicians, Eric Larocque (guitar, banjo and harmonica) and his kiwi band mate Benjamin Caldwell (guitar, mandolin and stomp box) are currently domiciled in Golden. Although they tour extensively in the summer months, winter is a time for more modest excursions.  Hazardous roads and weather conditions restrict their touring to gigs in nearby ski hills and resorts where they get a chance to plough a little powder and perform in friendly environments. In keeping with their rootsy persona their choice of instruments have the well worn look of old instruments that verge
on being vintage. Not that these guys could afford vintage instruments. Eric play an old (circa mid fifties) Kay Arch top that he says is absolute fun to play. He picked it up on ebay and has spent a small fortune bringing it back to life. His clawhammer banjo started out as a traditional bluegrass banjo that he ended up removing the resonator and back to create his version of an old style / old timey instrument. He has had this banjo for many years. Eric also plays harmonica as both a solo instrument and also in the familiar dental rack that came to favor during  the Bob Dylan / Neil Young years.  Benjamin's guitar, I believe, is an instrument that he borrowed for the gig.
This instrument is so new that it is out of character with their rootsy persona. Check the grain in the guitar top. However, Benajamin redeemed his image with an old English Hathway mandolin that he also picked up on ebay. This round-holed mandolin is a rare beast in this neck of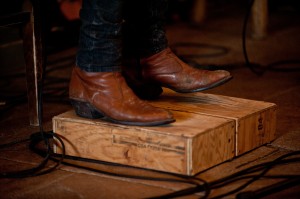 the woods. Most local players prefer the florid f-style mandolin with its characteristic bark and chop. These are do-it yourself guys. A handy coffee cup or beer bottle does service as a slide when required. The banjo has a glued in guitar pickup, the mandolin has an appropriate microphone  duck-tapped to the top and for
percussion a pair of cowboy boots and a miced home made stomp box does the trick. Their repertoire tends towards the folksy end of the spectrum with the likes of Woody Guthrie's Union Maid (when was the last time you heard that, if ever, in live performance). A few modern covers such as Orphan Girl,  and Neil Young's Helpless and a sprinkling of originals were thrown in for good measure. As usual the mood of the room was laid back and the scene sparkled with the odd, the cute, the interesting and the down right good looking. He are some images from the Sunday afternoon session.
@@@@@@@@@@@@@@@@@@@