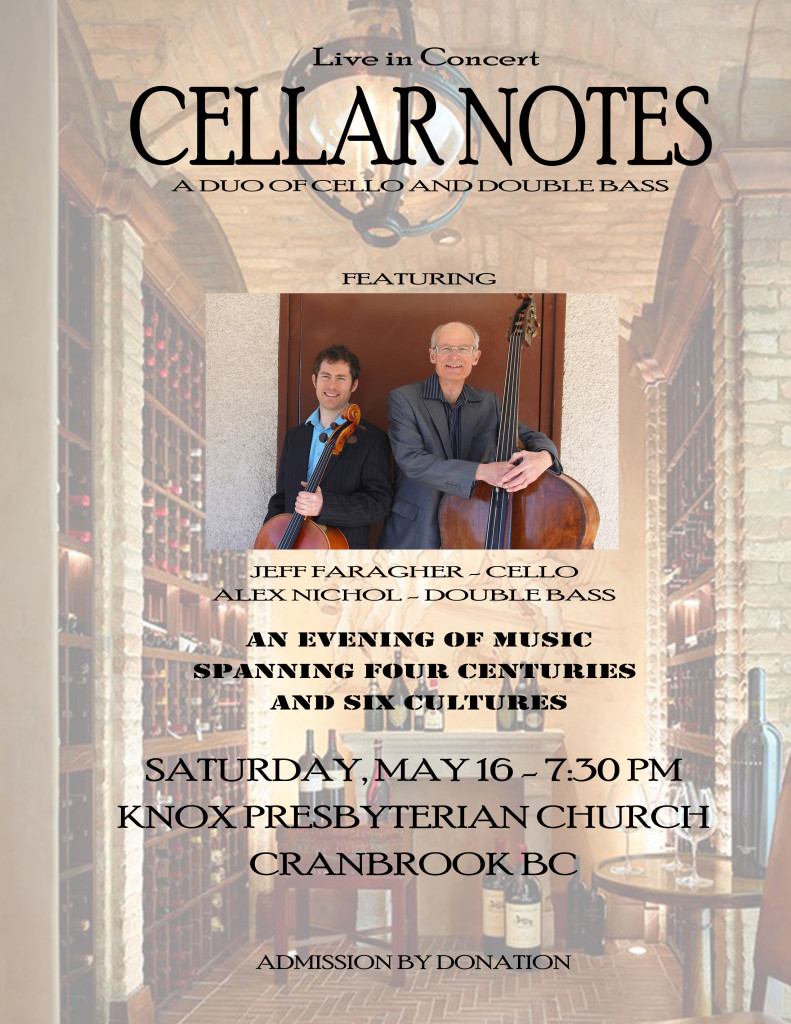 ARCO IN FLAGRANTE DELICTO
Press Release: The Cellar Notes Duo of Jeff Faragher, cello, and Alex Nichol, double bass will be presenting a musical offering spanning four centuries and six cultures on Saturday, May 16th at Knox Presbyterian Church starting at 7:30 pm. Admission by donation. Together, the cello and the double bass form the foundation upon which the symphony orchestra's sound is built. Composers have long known that the brilliance of the cello reinforced with the dark, rich timbre of the bass, creates a potent synergy that is greater than the sum of its parts.
Jeff Faragher holds a Bachelor of Music from the University of Alberta and a Master
Degree in Music Performance from McGill University. In between academic years he pursued supplementary studies with such internationally renowned cellists as Janos Starker, Aldo Parisot and YoYo Ma. Jeff was born and raised in Edmonton where he began his musical studies at the age of three. Following his graduation from McGill University Jeff returned to Edmonton where he undertook studies leading to an MB.A., became the head cello instructor for the Edmonton Public School System, as well as serving as Head of the String Department at Grant McEwan College. Jeff is a prodigious talent with an innovative spirit. Rather than a career in a major orchestra, Jeff has chosen a life in the Kootenays where he is free to explore the full range of teaching, coaching, performing and conducting possibilities. These include the position of Music Director of The Symphony of the Kootenays.  Jeff and his family moved to the Nelson area from Edmonton in 2006. On a 3 acre mountainside property overlooking the West Arm of Kootenay Lake where he and his father built the family home, office and Overtone Studios, of which the 50 seat Cedar Hall is the centerpiece. When he is not performing, coaching, teaching and conducting music, Jeff joins his wife in home-schooling 4 of their 5 children and in enjoying outdoor sports, including coaching ski racing.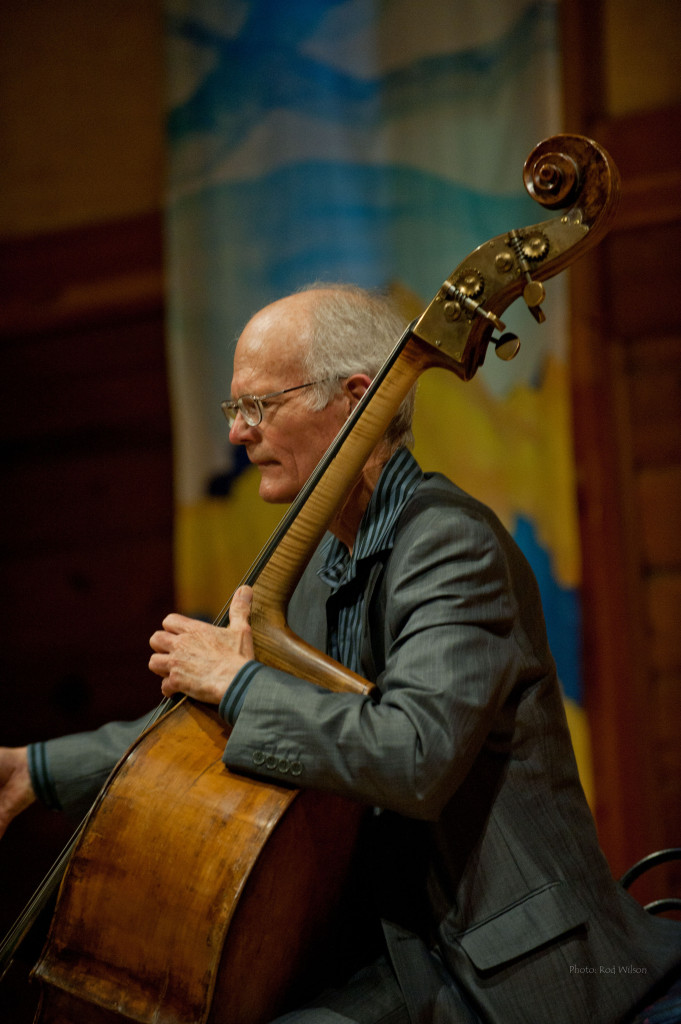 Alex Nichol pursued a meandering career path that passed through a Masters degree in European History before being diverted from academic ambitions into the life of a symphony orchestra musician. Over a period of twenty five years Nichol performed with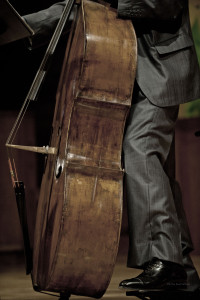 the Calgary Philharmonic Orchestra, the Halle Orchestra of Manchester, England, and the Vancouver Symphony Orchestra. In the course of his stay in England , he purchased the fine, old Italian bass that has been his musical companion for 45 years. In the early '80's Nichol's interest in wine and wine-making led to his writing the first book on the B.C. wine industry entitled Wine and Vines of British Columbia in 1983. Six years later, in 1989 he and his family moved to Naramata in the Okanagan, planted vines, made wine and opened for business as Nichol Vineyard Winery in 1993.With retirement in 2006, Nichol's focus has returned to music-making. He is currently the Principal Bass of the Symphony of the Kootenays and performs as an extra musician with the Okanagan Symphony Orchestra.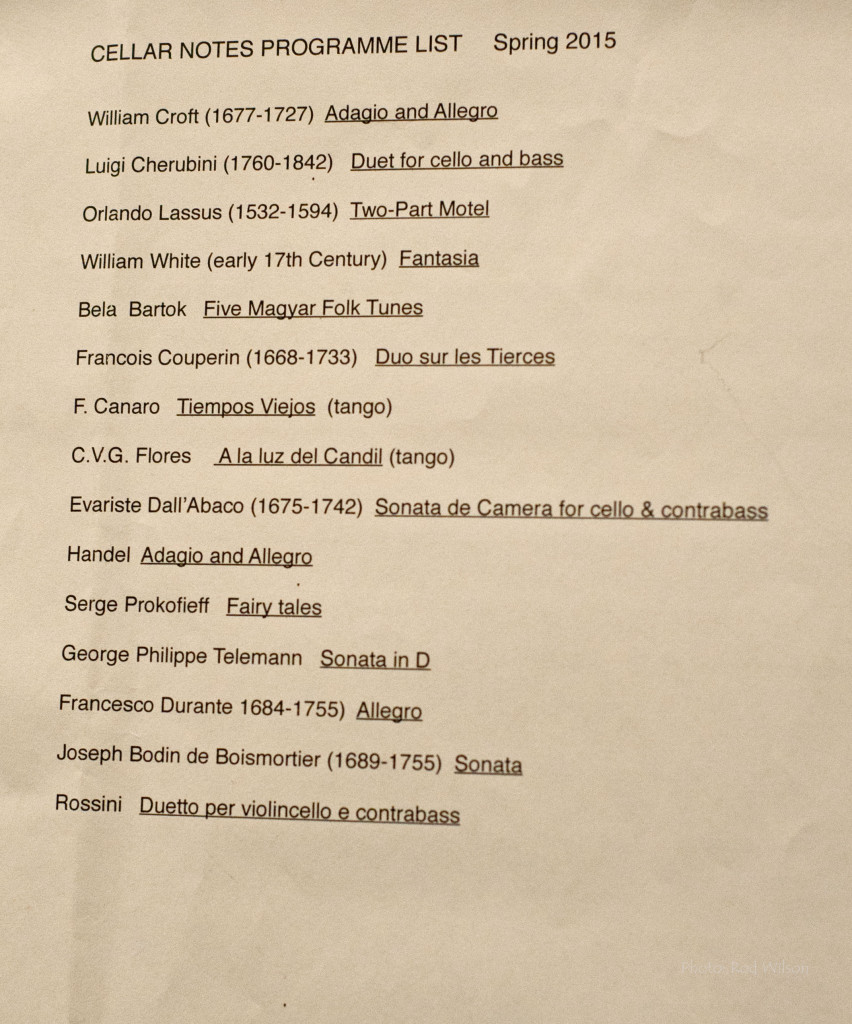 Obviously the program, mostly transcriptions, focused on the bottom end of the sonic spectrum. After all, it is hard to go any further down into the musical basement  than the double bass. It is a program of miniatures mostly from the early classical repertoire. The only concessions to modernity were the five Magyar dances of Bela Bartok  and Serge Prokofieff's Fairy Tales. True to the promise of cultural diversity and to spice things up they performed a couple of Tangos by F. Canaro and C.V.G Flores.
@@@@@@@@@@@@@@@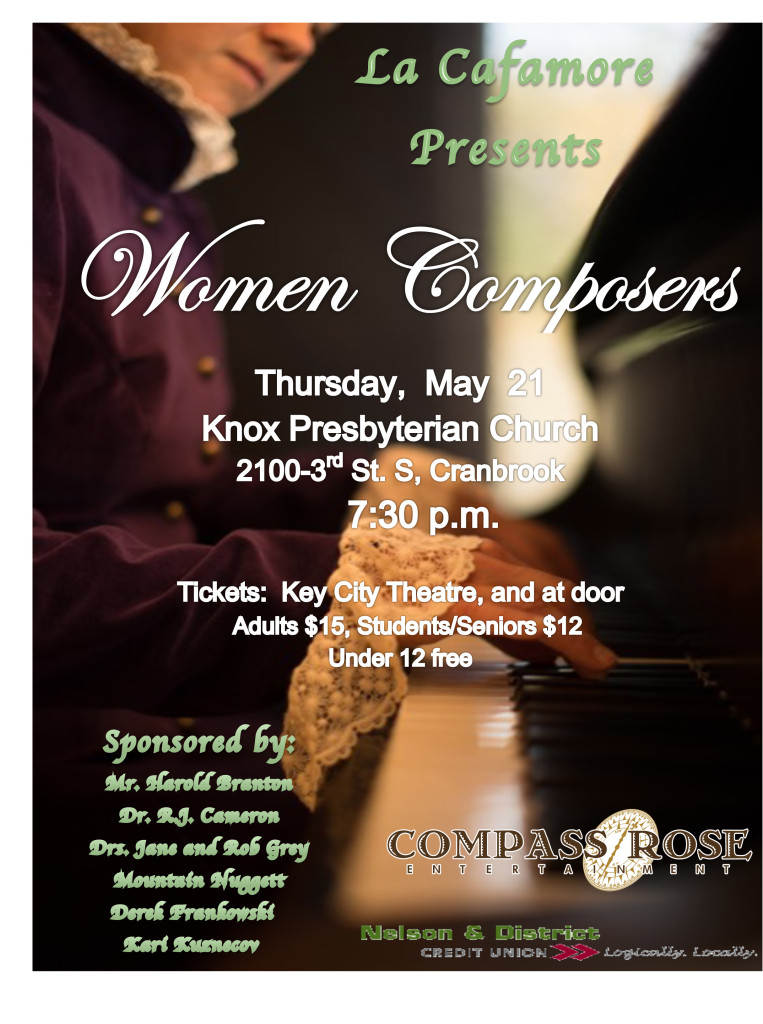 In my late teens my first encounter with Classical Chamber music was facilitated by  a Sunday afternoon TV show featuring a string quartet probably playing the music of  Beethoven. I was not impressed – I would have rather been down on the beach surfing and, after all, it didn't sound like any thing I was used to used to at the the time.That was not the end of it of course. Over the years I became more familiar with many different musical styles and eventually developed a taste for Chamber music. In more recent years the La Cafamore Ensemble from Nelson has expanded my chamber music universe with their always innovative programs at the Knox Presbyterian Church in Cranbrook. Over the past half dozen years the ensemble has taken to the stage in various configurations including String Quartet, Trios, Quintets and at times augmented with pre-recorded tape tracks, sound effects and percussion. We have been treated to some extraordinary music, including George Crumb's Black Angels and Steve Reich's Different Trains. This was  in addition to the more standard items in the classical repertoire. This most recent performance had Carolyn Cameron on piano, Angela Snyder on violin and Alexis Moore on viola. The program featured compositions by female composers from the early to the late Romantic era. As usual for a La Cafamore concert there was some unknown musical gems. The English composer Rebecca Clarke (1886-1979) composition Dumka written in 1941 included elements of mid-twentieth century music and European folk styles. Amy Cheney Beach (1867-1946), an American musician by birth and by style wrote Trio Op.11 in a late Romantic style with very distinctive and unmistakable American elements. The last composition of the evening was by the better known Fanny Mendelssohn Hensel (1805-1847). It was the four part Trio Op.11.
Here are some images from the concert:
@@@@@@@@@@@@
Here is a special YouTube treat of a student performance of Rebecca Clarke's Dumka
and for your listening pleasure – Amy Beach: Variations on Balkan Themes, op. 60 (Virginia Eskin, pianist).
@@@@@@@@@@@@