THE ALAN BRECKER QUARTET, Saturday November 21, 2015, 8pm at Stage 64 (Centre 64) in Kimberley. This was the last concert of the Fall Jazz and Blues Series.
This is what I call "Four on the floor straight ahead Jazz". A solid rhythm section and one or two melody instruments, a copy of a Jazz Fake Book, pick a tune and let's hit it , one and two, and three and four ….., and that was the name of the game on Saturday night with The Alan Brecker Quartet at Stage 64 in Kimberley. The solid rhythm section, Alan Brecker on piano, Stefano Valdo on electric Bass, Taylor Hornby on drums with the lead solo Tenor Sax of Pat Belliveau. There were added vocals by Alan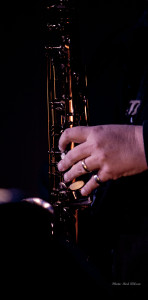 and some magnificent melodic bass solos by Stefano on a huge 6-string bass that added variety to the sonic spectrum. These four session musicians from Calgary love to play jazz and the gig here in Kimberly gave them ample opportunity to delve into a selection of songs and tunes from the Jazz Fake Book. The Jazz Fake Book, for those who don't know, is one of several published, copyright approved, collections of a huge number of jazz standards and songs from the American Song Book. It is almost a bible for improvising jazz musician. "Want to play some tunes? What have you got in the Fake Book that we could play?" That's pretty well how an "off the cuff" session would play out. There are no elaborated arrangements, the tunes are usually presented as an abbreviated one or two page chart that notates the basic melody, chords and possibly some brief instructions about style and tempo. Nothing is set in stone and the musicians are free to make any number of musical choices in performing the piece. In doing so, some of the "off the cuff" choices can yield some adventurous and interesting musical moments. Case in point is the quartet's rendition of the well known I Remember April. Who would have thought that this ballad had such potential as a hard driving Samba. Thier version would be rig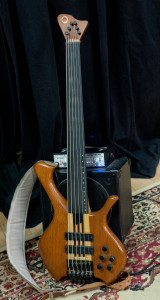 ht at home at a carnival in Rio. Alan has a thing for the songs of Jimmy Van Heusen and and during the evening he indulged his passion with more than one Van Heusen song. The standout, of course, was  Here's That Rainy Day (from the show Carnival in Flanders) with some brilliant  mallet and brushes work by Tyler Hornby behind Stefano's extended bass solo. Some other tunes that came off the pages of the Fake Book were Somewhere Over the Rainbow, How High the Moon and the Louis Armstrong classic What a Wonderful World. Another high light of the evening was Alan's Stride/be-bop solo version of Summertime. Despite their popularity there are some tunes that just never wear out. Summertime is one of them.
Here are the images from a wonderful evening of "Four on the floor, straight ahead Jazz"
This was the last concert in the brilliant fall series organized by the "Alive at the Studio 64 Committee". Many, many thanks from me and others I am sure. I for one am looking forward to what will be another brilliant Spring Concert series in the New Year.
@@@@@@@@@@@@@@@@@@