Way back in the early 1960s the first 12 String Guitar music I remember hearing was on the recordings by Leadbelly (Huddie William Ledbetter, 1888 –  1949). He was  an American Negro folk musician, notable for his clear and forceful singing and his powerful use of the 12-string guitar. His popular performances  predated the folk revival of the 1960s but  his recordings were staples of the era. In 1988 he was posthumously inducted into the Rock and Roll Hall of Fame.
The first live performance of 12 String Guitar I witnessed was by Pete Seeger on his 1963-64 Australian tour. Pete walked onto the Stage at Sydney University with a a banjo in one hand and a 12 String Guitar in the other. He then proceeded to give a spell binding concert that is still imprinted on my brain. Included in the performance was his classic tune  Living in the Country.
During the classic rock and folk era of the 1970s the acoustic and electric 12 String Guitars were pretty well staples on the music scene.There were plenty of 12 String   players in that era but perhaps the most notable was the  singer / song writer Leo Kottke. He had a great voice and powerful driving finger picking style that was reminiscent of the classic country blues style. With the use of a slide he added a new twist to the classic techniques. Here are some Youtube videos of Leo.
Although there are a lot of clips of Leo's  performances on YouTube the quality of the videos is mostly subpar. However the music and the humor are, as always, excellent.
Over the years the unique sound of the instrument has somewhat faded from the scene to be replaced by 12 String Guitars that sounds just like a a regular 6 String Guitar with just 6 extras strings. Musicians seem to have decided to abandon traditional low tunings to stick with the standard  guitar tuning.To my ear the thundering rhythms and bass runs seem to be missing.
@@@@@@@@@@@@@
Of course there is always one in every pack. Some one who is just so different that he or she completely defies tradition and standard practice and ends up in a category all by themselves.  12 string guitar players are no different and the man completely outside the box is the jazz guitarist Ralph Towner.
Ralph confesses "I am a piano player who plays guitar". He started on piano as a young child and was a serious trumpet player growing up. He didn't tackle the fretboard until his final year at the University of Oregon, when he began playing classical guitar as part of his composition studies. "I somehow managed to buy one for almost nothing," he told All About Jazz's Mario Calvitti in 2017. "I started to teach myself and I realized I was not gonna go very far."
After college, Towner scraped together the money to study with Karl Scheidt in Vienna. He set aside horn, keyboard, and jazz and spent a year focusing on his new instrument. "The classical technique got the most sound, the most colors and articulation," he said later. "When I studied the classical guitar, all I played was classical music and I tried to stay away from improvising."
A return to the U.S. did bring a return to jazz and improvisation—only it was on the piano, where he found a foothold in the NYC jazz scene. But the division between classical guitar and jazz keys crumbled in the 1970s as Towner co-founded the band Oregon and began collaborating with the likes of Weather Report, Gary Burton, Paul Winter, and his frequent artistic partner John Abercrombie. Besides the classical guitar, he would eventually bring 12-string and baritone guitars into his unconventional arsenal—additions that make a certain sense, as both instrument types have wide necks and fingerboards, closer to classical models than a standard steel-string acoustic.
"Towner didn't have guitar players as role models for his unique style of guitar improvisation," biographer B. Kimberly Taylor says. "The influence of Bill Evans was channeled through the medium of guitar instead of piano, and Towner [plays] the guitar in a 'pianistic' manner, almost transcending the instrument in a way that makes it sound like a small orchestra." ………  JAZZ TIMES, Published  –  Emile Menasche
Ralph has a completely unique sound and approach to the 12 String Guitar. While some of that is due to his background in Jazz and Classical music it is possibly his tuning system for the 12 String Guitar that give him his unique sound. His guitar is tuned CG / EbG / BbC / FD / AG / DD. Here is a clip explaining the tuning he uses.

@@@@@@@@@@@@@
For many years I never had any real urge to take up 12 String Guitar. As an instrument it just appeared to be too difficult to play. In 1999 Jamie Wiens, a local luthier built me a wonderful small body  Auditorium  6 String Guitar. He followed that up with a custom Cittern that, through no real fault of Jamie, was not quite so successful. It was a first for both of us.He had to figure out how to build it and I had to figure out how to tune it and play it. The instrument has a wonderful sound and unbelievable sustain but over the years the long scale neck made it difficult for me to continue using it as my main instrument. I switched to a smaller scale instrument built by Lawrence Nyberg on Hornby Island. Mean while, Jamie had some nice Koa and spruce tone woods available and he persuaded me to commission him to build a 12 String Guitar. The result was a one-of-a-kind instrument that is absolutely magnificent. The instrument is a masterpiece but as a life experience the building process was horrendously bad. Jamie took eight years to complete the project and by the end we were no longer friends.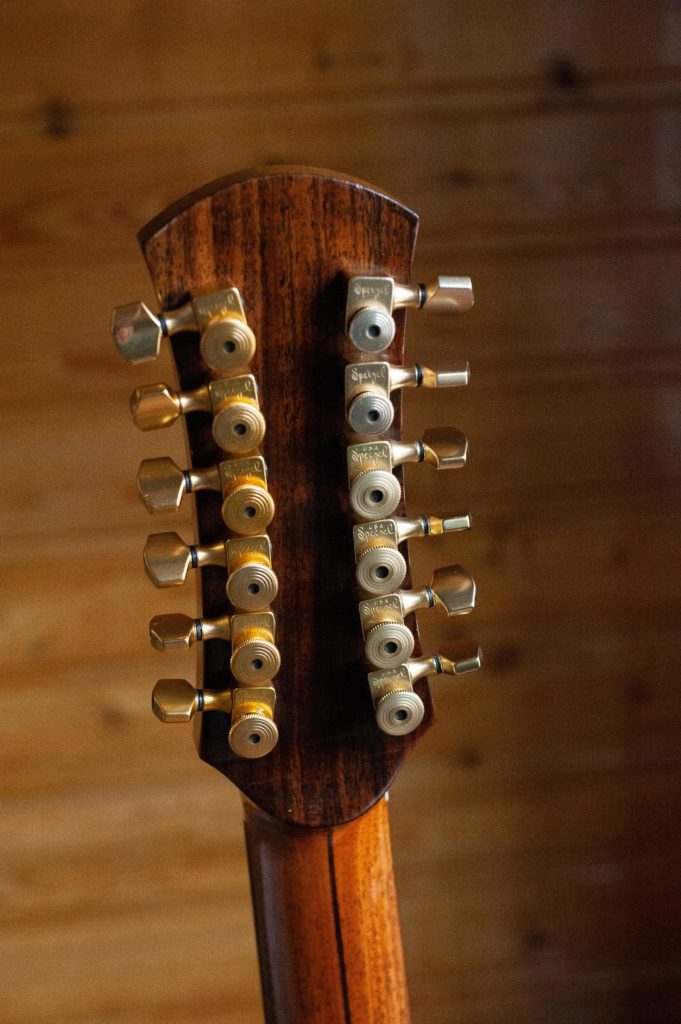 To complete the sonic possibilities my friend Dave Carlson installed a dual K&K contact pickup.  So with this magnificent guitar in hand how was I going to tune it to get a classic 12 String Sound? Shawn Robertson is a 12 String Guitarist in Kimberley who suggested that I try Leo Kottke's C9 tuning. That is C G C G C D (low to high) with octave strings on the lower courses and unison strings on the top two courses. It turned out to be a great tuning and thanks to Jamie's workmanship this guitar was easier to play than most 6 string instruments that I had experienced. It didn't quite get the big 12 string sound I was hoping for but there were other musical attributes of the C9 tuning that more than made up for some  lost expectations. When exploring new tunes Jamie's 12 String Guitar in a C9 tuning is my go to instrument. It is very easy to play finger style in the keys of C, G, F, Dmin, Bb, and C minor Dorian without the use of a capo. Of course with a capo playing in all keys is possible..
@@@@@@@@@@@@@
Back to the Future: Despite the overwhelming success of the C9 experiment the thunderous old time sounds still haunt  me. Is it the instrument? Is it the tuning? Is it my poor technique? A little research turned up some answers. Pete Seeger plays his Living in the Country in a dropped D tuning. Keith Potgers probably uses the dropped D tuning to great effect in in the Folk band The Seekers. It is probably part of the solution but not the complete answer. Further research revealed that Blind Willie McTell tuned his 12 String Guitar down to Dropped C or even even down to Dropped B. Going to these lower tuning can pose some problems with the required  heavier strings and some guitars can become unplayable when tuned that low.
The dropped C tuning is C G C F A E. It is very close the the C9 tuning but has the advantage of the availability of  familiar chord shapes. Just use the dropped D shapes to end up playing in the key of C, etc. If the guitar can stand it and the string gauges are suitable it is possible to drop all the strings down even another semitone or whole tone to get more bass.
@@@@@@@@@@@@@
THE GUITARS:
THE STELLA 12-STRING GUITAR. This was the instrument favored by the classic blues artists such as Leadbelly and Blind Willie Mctell. It is described as a "Jumbo bodied Flat Topped guitar" with a tailpiece and a bridge glued to the top of the guitar. Generally most acoustic 6 string guitars have a scale length 24.75″ to 25.5″. The Stella's have a very long length scale length of 26.5′". That's not the only difference. Luthiers chase three adjectives when sculpting acoustic guitar tops: dry, stiff and lightweight. Stiffness without lightness means a heavy, thick top that doesn't reverberate. A light top that isn't stiff means loose, flabby tone with blurred note definition. To get the perfect mix, luthiers often use very thin tops for reverberation and a series of braces to provide stiffness for definition. These braces also provide structural integrity to hold fast against the stress that string tension puts on a guitar body. The layout and precision of these braces influence a guitar's character in a big way. Here's a look at two historical approaches.
The Ladder Brace and the Fan or X Brace
Ladder Bracing | More Treble, More Air
The X-brace is what we now consider to be the standard top-bracing pattern on flat top guitars. But when you go back far enough into the history of acoustic guitar manufacturing, you would come across a period in which the Ladder-braced guitar was king. In the 1920s and 1930s. In fact, a majority of the flattop acoustic guitars being produced during this period featured ladder bracing. Many of these "budget" instruments, including the Stellas would go on to become the defining sound of countless blues, folk, and country musicians of the era.  In low tunings the Stellas were big robust instruments with a big rumbling sound with lots of bass
Here are a couple of images of a restored 1929 Stella 12-string guitar…..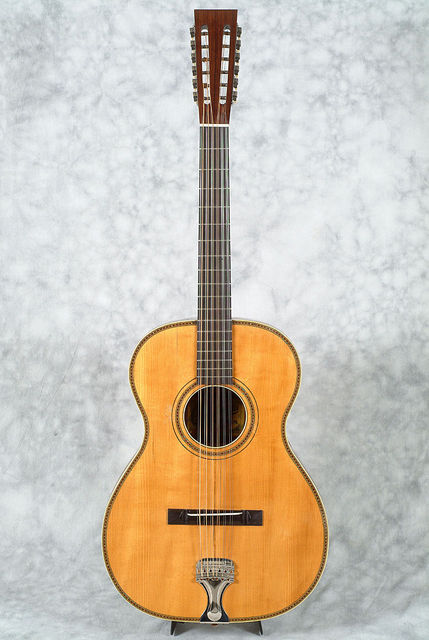 Most modern guitar manufacturers have 12 String models available. Ralph Towner plays a Guild; Keith Potgers (The Seekers) plays a marvelous Maton EM100C; Taylor guitars has been used by Leo Kottke and is a very popular model. An outstanding, if unusual, instrument is the Godin A-12. It is a slim line guitar with a reputation for outstanding electronics and ease of playing.
A few years ago they were priced under $1,000 but, unfortunately, they are now listed at $1,600 (sigh).
@@@@@@@@@@@@@
Postscript:  Serious musicians all travel a road of exploration and discovery.
Jamie Neve: A local musician who has traveled one such road. Here is his 12 String Guitar story………
"I began my journey with 12 string guitars in early 1972 with a Framus. It was a heavy piece of lumber with a rather heavy top made of plywood and a wide neck. Hence it was lucky I was young with a strong left hand but its voice was a bit dull and a challenge to be nimble on the neck. So the guitar left my collection. Fast forward to the mid 90's and an improvement in my economic circumstances and the purchase of  slope shoulder sitka topped Larrivee. It was a huge step up, nice warm sound, but with some jangle. It also had a good quality Fishman pickup and preamp and worked well in the live situation. Again the neck was not quite right for my hand. But a nearby friend found it perfect so aaway she went.
But then I was in a music store in  Kelowna and enter a used  Alvarez AJ60 S. A unique jumbo with a solid Maple top, back and sides. I snapped it up. Now she is 25 years young. Luthiers would call it a bargain guitar. I call it a dream to play even up neck with a very true lie so no annoying buzzes. Paired with the Fishman. 4 band Tranducer and phase control it has a rich full spectrum sound. In all aspects a quality build from Korea.
As things go a band I formed with local mates led us down the rabbit hole of The Beatles and Byrds tunes with 12 string guitar. Enter a Danelectro Vintage 12 string – a rival to the Ricki and all other semi-hollow body electrics. Another easy to play gitfiddle with tons of tone management options that sounds great paired with the MXR Dyna Comp compressor.  Enter a tune up by local luthier Jamie Weins and string reordering flipping thin for fat on the lower 3 and what a dream to play.This guitar stands out on songs like My Back Pages and  Mr. Tamborine Man.
All in all 12 strings occupy a big space in my musical repertoire but they require a real commitment to practice that is for certain.
Play On "
@@@@@@@@@@@@@
Me and my 12 String(s) – Dave Prinn.  Another local musician who has also traveled a 12-String Guitar road.
Like the blogster Mr. Wilson, my first live exposure to a 12 string was also with Pete Seeger.  My experience though was in 1960 at Place des Arts in Montreal when Pete was leading The Weavers.  My mother told me I did not manage to stay awake through the entire concert, but I have had a soft spot for the full spectrum ringing of a 12 string guitar ever since.
My first 12 string guitar was an Ovation Glen Campbell model purchased through a music store in Calgary in 1972.  It was a high end special order that has a nightmare story attached.  I will perhaps relay that story in a different chapter of this blog. The guitar arrived nearly two years after I had paid for it, and although it sounded wonderful, I was young and did not quite understand the delicacies of wood or how a fine guitar needed to be treated.  The guitar traveled in the back of my truck and endured a tortuous three year existence until the top began to bulge behind the bridge from a lack of humidification.  The guitar never made it back to my hands from the repair shop – as I was handing it to the technician behind the counter, I beheld a 1974 Martin HD 28 Ambertone, and it was lust at first sight.  They took the Ovation as a trade-in and I left the shop a very happy young man.
A couple of decades later and an entry level mandolin was traded for an Takamine 11 string of unknown vintage that was covered in dust.  It too had a Fishman 4 band EQ and it sounded amazing – especially in "Drop-D" tuning.  Unfortunately, the neck had the feel of a smooth 2 x 4, and the guitar did not get played very often or for very long.  It was eventually sold to a gentleman who had a hand apparently shaped like a 2 x 4.  He loves the guitar.
Another couple of decades disappear and I am in the home of Mr. J. Neve (see article above) and he offers me a Larrivee 12 string to strum.  Nothing flashy, but Sitka Spruce top and rosewood sides and back.  To my hand the neck fit like a glove and to my ear – perfection.  I told Mr. Neve that if he ever decided to sell it, I would like to be at the top of the call list.  A year or so later I learned that he had sold it to the wife of a long time friend to be given as a birthday present.  Although I understood the "why", I still expressed my disappointment to a mutual friend. When he advised me that he had the identical guitar for sale I jumped, and the 12-string that I had so enjoyed playing was mine.  I added a vintage "Big Tone" piezo under-saddle pick up and although a passive pick-up, the guitar has more gain than any other guitar in my collection.
I too dropped into the Byrds repertoire and learned the Roger McGuinn 12-string break in "Turn Turn Turn", as well as Dylan's "Mr. Tambouring Man.  I have yet to explore the tunings less traveled.  The 12 string is a guitar with a magical voice that add a depth to many genres of music.
@@@@@@@@@@@@@