Tango music came out of Argentina in the very early part of the twentieth century and is mostly associated with the dance of the same name. It's popularity has waxed and waned though out the century but in more recent times the music has undergone a change into what is now known as Nuevo Tango or Tango  Nuevo.This new style  evolved from the traditionally sung Argentinian Tango which was played as dance music. It originated in Buenos Aires in the mid 1950s and owes its development to new rhythms, melodies, harmonies, dynamics and the incorporation of elements of Jazz and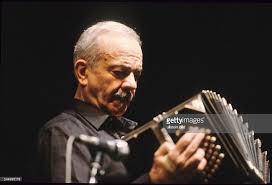 Classical music into a style more  suited to modern times. One of the pioneers of this new style was the Argentinian composer and Bandoneon soloist Astor Piazzolla (March 11, 1921 – July 4, 1992). Piazzolla's Nuevo Tango introduced elements of Jazz, used extended harmonies and dissonance, counterpoint, and  ventured into extended compositional forms. In the realms of Argentinean music, both Tango and Classical, Astor Piazzolla is a giant. In bringing about the change in Tango style his efforts have not always been met with universal acclaim. There is one story out there about a traditional Tango musician who, on hearing Astor performing music on radio, threatened to go down to the studio and beat up the musicians.
My first encounter with the style was a vinyl recording of Piazzolla's 1987 New York Central Park Concert and, to be honest, I didn't get it then and to some extent I am not entirely sure I get it now. The music is so different to everything else that is out there that it is difficult to get a complete sense of the music.   The music is structurally very complex, the melodies are different, the rhythms chop and change and have nothing in common with conventional pop, jazz and nearby Brazilian folkloric styles. In performance the music is very virtuosic and an average musician would have great difficulty in performing the music.The configuration of Nuevo Tango ensembles are unique. The conventional drum kit is absent and any percussion accompaniment is restricted to musicians beating on the body of standard acoustic instruments. Piano, guitar, and bass figure prominently in intricate, mostly written, compositions. Improvisation in the conventional jazz sense is limited.
The instrument that is fairly unique to the music is the Bandoneon. It is an instrument that gives the music it's unique sonic flavor. It is a type of non-chromatic button concertina defined as a wind / free reed / aerophone instrument. It is similar to certain types of concertinas and melodeons in that it produces different notes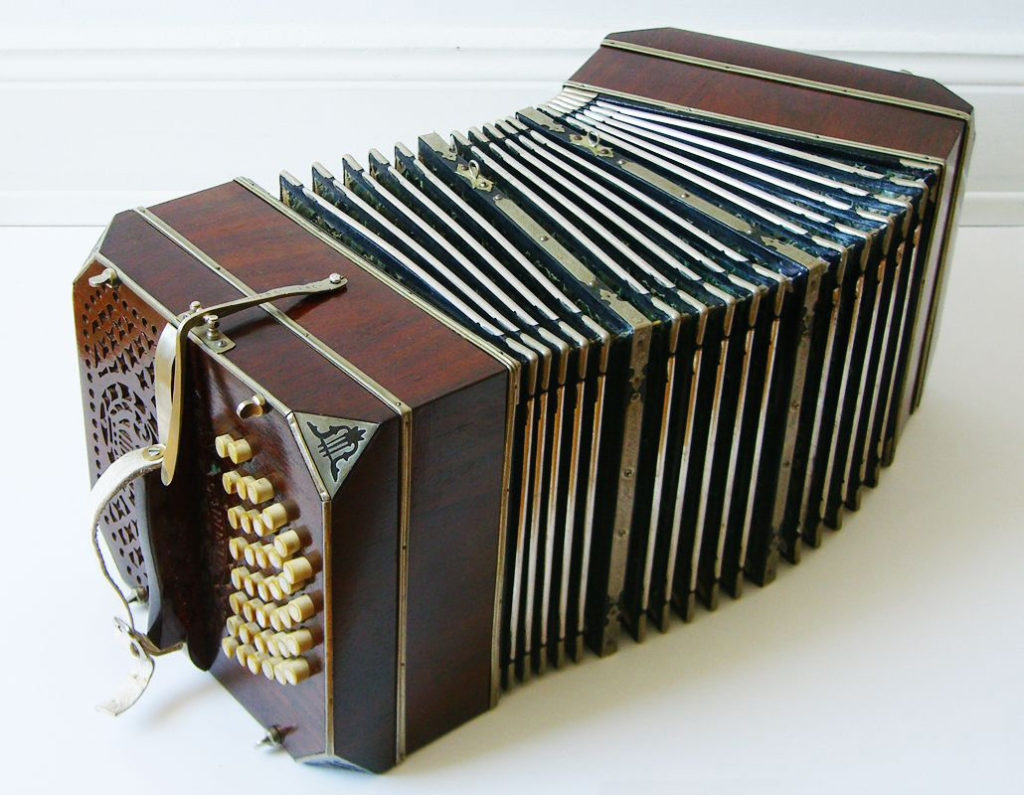 on either the push or pull of the bellows. The Bandoneon, so named by the German instrument dealer, Heinrich Band (1821–1860), was originally intended as an instrument for the religious and popular music of the day. Around 1870, German and Italian emigrants and sailors brought the instrument to Argentina, where it was adopted into the nascent genre of tango music, a descendant of the earlier Milonga. By 1910 Bandoneons were being produced expressly for the Argentine and Uruguayan markets, with 25,000 shipping to Argentina in 1930 alone. However, declining popularity and the disruption of German manufacturing during the World War II led to the end of mass production of the instrument. Bandoneons were historically produced primarily in Germany, and, despite its popularity,  were never produced in Argentina itself. As a result, by the 2000s, vintage bandoneons had become rare and expensive (US$4,000), there by limiting prospective bandeonists……… Wikipedia
My interest in the style picked up when I came across Nuevo Tango performances by Gary Burton. For me this made the music much more accessible. I am very familiar with Burton's music and the sound of the vibraphone in jazz. Burton was born in Anderson, Indiana in 1943 and began playing music at the age of six. He mostly taught himself to play marimba and vibraphone. He began studying piano at age sixteen while finishing high school. He attended Berklee College of Music in 1960–61 and the Stan Kenton Clinic at Indiana University in 1960.  After establishing his career during the 1960s, he returned to join the staff of Berklee from 1971–2004, serving first as professor, then dean, and executive vice president during his last decade at the college. In 1989, Burton received an Honorary Doctorate of Music from Berklee. In the world of Jazz, music in general and in the art of playing four mallet vibraphone Gary Burton is a giant. The Gary Burton Grip is one of a number of standard grips used to play with four mallets. He has cited jazz pianist Bill Evans as the inspiration for his approach to the vibraphone.
Burton first became aware of Piazzolla's music while visiting Buenos Aires with the Stan Getz Jazz group in 1965. Gary Burton at that time was 25 years old. From the liner notes of one of his recordings Burton chronicles his love for the music. " Standing at the side of the stage in the Buenos Aires  club thirty five years ago, I was swept away by the passion of his (Astor Pizzolla) soaring melodies and rich harmonies and the breathtaking virtuosity of his musicians. But even more surprising, I couldn't believe this music existed and it was so little known in the United States."
Here is clip of Gary Burton playing Piazzolla's Libertango
Libertango is probably one of Astor Piazolla's most famous compositions and it has been adapted by many performers over the years into solo guitar, guitar duos, guitar quartets, string quartets and other configurations. I think the music is worth a listen and if you are so inclined there is plenty of other examples on YouTube.
Here are a few Gary Burton New Tango recordings to help you to get your head around this music. It may take a while but It is worth the effort.
GARY BURTON – LIBERTANGO – THE MUSIC OF ASTOR PIAZZOLLA  Concord Jazz CCD – 4887-2
NEW TANGO – ASTOR PIAZZOLLA & GARY BURTON  Atlantic Jazz 7 81823-2
GARY BURTON / ASTOR PIAZZOLLA REUNION Concord Jazz CCD – 47932
@@@@@@@@@@@@@@@@@
post script : more versions of LIBERTANGO
My comment after hearing numerous versions of the piece and this particular guitar duo version…..  Holy Frack, what is that  ………..
@@@@@@@@@@@@@@@@@