The Slocan Ramblers at The Driftwood Concert House in Kimberley, July 25th, 2013 at 8pm. Also at Lotus Books in Cranbrook July 26th, 2013.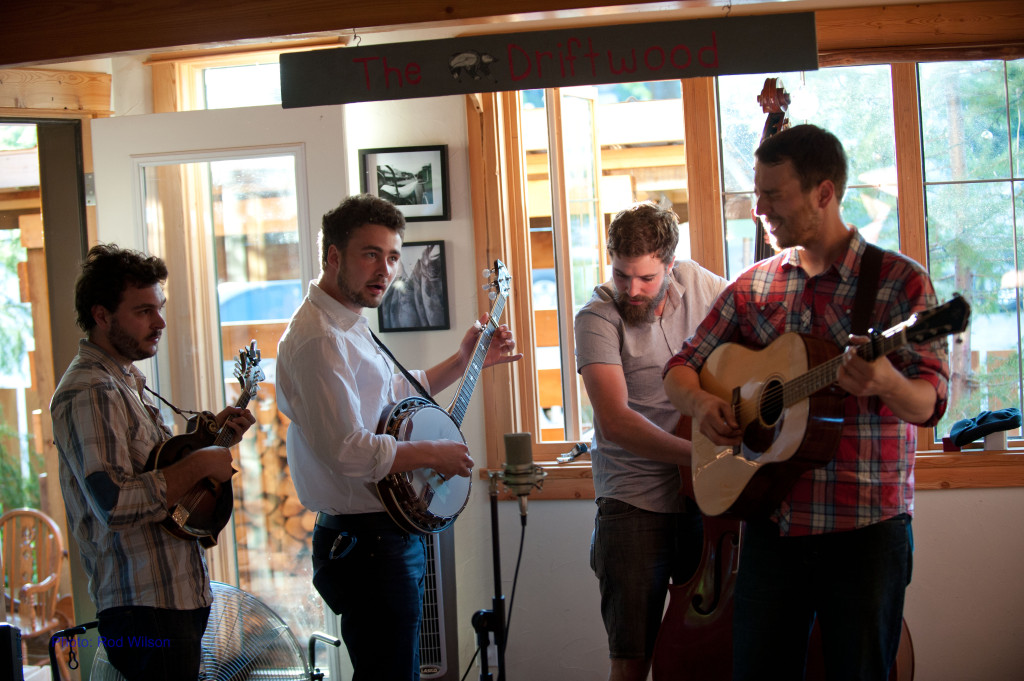 They may be called the Slocan Ramblers but they are from Toronto. Their claim to Slocan fame is through their bass player who is originally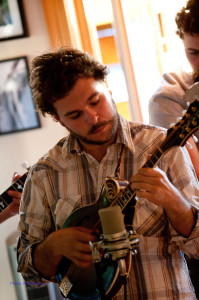 from that area. This band of young musicians, Adrian Gross (mandolin),
Frank Evans (banjos), Darryl Poulsen (guitar) and Alistair Whitehead (bass) are making waves in the Bluegrass music community. They have recently come off a tour with Steve Martin, Edie Brickell and the The Steep Canyon Rangers and, that in Bluegrass circles, is big time. A bunch of good looking young lads (Frank bears some resemblance to Allan Hawco of The Republic of Doyle) with bucket loads of technique, good organization (check the hand written set list – no scribbles there) and a substantial repertoire. Mostly they play straight ahead blue grass with occasional original tunes, such as Adrian Gross' April Waltz. One thing that Bluegrass bands do that is often neglected in other genres (particularly pop music) is play tunes. My favorite of the evening was Blake's March. There was a cover of Patrick Sky's Many a Mile. Mind you, they did it bluegrass style to the point that it was almost unrecognisable (not that it was a bad thing). The song Rambo Sailor I suspect was a reworking of the traditional song Rambling Sailor and it gave a hint of what possibilities are out there for the band if they chose to loosen the grip Bluegrass has on their musical imaginations. The arrangements were good with a few unexpected twists that kept the audience on their toes. All band members shared the vocal chores and the harmonies had the usual rich bluegrass sound. The Driftwood House had a pretty full house and I suspect that the concert in the Lotus Bookshop the following night was also well attended.
Canada is multicultural and Toronto must be one of the most cosmopolitan cities in the world. Therefore I am constantly puzzled why so many very talented young Canadian musicians chose to play an American music that is so stylistically rigid and is about American tunes, heroes and situations. And, this is not a criticism of the sound at the Driftwood Concert House on Thursday, it is a comment on the Bluegrass fetish for single condenser microphones. I have been to lots and lots of concerts and, occasionally that setup does works. The sound at a recent Chris Coole clawhammer banjo concert in Fernie is a case in point – see my blog entry Chris Coole  . With a single microphone the sound that night was brilliant. But more often than not as a system it fails. It is the tradition that stems from the days when that is all that was available for sound re-enforcement. But technology has moved on and there is no need for performers to dance around a single microphone and still end up with bad sound. Besides the dancing around is distracting. The musician who suffers the most is the guitar player. He has to hold the guitar up to the microphone and play so hard that his tone and musicality becomes distorted. Under those circumstances I have yet to hear a guitar solo that rises above musical mumbling. It would be so much easier, and better, to just "plug in".
This was the last concert of the summer season at the Driftwood Concert House and putting aside my minor personal quibbles it was another night of great music performed by some players who have, and will continue, make their mark on the Bluegrass scene. Thanks Darrin, Jen and Silas for opening your house to the musicians and guests during this concert season. We are looking forward to September and more of the same.
 @@@@@@@@@@@@@@@@@@