Music behind the Green Door, July 22, 2015, 7-10 pm
The opening act on this particular night was another nod to Cranbrook's cadre of youthful performers. This time it was the duo Wizzard Lizard. Kyle Albrecht was the guitar wizard and I guess Maddi Keiver is supposed to be the lizard in this organisation. That is most unkind. No lizard I have ever come across looked as pretty nor sang with such a strong voice. In fact I have never heard a lizard sing. Kyle kicked off the evening with an unnamed slide guitar  blues in open E. Throughout the evening , with the exception of one cover tune, Van Morrison's Moon Dance, it was mostly original songs that seem to have been written mostly by Maddi Keiver. She has an exceptionally strong voice that she uses to deliver her musical messages with great confidence. Kyle is no slouch either. His guitar playing is very smooth.  I am constantly amazed by the number of outstanding musicians in this area that emerge from the woodwork. Or more correctly the number of talented performers who can probably trace their origins back to Evan Bueckert's  excellent  music program at the Mount Baker High School. Here are some images of Wizzard Lizzard's performances behind the Green Door  in the Kimberley Platzl.
And now, all the way from Montreal, we have Corinna Rose (vocals, open back banjo, guitar) and Leah Dolgay (vocals, Autoharp, and Harpsicle). I like music that is different so these two ladies made my day. Once again for the evening the music was mostly original material performed in a highly original way. With her open back banjo, Corinna was the front "man" of the duo. I hesitate to describe the banjo and her style of playing as clawhammer because, apart from a couple of instances, she did not go very far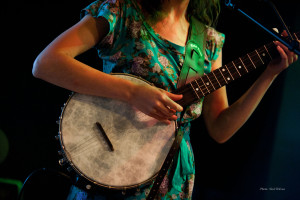 down that road. Rather she used a more full blown finger picking approach using the standard G banjo tuning. There were some nice dissonant chords in there now and again that added to the uniqueness the the music. From time to time she picked up the Larivee guitar that she has had since she was seventeen years old. Like most small body Larivees it was beautiful to look at and a pleasure to hear.
Leah Dolgay played an autoharp built by the luthier George Orthey . Leah manipulates the EQ of the instrument so that, when played in tandem, with Corinna's banjo they end up with the banjo's sound floating on top of the Autoharp's melodic picking,
strums and very solid bass runs. Leah is a recent convert to the rather large Celtic Harp,   but while traveling she has to leave the full sized instrument at home. Instead she uses a more airline friendly "Harpsicle". In reality the Harpsicle is a small lap harp that can just fit in the overhead compartments of the average airline. Here are some images of their performance: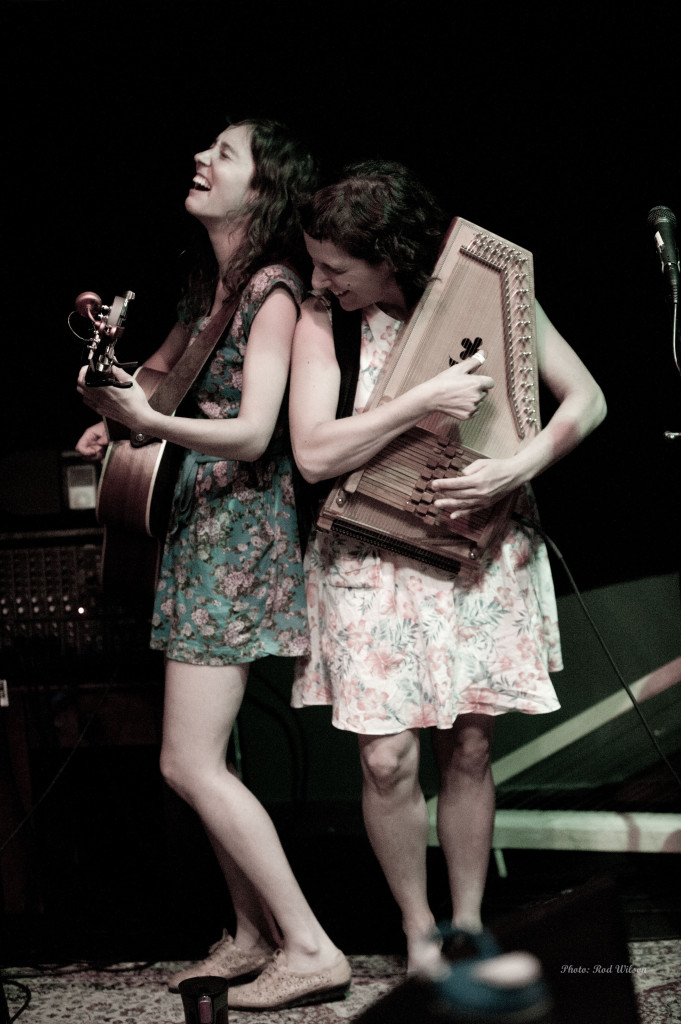 The duo did mostly original material that seem to draw inspiration from broken relationships. That included the cover tunes they did. Although Shady Grove  was done in an upbeat hoe down clawhammer style but it was out classed by their cover of the Hank Williams classic I'm So Lonesome I Could Cry.  I loved the textures of the interpretation.
 @@@@@@@@@@@@@