The Performance: Friday June 22, 2012, 7pm on the grounds of the St. Eugene Mission Resort. This was a free concert and the last one of the 2011-2012 season.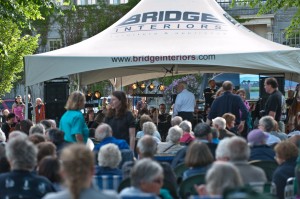 As expected the day was a typically unsettled Rocky Mountain June day. Sun, cloud, rain, and finally more sun just in time for the out door performance of the Symphony of the Kootenays.  I am stealing Amanda Ball's words here  – "Set against the stunning backdrop of the Steeples range, 'Music in the Mountains' will showcase Ktunaxa storytelling and dance, along with music that expresses the majesty, mystery and magic of mountain landscapes. The Symphony of the Kootenays is thrilled to join with the Ktunaxa Nation Council and the St. Eugene Mission to bring this unique cultural event to the community.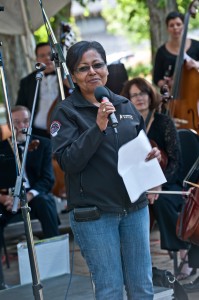 National Aboriginal Day is an excellent occasion for Aboriginal groups to share their diverse cultural heritage. By being a part of this day, the Symphony not only gets to showcase its local talent but we become a part of increasing awareness of the cultural traditions and opportunities in this region." Included on the program were:
John Burge's 'Rocky Mountain Overture', a sonically vibrant overture written specifically for outdoor performance, to reverberate around a valley in the Rocky Mountains.
Michael Conway Baker – The Mountains (from Through the Lions Gate)
Johann Strauss's best-loved compositions – including 'Radetzky March', 'Klipp-Klapp Polka'
Dimitri Shostakovich: Second Waltz
Mussorgsky: Night on Bald Mountain