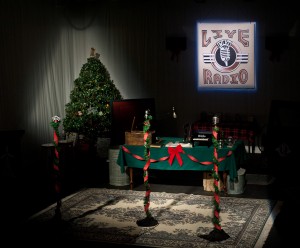 CRANBROOK COMMUNITY THEATRE PRESENTS: It's a Wonderful Life – The Live Radio Show, at the Studio/Stage Door in Cranbrook. Performances December 7,8, 12, 13, 14, 15, 2012.
As a Christmas story "A Wonderful Life" ranks right up there with Charles Dickens "A Christmas Carol" and it is obvious that the director Terry Miller really, really likes this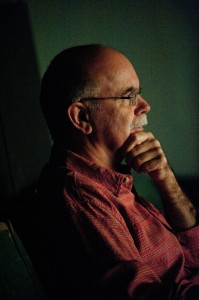 script. He directed the show two year ago and he is back with a new production for this year's Christmas season. Some actors have returned for this production (Peter Schalk, Sioban Staplin, Jennifer Inglis)
and are joined by David Popoff (fresh from the radio flavoured Babe Ruth Comes to Pickle River), Sean Swinwood and a cameo appearance by Bud Abbott. Based somewhat on the old black and white film "Miracle on 34th Street" (or at least I remember it as black and white, maybe they have colored it up by now) that is screened on network TV every Christmas. It is the story of an adventurous youth trapped by circumstances that in turn leads to despair and finally redemption. That's all very well of course but I don't think that the actual story line is the reason that this play works so well. For me it's more about the power of imagination. Before TV there were 'Motion Pictures' and Radio and of the two, radio was the one that really fired the imagination. I remember radio and the serialised adventure shows (Superman, The Phantom, Biggles, and the like) with larger than life voices, dialogue and sound effects that enthralled the mind with endless possibilities. Those possibilities have been captured on this stage in a marvelous period piece of a time before our time. A time when people dressed up, men wore double breasted suits and women pulled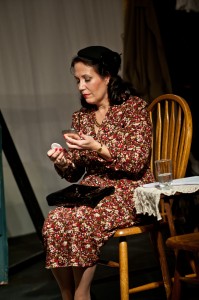 compacts out of their purses instead of cell phones. And when was the last time you saw a young man stand with his hand in his pocket just so?
For most people the play will invoke images from the film and that is fine. However, may I suggest that the play and the production share a sensibility that was displayed in Woody Allen's 1985 film The Purple Rose of Cairo. Maybe I am stretching it, but David Popoff could have stepped down off the screen in that Woody Allen film. Once again the Cranbrook Community Theatre actors  and director have managed to master a multitude of roles, voices and a mountain of dialogue to add substance to our imagination in this well known entertaining story.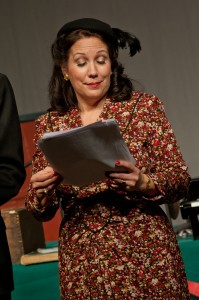 AND IN CASE YOU HAVE FORGOTTEN HERE IS THE CAST  AND THE RADIO STATION IN THE 2010 PRODUCTION
@@@@@@@@@@@@