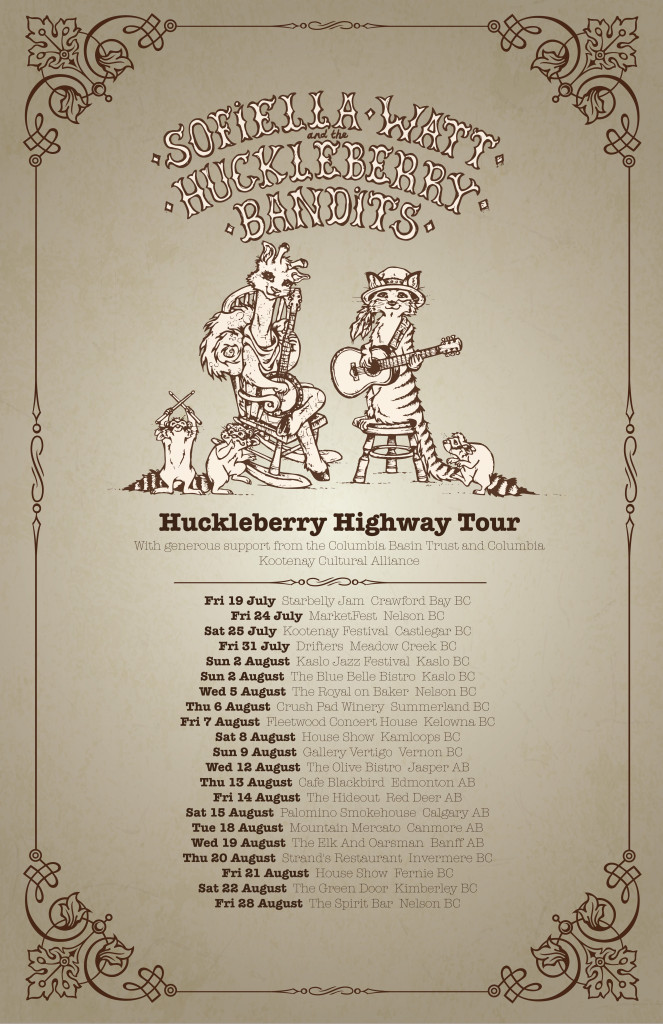 On Saturday, August 22, 2015 the Green Door in the Platzl in Kimberley continued with their policy of live music by presenting Sofiella Watt and the Huckleberry Bandits. The opening act on the patio at 7pm was Rod Wilson on vocals, 12 String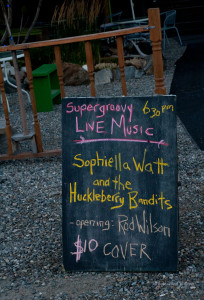 Guitar and Cittern. At around 08:15 Sophie and her crew kicked off their portion of the evening by performing a couple of songs out in front of the Green Door  in the platzl. The weather quickly got chilly so they issued an invitation to everybody to move inside for more music, food and good cheer. That was the beginning of a night of unique music. The musicians are all, at the moment, residents of Nelson and, true to the Nelson norm, their music was outside the box. It is essentially acoustic based but not BlueGrass, not Old Timey, not Country, not exactly folk and certainly not pop/rock. In a nutshell this was "Sofiella Watt and the HuckleBerry Bandits and this is what they do". Members of the band included Sophie Watt on vocals, open back banjo, guitar and washboard percussion; David Reid on back up vocals, mandolin, harmonica and guitar; Jimmy Mayer on vocals, open back banjo and guitar; Jakob Simek back up vocals and upright bass and tucked way in back on drums Lee Campese. Out side in the platzl Lee hauled out a magnificent Gon Bop Cajon to provide the appropriate percussive rhythm.
In their own words "If we were a wanky wine label, we would read something like this: …a motley mix of winsome folk, bruised with blues and infused with banjo. A full bodied country blend, with heady jazz notes, and spicy gypsy undertones". Sofiella Watt and Huckleberry Jim are an independent folk duo hailing from the East Coast of Australia. 2013 marked the release of the EP "To Friends Of The North Wind", and saw these two huckleberry nomads commencing a 20 show tour over four Australian states, from Melbourne to Darwin! Since relocating their guitars, banjo and washboard to Nelson, BC, the duo have formed Sofiella Watt and the Huckleberry Bandits; with Lee Campese on drums, Jakob Simek on upright bass, and David Reid on mandolin. The group recently received 'Best Folk/Country/ Roots Act' in the Kootenay Music Awards, and have been getting many feet stomping across BC and Alberta with their unique brand
of gypsy folk-a-billy-blues. The troupe will be touring throughout the summer, promoting their fresh off the press self-titled EP. ! Here they are outside the Green Door in the Platzl enticing patrons to come on inside for more good times, good food and very interesting sounds.
Once inside the light was warmer and the fun continued unabated with a whole bunch of homespun originals that included Old Man Trouble, Junkyard Betty, Gypsy Green Eyes, Mama's Got a Secret, and a cover of Tom Waits' Chocolate Jesus.
This was a night of very entertaining music. So much so that the organizers of Cranbrook's Summer Sounds and Kimberley's summer festivals should take a note and add Sophellia and the Huckleberry Bandits to their "must have" list for next year's music scene.
@@@@@@@@@@@@@@